Basic Attention Token (BAT) has risen by some 30% today while an ethereum based gaming project, Enjin, has jumped 96%.
Both rose primarily if not solely due to a screenshot on one of South Korea's biggest computer shop which in highlighting Samsung S10 features, shows: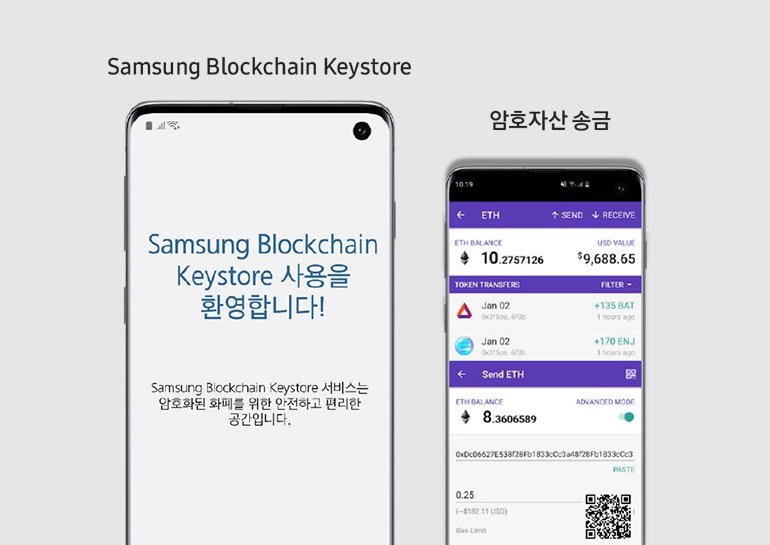 From details coming out it appears the Samsung Blockchain Wallet connects to an ethereum node and from that "powers" not just eth transfers, storage and so on, but also ERC20 tokens.
There appears to be a dapp browser as well with numerous projects supported through a whitelist which might later on be opened to all.
https://twitter.com/blockchainrok/status/1100212001035309056?s=21
The phone is furnished with NFC tech to allow for contactless payments. It's unclear at this stage whether you can send crypto with just a touch, but Samsung appears to have a wholistic vision for crypto blockchain incorporation within their new phone.
The First Blockchain Phone
Samsung seems to have beat all competitors to market with its native incorporation of the blockchain which seems to act like MetaMask in allowing dapps to be blockchain ready and also like Status or Toshi in having a dapp surfing space.
More fascinating might be this contactless payments aspect. If it does work with crypto, then this could be a game changer.
As the tech is incorporated, one can't see a reason why it couldn't work with crypto assets. In which case, the QR code would be replaced with a touch, making physical crypto payments competitive with even Visa.
Apple's Move?
South Korea's giant has a yearly revenue of $305 billion and employs close to half a million people across the world.
The phone also seems to have some cool features, selling by the millions in their own right. With this move, Samsung may have gained an edge, at least where cryptonians are concerned.
For any cryptonian that happens to be on the market for a phone, a choice between Apple and Samsung may have been difficult, but now they might not even need to think about it as Samsung clearly has an edge in that aspect.
Just how many cryptonians there are is difficult to estimate, but between 30 million to 50 million across the globe. That can make a difference in any tight competition, especially considering second order effects of recommendations and so on.
Apple thus now has to make a move if it wants to maintain relevance. The only way they can top this, as far as we can see, is by incorporating the blockchain in Safari browsers MetaMask style.
Whether they will, remains to be seen, but cryptos now have clearly passed the tipping point, with its adoption reaching Samsung HQ.
Copyrights Trustnodes.com