Green greets bitcoin's monthly candle for the first time in six months. A spring of hope, or a bear ploy, who is to know, but this is the longest red period for bitcoin perhaps since its invention, but certainly since 2013.
There was speculation back in October that a massive giant triangle might usher in an end to the bear, but as all know, it was followed by one of the biggest red candle yet.
Now there's been a general sideways for the past three months. Accumulation or consolidation, with a break in either direction to follow at some point.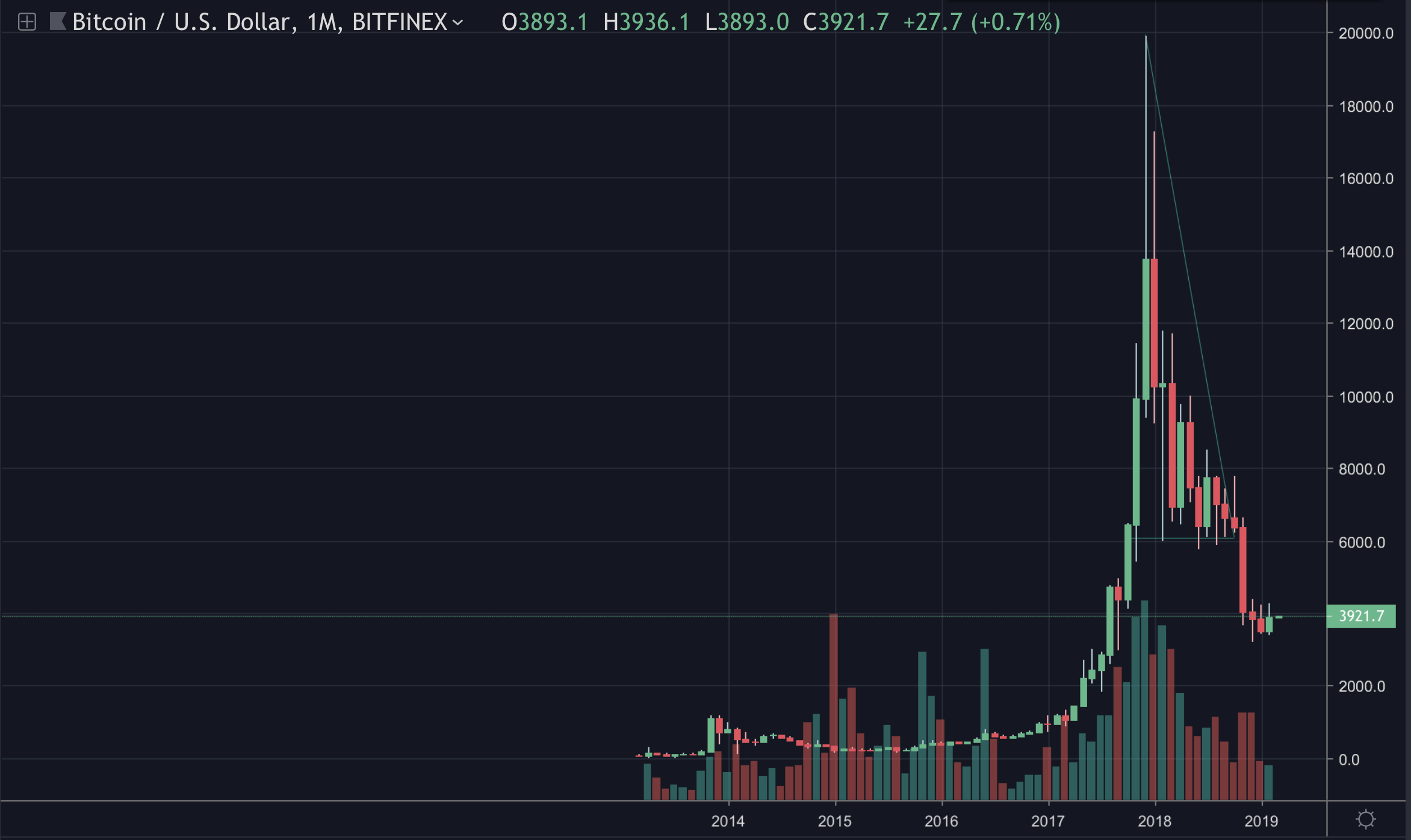 This is table chat boys and girls where we speak what we like in going through our news backlog to clear the reporting desk.
First off, Nathaniel Popper of New York Times apparently thinks bitcoin has failed to go mainstream. By that presumably he means that grandma doesn't have one yet and since grandma now keeps pestering her nephews on Facebook, perhaps a Facecoin will do it.
It looks like Zuckerberg fancies a stablecoin of his own, this time pegged to a basket of currencies which grandma has to trust as actually backed by anything.
What use for it, isn't clear. Adoption can be parabolic and it would still be one dollar. So why not use actual dollars? WeChat Pay does fine with CNY without any token aspect or blockchain.
A tokenized Facebook share might be interesting, but 50 shades of the same dollar requiring the same centralized trust does sound a bit like all the intranets saying we can give you this open internet too, so come be subject to us and our control where we can do with you whatever we want.
"Economic elites know all this. They will not be idle. This is what I mean by a powerful danger. If the kleptocracy controls technology and the means of distribution, then they simply accumulate more wealth at the expense of their citizens, draining wealth in cryptocurrencies rather than dollars or euros," CFTC Commissioner.
I ♥ @Coinbase:

* they introduced me to cryptocurrency
* they supported my largest purchases of cryptocurrency
* multiple good friends there over years
* they invested in The Block

As a journalist + lover of freedom, I'm devastated by the hiring of The Hacking Team members.

— Mike Dudas (@mdudas) March 1, 2019
"To close a Coinbase account, you have to have a balance of zero. Some users with infinitesimal fractions of cryptocurrency called 'dust' in their accounts, which are usually leftovers from various transactions, were reportedly met with an error message when they tired to send these small amounts to an external wallet, saying the amount was too small to send."
So reports Vice on the latest boycott Coinbase effort which probably won't achieve anything because the Silicon Valley playbook is far too refined to be affected by such small matters.
The exchange and crypto broker basically has no competition in the United States because no VC will fund it because they all have a bit of the Coinbase pie and because they probably tried very hard to get SEC to close off any alternative funding avenue.
To compete with Coinbase you need numerous licenses in numerous states and from numerous regulatory agencies and even if you have the funds to cover the costs, you'll probably need to wait some years to get through all the red tape.
Even mighty Binance backed off, stating they're not competing with Coinbase which has been in an acquisition spree last year and as Mike Dudas reveals, they've apparently even invested in an aspiring crypto media site.
To boycott Coinbase is very easy, you launch a competitor that does it better. To do that is very hard. In the meantime, having their name flying across crypto twitter for whatever reason is probably good news for the aspiring crypto monopoly.
Talking of Binance, they've entered top ten and are about to flippen Tron. They have an investment arm too, Binance Labs, and as unfair as our view might be, it does look like they've mostly invested in copy clones.
Competition is good however, and there is an interesting project. "Injective Protocol is building a fully decentralized protocol that will combat front-running and shared liquidity problems in decentralized exchanges."
Combat, with pew pew code lines that tss tss arb bots in eth smart contracts jungle where wit rules the world.
Now it's time for some press releases. This is the bit where we just copy paste without any verification, but there is an implied level of trust as they're coming from professionals, although do your own research if it's of interest.
"Global peer-to-peer lending startup Ripio Credit Network (RCN) has announced plans to extend its token lock-up for another year, joining a growing list of established crypto companies implementing this strategy to better handle the current 'crypto winter'. The startup, which raised $37 million in late 2017, believes extending the lock-up represents the best way to protect its mission and token value over the long-term.
RCN is on a mission to seize blockchain technology's potential to create efficient, scalable and borderless debt markets connecting borrowers and lenders all across the globe. The company is one of only a few ICO-funded projects in the world to have already delivered a working financial product with real users. Meanwhile its parent company Ripio's crypto wallet currently has over 250,000 users across Argentina, Brazil and Mexico."
That perhaps explains why ICOs have stopped selling. Withdraw supply and maybe it will reach an equilibrium with demand.
Right, so Jesse Powell of Kraken is coming out of the woodworks to take a leadership role at least where it concerns the mystery of Canadia.
"Kraken is giving up to $100,000 USD (fiat or crypto) as a reward for the tip(s) that best lead to the discovery of the missing $190 million US dollars," they say, stating it affects the entire crypto industry so they want to do their part.
Someone on reddit was quick to claim they had actually solved the matter, but the maze of blockchain analysis can easily trap, so we're awaiting Powell's clarification. His last statement was "nothing at Kraken:"
This is the best hope that QCX clients have — that Cotten was keeping client funds in other exchanges. Unfortunately, nothing at Kraken. Hopefully, others are looking. Could be accounts were created under different names so might take some real digging to find.

— Jesse Powell (@jespow) March 1, 2019
"SingularityNET, the pioneering platform for the creation, sharing and monetization of AI services has today announced the launch of its BETA version on the Ethereum blockchain. The launch follows two initial stress testing sessions by the community and volunteers during February.
The BETA launch aims to showcase the benefits of a fully functioning AI marketplace where individuals, small businesses and government agencies can purchase algorithms that has traditionally been only available to Silicon Valley giants. Services on offer will include: Gene-annotation services and an AI toolset for genomic underpinning, image and emotion recognition services, object detection and speech-recognition."
Interesting, maybe we'll test-run. Or perhaps we'll go off to Austria to pitch a tokenized paywall that insta converts crypto payments through smart contract dex-es while also accepting fiat.
"Organisers of ANON Blockchain Summit Austria have launched their Innovation Challenge to find the best new ideas in blockchain, with a prize pot of €20,000 for the winner.
If you have a blockchain project you're working to get off the ground, this is your opportunity to apply to pitch your idea to a panel of top CEOs and venture capitalists."
"Accenture is launching a blockchain-based 'circular' supply-chain solution designed to improve the sustainability, efficiency and financial fairness of global supply chains.
This new solution can directly link end consumers to suppliers through technology like blockchain, digital identity, biometrics, IoT and others. All it takes is a simple barcode scan, to follow the story of their sustainably-sourced product and the farmers who produced it."
Well, that's something. There's a nice video ad to go with it as well. Doesn't quite illuminate much so maybe you have the time to read the actual report if that's your sort of thing.
"The Future of Blockchain (FoB) is running an ongoing three-month competition for anyone currently studying, researching or working at the universities of Oxford, Cambridge, Imperial, London School of Economics, University College London, and King's College London. Founded by a former Oxford alumnus, the competition invites both budding developers and students with interdisciplinary backgrounds ranging from business, finance, law, marketing, and more, to uncover far-reaching applications of blockchain technology."
Defo should have learned how to code! Oh yeah did do. Right, one more and let's see what's here. Shuffle, shuffle:
"NASDAQ- powered and Bloomberg-backed DX Exchange [is] partnering with distributed cloud platform Perlin."
Wut. "DX Exchange and Perlin are collaborating to empower millions of retail investors from the world's poorest populations to own fractional shares in leading traditional stocks like Apple, Facebook and Tesla in digital 'tokenized' form."
Shouldn't this be it's own article? It's a Friday, brah, common. Plus, no one gotten this far anyway so can do if time permits.
"Although India and Indonesia (which together account for 20% of the world's population) are among the world's leading users for global companies like Apple and Facebook, investors from those countries still represent only a tiny proportion of share ownership in those companies. For context, around 50% of people living in the United States currently own stocks, while in India and Indonesia stock ownership sits at less than 1-2%…
Built on NASDAQ's market leading matching engine technology and surveillance technology, DX Exchange also enables cryptocurrency trading. Combined with tokenized stocks, DX Exchange will therefore facilitate the entry of a huge new population of individuals looking to rise above their economic situations via asset ownership and investment in a range of new and innovative digital asset classes."
Ah, that's what Nasdaq powered means. And Bloomberg-backed? No idea, Google only brings up some attendance at some Bloomberg crypto conference, but who knows.
What we know is that this is it for this session of news of news boys and girls with spring now coming. Whether just in nature or to trading candles too, remains to be seen, but we have a month of green.
Copyrights Trustnodes.com