UK's Financial Conducts Authority (FCA) has commissioned two surveys on British attitudes towards cryptocurrencies with the survey showing two thirds don't know much about this space.
"Anecdotal evidence may overstate harm," FCA says in pointing out only 3% of Brits have bought any crypto and usually it is with small sums ring-fenced for that specific purpose and separated from other savings.
"Of the small sub-sample of consumers who had bought cryptoassets, around half spent under £200 – a large majority of these said they had financed the purchases through their disposable income" FCA said in a statement.
Two surveys were commissioned. A face-to-face interview of 2,132 individuals took place between 12 to 16 December 2018. While another research firm interviewed in depth 17 individuals to understand their crypto-behavior after investing.
The first report by Kantar TNS gives hard data on general attitudes that show "more than 50% of the surveyed cryptocurrency owners reported to have spent their money on Bitcoin, while 1 in 3 chose Ethereum. 57% bought only 1 type of cryptocurrency."
They also found "only 7% of the respondents who had never bought previously said they would definitely or probably buy," with individuals between 35 to 44 most likely to do so while mainly men between 20 and 44 were most familiar with cryptos.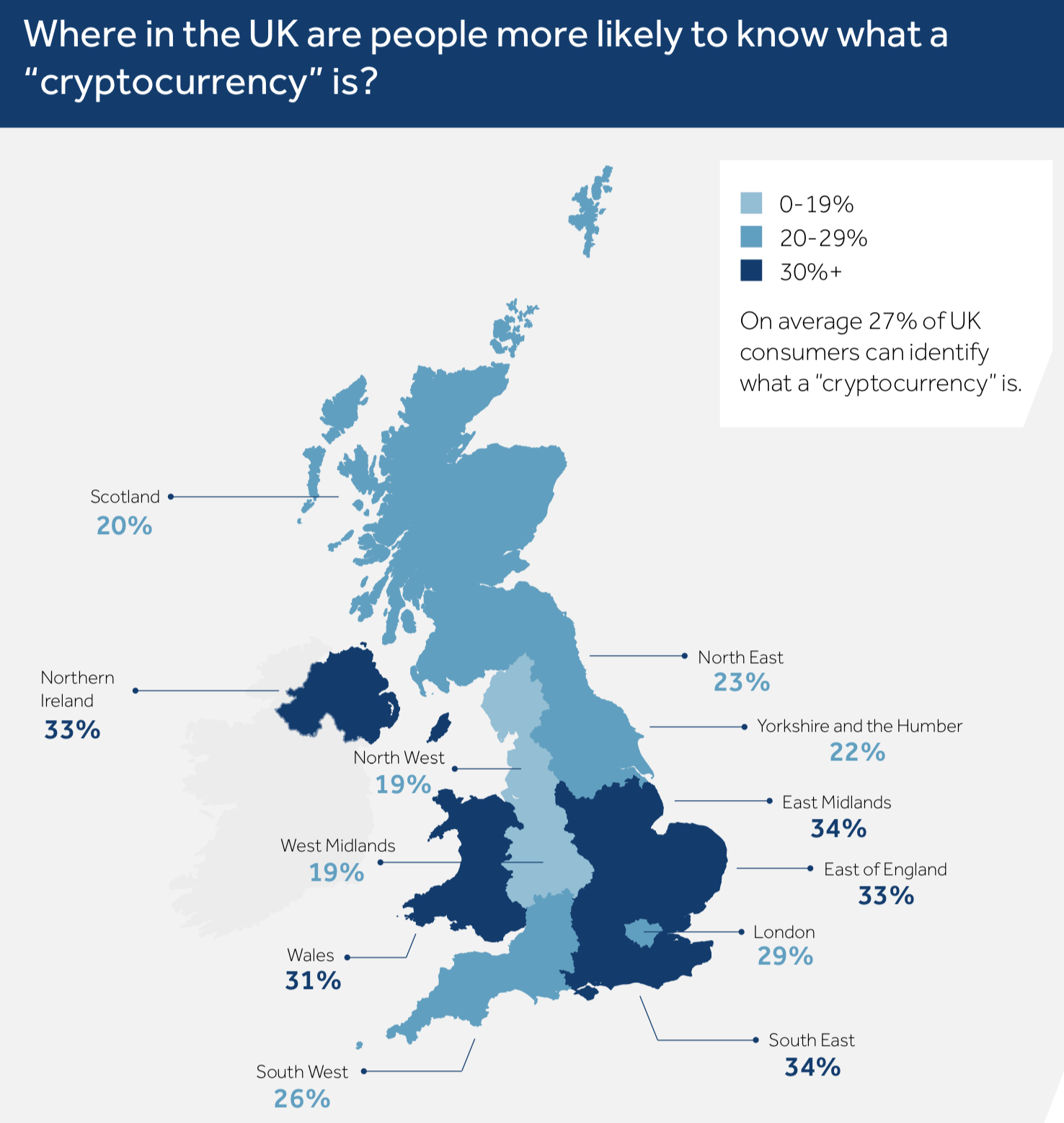 The other report by Revealing Reality is more focused on cryptonians and their general attitudes towards digital assets. For example:
"I know what you need to know about financial markets. It is based on supply and demand. You want to buy when it's low and sell when it's high," Damien, 32 says.
They found a number of crypto investors did not know they could buy a fraction of a coin or that there is no practical difference between a whole coin and a fraction of it. Some thus bought eth because they couldn't afford a whole bitcoin.
"Many respondents relied on spare savings to purchase cryptoassets. These were often funds they had earmarked specifically to use in the market, and that were kept separate from other savings…
Many respondents said they only spent an amount of money they could 'afford to lose' when purchasing cryptoassets, with some stating this as a deliberate strategy to prevent regret."
Kyle, 22, says "It was dead money anyway, I would have wasted it on weed."
Apparently 1 in 3 just buy and forget, not checking the price at all. While some are obsessed with price when it's going up, but don't check it much when it starts falling.
The majority hold the assets as a long term investment. Some have a strategy in place, selling after they double their money, for example, or selling after they see the price falling.
Christopher Woolard, the FCA's Executive Director of Strategy and Competition commented:
"This research gives us evidence we haven't had before about how consumers interact with cryptoassets. This will help us ensure we are acting on evidence as we seek to protect consumers and market integrity.
The results suggest that although cryptoassets may not be well understood by many consumers, the vast majority don't buy or use them currently.
Whilst the research suggests some harm to individual cryptoasset users, it does not suggest a large impact on wider society. Nevertheless, cryptoassets are complex, volatile products – consumers investing in them should be prepared to lose all of their money."
This survey is part of potential regulatory action by FCA or parliament with FCA stating:
"The FCA is working with the Government and Bank of England, as part of a UK Cryptoassets Taskforce, to understand and address the harms from cryptoassets and encourage innovation in the interests of consumers…
HM Treasury is also exploring legislative change to potentially broaden the FCA's regulatory remit to bring in further types of cryptoassets."
The need for education appears to be a significant theme from this survey as some don't do any research before investing in cryptos, going mainly by word of mouth, while the vast majority has not even heard of digital assets.
The overall picture appears to be one of mainly young people getting into the investment game with small amounts which they would have wasted otherwise, with some then moving to stocks or other financial products in addition to cryptos.
Finally, the advice given by many in this space does appear to be getting through, especially: don't invest more than you can afford to lose.
Copyrights Trustnodes.com