Binance Coin (BNB) is soaring, up another 10% today to a market cap above $2 billion on significantly increased trading volumes of $250 million, rising from a previous $80 million within 24 hours.
The ethereum based token is now near its all-time high (ATH) of $2.4 billion in market cap. While its price of circa $15 at the time of writing has some way to go to overtake the ATH of $24.
It is the only main crypto to roar back so significantly as far as we are aware, with BNB seeing a considerable bull run in the past three months, close to trippling from circa $4.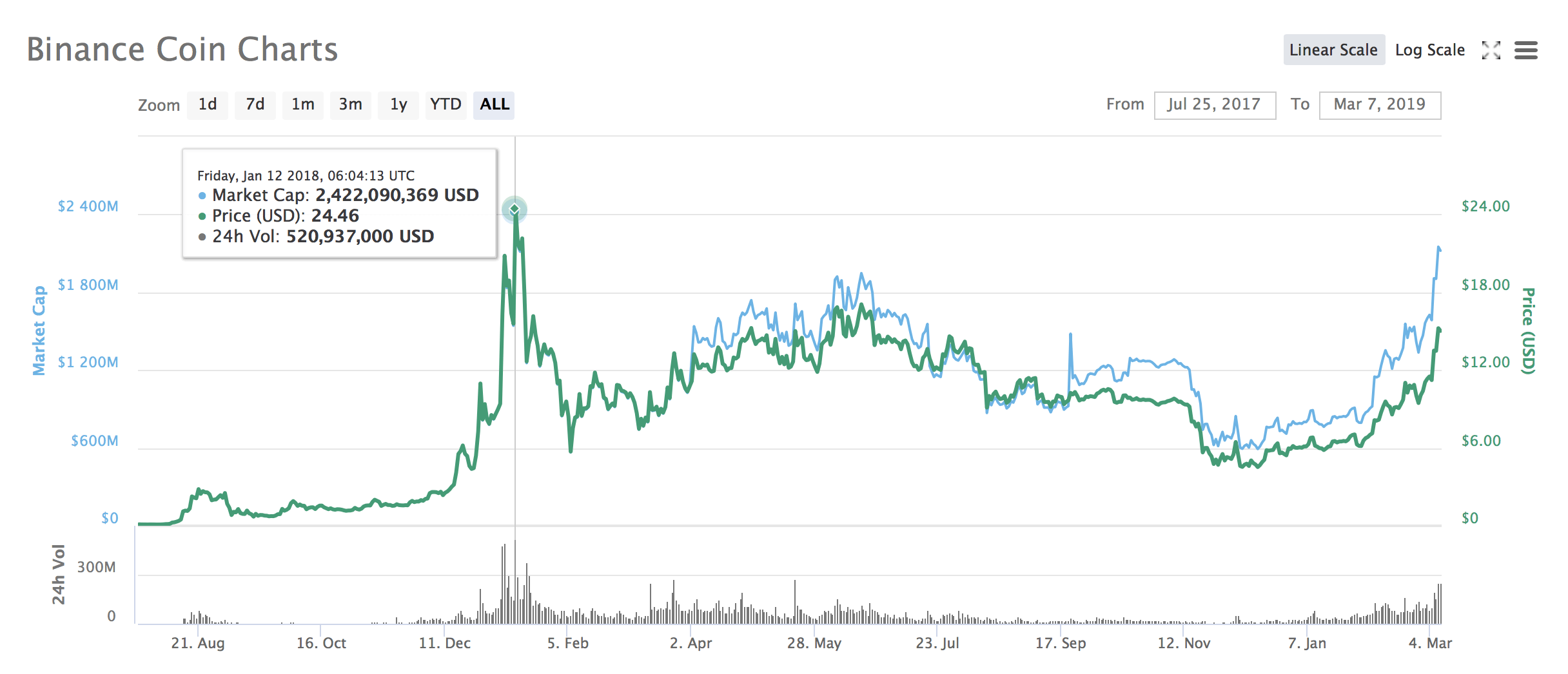 Binance's token has now overtaken Tether, rising to seventh amongst all cryptos, with it to potentially overtake BCH too, once a top three coin which has now fallen to a market cap of "just" $2.3 billion.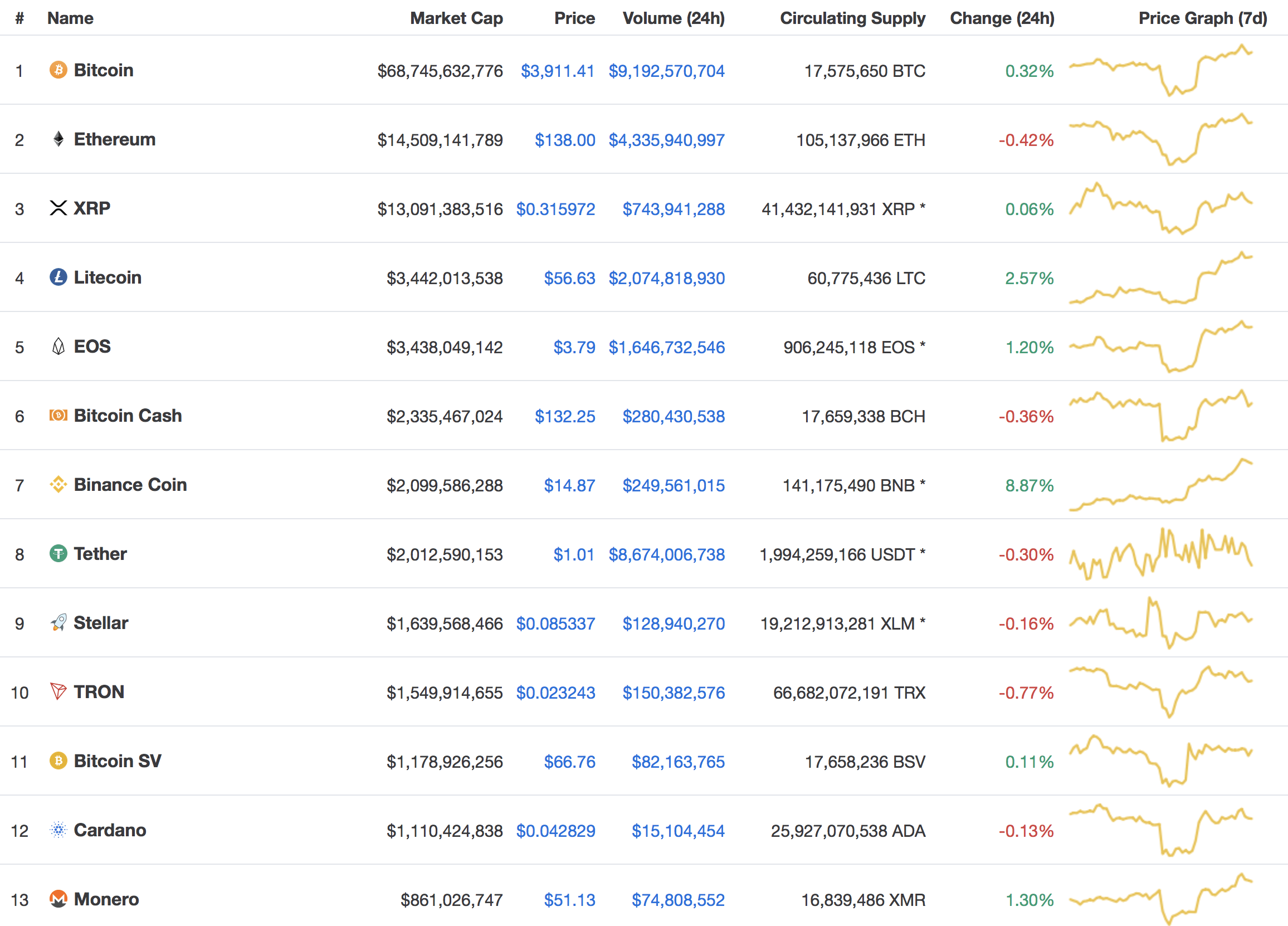 The ICOs Strike Back
The reasons for this rise may be numerous. First off, there is another ICO to go through on Binance Launchpad and this time it appears to be limited to BNB only.
That is, you need BNB to buy the Celer token, a blockchain agnostic second layer scaling solution according to the whitepaper.
The hardcap for this ICO is at just $4 million, with the token then to probably instantly be given a market on the Binance exchange.
The flippers thus might be back, at least on a small scale, with the launchpad design seemingly complying with crowdfunding regulations as there's a cap of $1,500 per individual.
That brings back all those previous fairness discussions because if supply is too limited, then initial demand might be very high once listed, with those that got in then flipping the coin.
There was much experimentation on that matter before the Securities and Exchanges Commission (SEC) intervened.
Now what is fair and what isn't, is up to Congress or the European Commission since this space hasn't been given much choice but to use the above design.
Argentina's Gov Waves the Binance Flag
Another reason for the price rise might be Wednesday's announcement that the Argentinian government has grabbed the opportunity to promote crypto innovation in their country. A statement says:
"Argentina's Ministry of Production and Labour has committed to match the investment up to US$50,000 for every Argentine blockchain project that receives funding from Binance Labs, the venture arm of cryptocurrency exchange powerhouse Binance, and Founders Lab, the Argentine local blockchain Accelerator.
For a four-year term, the Argentine government will match investments from Binance Labs and LatamEx, via Founders Labs, in up to 10 blockchain projects each year."
That's not directly relevant, but BNB is somewhat unique in this space because the token is sort of a share without ownership or voting rights.
20% of Binance's profits for each quarter go towards buying BNB, making it sort of a dividend for token holders.
With the Argentinian government now matching investments, Binance funded projects may have more resources and thus more opportunity to succeed.
Our Very Own Unicorn
Binance is one of the greatest success story of the crypto space and the ICO-ing model. With just $15 million raised from the public in 2017, a business worth at least one billion dollars has been built, championing the crypto space in a way it did need.
Changpeng Zhao has risen to become the most prominent crypto figure after Vitalik Buterin. The last cypherpunk standing has played a complex game and so far it appears he has played it very well.
He's a god to some, a meme figure with "kids" dedicating to him the modern version of poetry – silly, artsy, photoshopy, cool memes.
When many fell to regulatory pressure, with some entrepreneurs cowering to so called regulatory uncertainty, Zhao went on a jurisdictional shopping spree.
Flush with cash and the potential to hotzone a blockchain industry, plenty welcomed him with open arms.
Hackers probably fear him. He has trapped their funds many times, giving rise to the safu meme. With the exchange using self-compliance to lock any stolen funds deposited.
There have been criticisms, of course, but overall cryptos have their own unicorn, with the first successful "real" business that has its own token, thus is – albeit indirectly – accountable to cryptonians.
Copyrights Trustnodes.com