Bitcoin has been rising by some 10% in the past few days from circa $3,600 to now close to $4,000.
That's up from about $3,300 in February, and up from a low of $3,000 in December, with current trading volumes standing at a very high $11 billion in the past 24 hours.
Such trading volumes have not been seen since 2017, with USDT dominating by far even as Tether's market cap remains unchanged at $2 billion. Yet USDT somehow is handling $9.5 billion in trading volumes at the time of writing.
Bitcoin's hashrate is up with now 43 petahashes from a previous 34 PH/s, with the number of unique active bitcoin addresses returning to 500,000.
According to recent research, there are 22 million bitcoin addresses with any amount in them. However only about 5 million addresses have more than $100 worth of bitcoin as of December.
Some 700,000 have 1 bitcoin or more, a figure that appears to have increased slightly, suggesting wider distribution of bitcoin ownership.
In addition, adoption is growing across the world as shown by the featured image. That's a bar in Singapore which is proudly showing the bitcoin sign.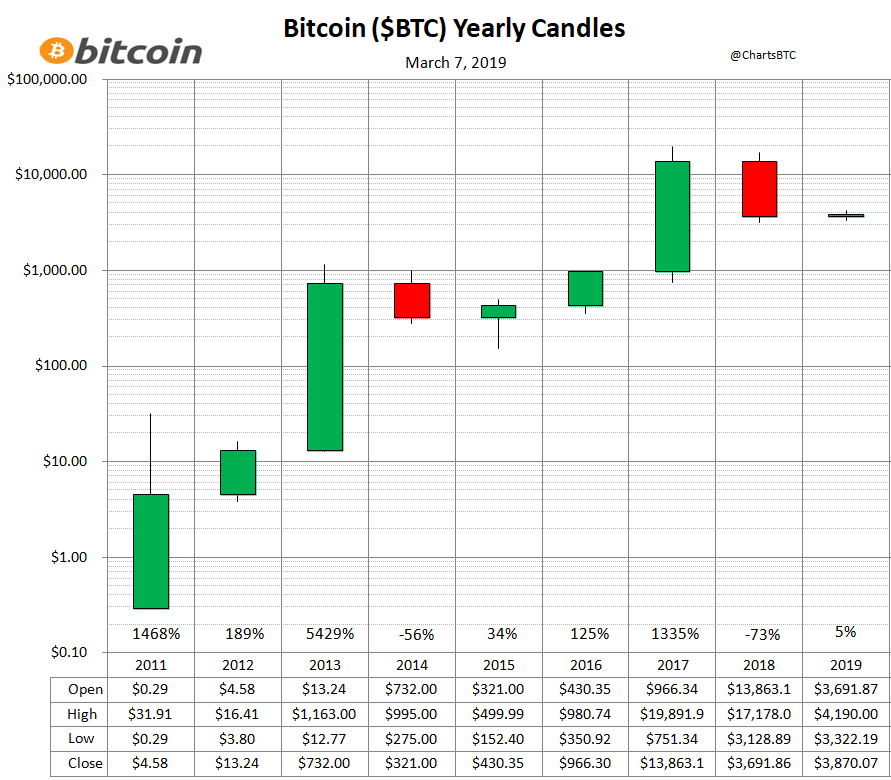 Zooming out to the maximum extent, bitcoin has clearly had a bull run since its invention a decade ago.
According to this chart, 2018 was indeed the worst year in crypto history as far as price is concerned.
About $700 billion was wiped out in those twelve months, with many losing plenty as cryptos dived for some by 90% or more.
That's the second red candle, with only two in a decade. 2014 was apparently not as bad, although that year saw a considerable loss of confidence due to the MT Gox bankruptcy.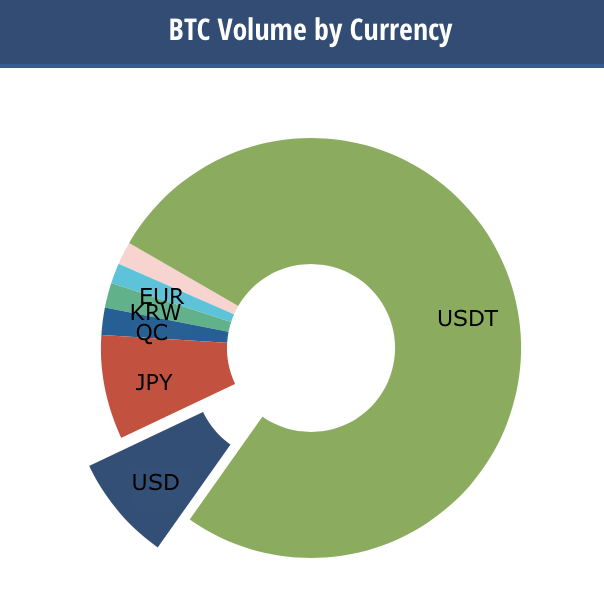 It looks like three years have seen a price increase of more than 1,000%. If that repeats from the current price point we'd be looking at $300,000 or a house. Or indeed a lambo as traders like to say.
The question though is whether this can take $4,000, never mind $300,000. That of course we don't know, but if we zoom out to weekly, there's been sidewaying now since November.
That's four months of kind of horizontal price action. Suggesting perhaps bears are tired now, while bulls are maybe a bit too lazy.
The longer this standoff continues, the higher the chances of a break-out in either direction. So maybe we can enjoy the calm as spring arrives.
Copyrights Trustnodes.com