Bitcoin transactions and active addresses have seen a steep fall this Saturday as Venezuela saw what AP calls the "worst power and communications outage" which "reached virtually every part of the oil-rich country of 31 million."
That has coincided with bitcoin transactions falling by about 100,000, down from circa 370,000 a day to about 240,000.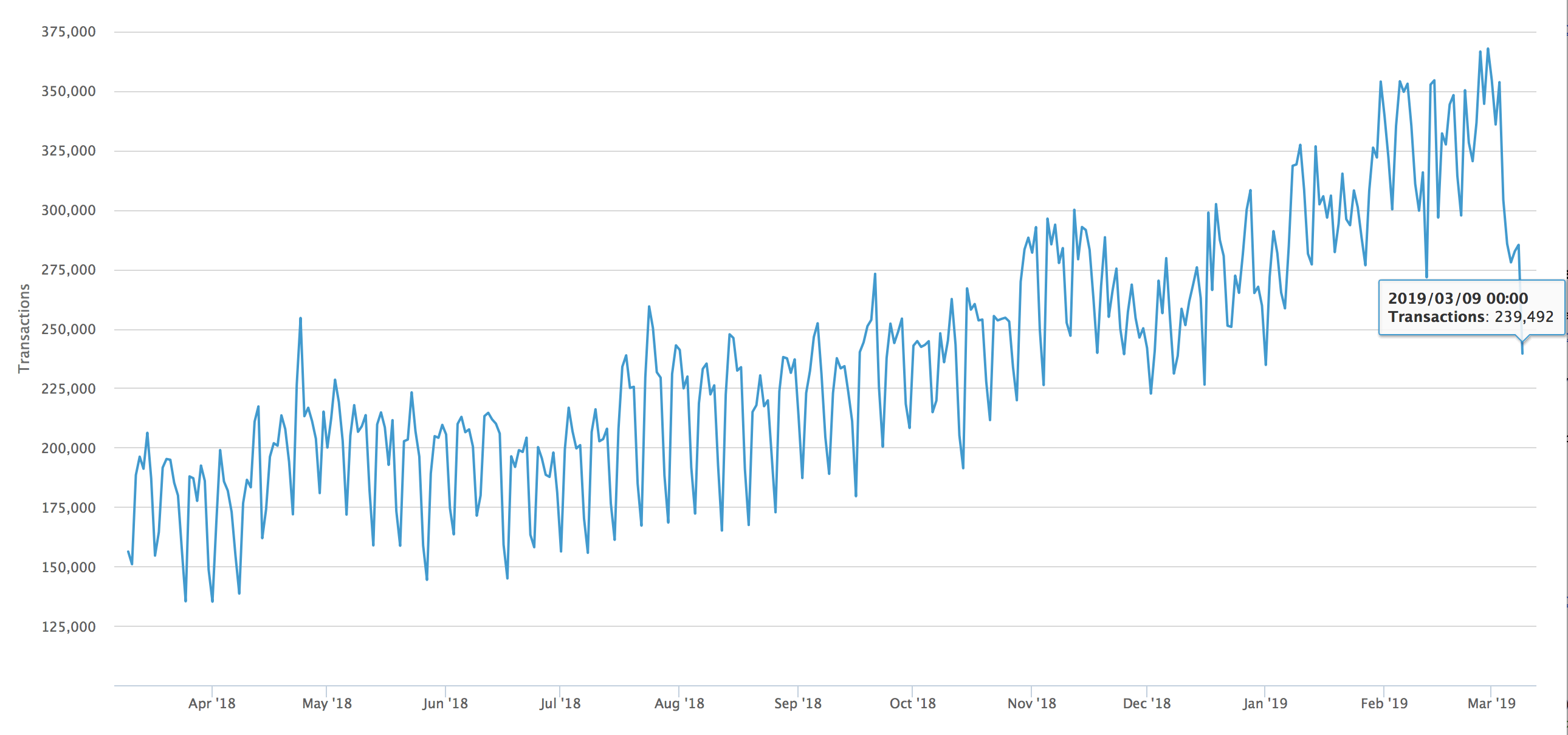 Bitcoin active addresses have seen an even steeper fall according to data by Santiment, a blockchain analysis company.
They've dropped from close to 500,000 to 400,000 on Saturday. While today they stand at about 200,000 with the daily total for Sunday to be finalized on Monday.



There's of course no direct evidence to link the blackout to this fall in bitcoin usage, but trading volumes in Venezuela on the peer to peer exchange Localbitcoin stand at twice that of the entire Europe and about as much as all of the United States.
Europe and America have centralized exchanges where much of the trading takes place, but Localbitcoin can be an easy and quick way to buy bitcoin within a day rather than waiting for a week or so for a bank transfer to an exchange.
About $8 million such bitcoin transactions took place in Venezuela over the past week, while in Europe there were only $4 million transactions, with UK's trading volumes at Localbitcoins standing at $3 million.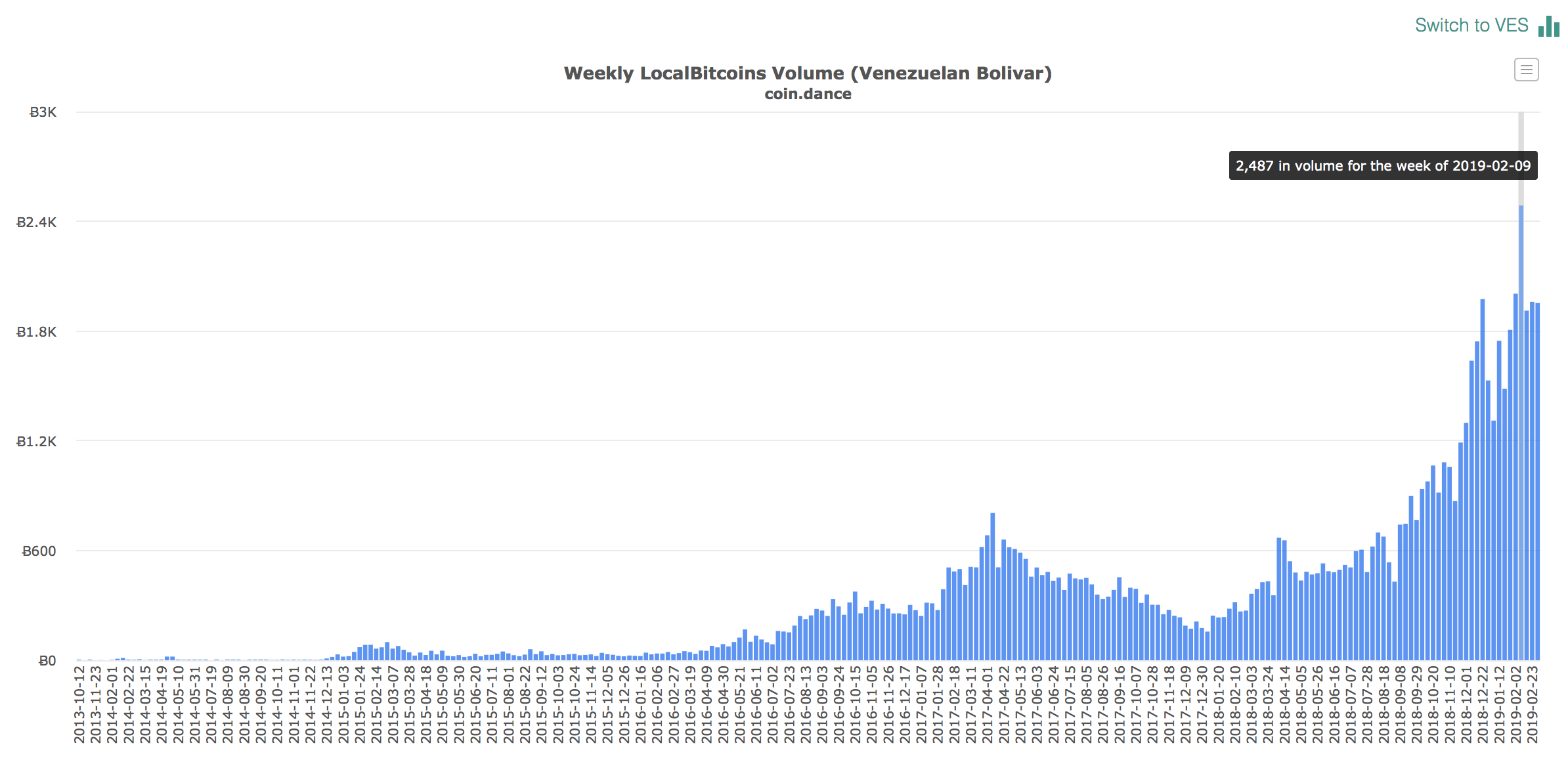 The disputed President of Venezuela, Nicolas Maduro, has blamed the power outage on sabotage by the US government and the opposition. He said there had been an international cyber attack and the power grid had been hacked.
The US government blamed the outage on Maduro's incompetence, while the self-appointed acting president of Venezuela, Juan Guaido, said:
"We have been reporting the electrical crisis for years, and now, we have to alert in a responsible manner that this could also become the gasoline crisis, in addition to the water crisis we already have."
Decades of underinvestment in the hydroelectric infrastructure that powers Venezuela has damaged the major dams, with sporadic blackouts commonplace, but not at this scale whereby virtually the entire country went dark.
Electricity has now returned, with Maduro thanking the army for defeating a "coup" which he claimed was led by the US and opposition leader Juan Guaidó.
Whether bitcoin transactions will now return to normal if electricity has indeed been fully restored, remains to be seen, but we might have witnessed the first instance of a blackout affecting BTC.
Bitcoin is digital. To access it, internet is not necessary, but you do need an electronic device. How that device is powered is irrelevant as long as it can be turned on, with an internet blackout solvable by accessing the network through a satellite connection.
One potential solution to an electricity blackout might be paper wallets which can physically be exchanged or actual coins with private keys in them. Then as long as there is one electronic device in the town or village, you can verify the coin or wallet.
The electricity blackout here was thankfully temporary with the country cut-off from the network for only a few hours with the situation now seemingly returning to normal as far as electricity and bitcoin access is concerned.
Copyrights Trustnodes.com