One of the first bull to turn bear at the end of 2017 has become bull again with only one thing missing: Easy Peasy insisting eth will go back to $324 after it rises to $600 (joke, it's a joke, shut up).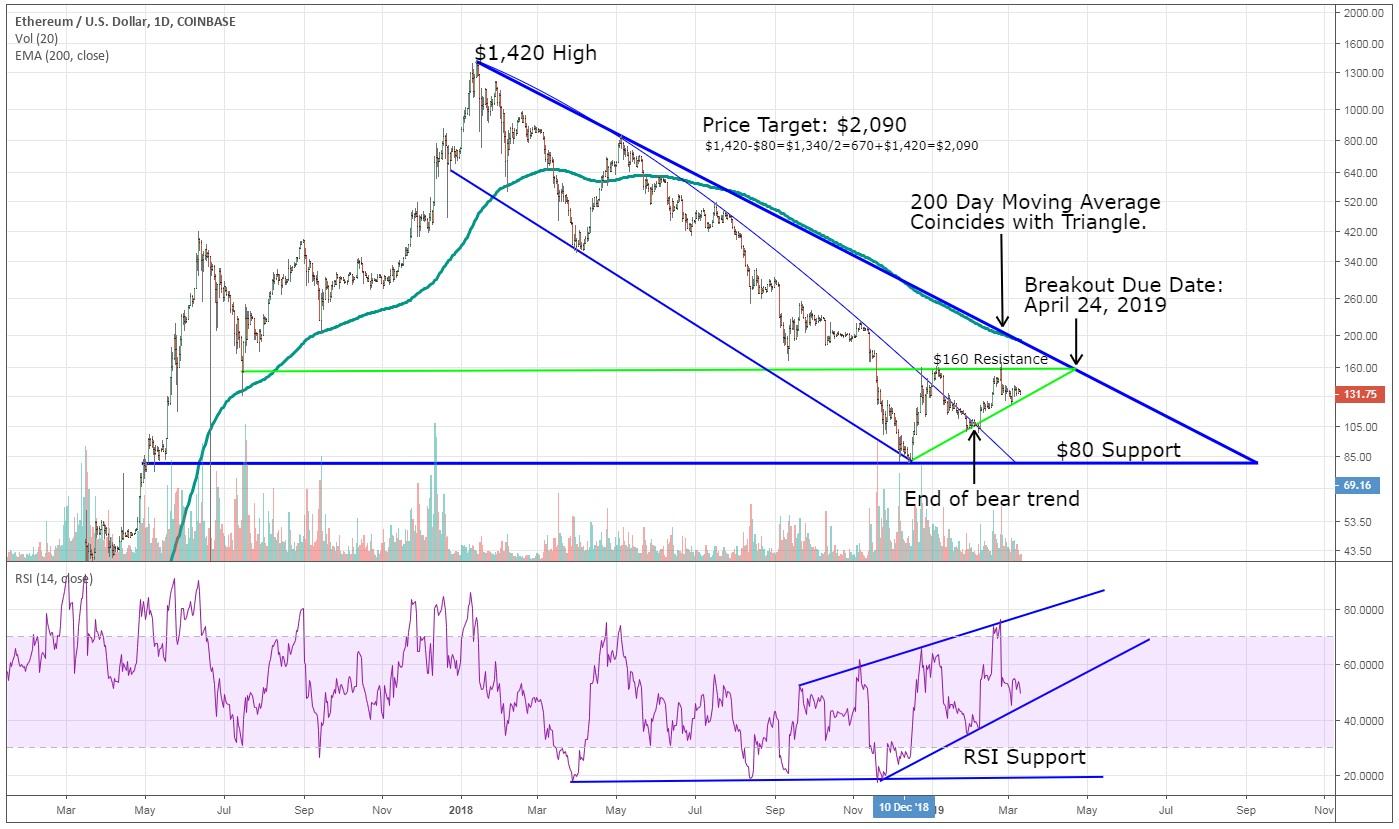 So many triangles! There's even triangles within the triangle! And these are not just any triangles, these are ScienceGuy triangles say eth kids.
Is it true? Who knows, but that's a massive triangle. Textbook says that big blue triangle means eth will either go down or up.
Presumably it might just sideway too, but a break down apparently doesn't mean much, while a break up is more reliable.
ScienceGuy is saying because of these other green triangles, it will up with a breakout during a very precise data: April 24 2019.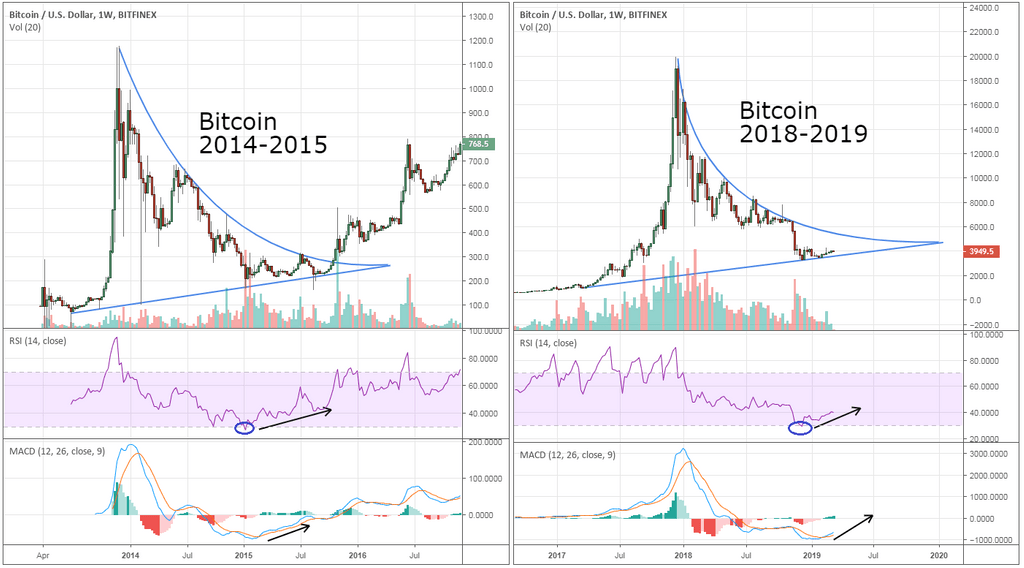 Now that's interesting. It does sort of feel a bit like 2015 especially in r/ethereum with some censorship and some debate that is now kind of morphing into all sorts of things in part due to a significant intermingling between two ethereum teams that are kind of splitting as the Parity lot prepare to launch their own blockchain.
We've all heard that story before, but there are significant differences. Most importantly, there is no "fundamental" debate. There is no irreconcilable difference of views on how eth should move forward.
The ethereum community is in fact very united, with a clear plan, a clear roadmap, and with clear leadership where what really matters is concerned. That being the code, the tech.
What we have instead is more social stuff, such as who should be mod, whether there should be disclosure of interests, and kind of boring sometime "fake" drama sometime used by some to make a name for themselves.
Incredibly benign when compared to the blocksize debate where neither side could back down or ignore the matter because they had very strong beliefs on what was the right course where it comes to raw code, rather than gossipy chatter.
The other important difference is that ethtrader is still very free. They can go dictator all they like on r/ethereum – not that they are thinking of it – but from the beginning these two subs were formed to minimize the ability of any one individual to go dictator and by doing so to minimize the ability of one individual or group to effectively decide the direction of code.
Anyway, enough with that headachy stuff. Back to the party. There's a poem. Omergerd a poem in the wild everybudeh!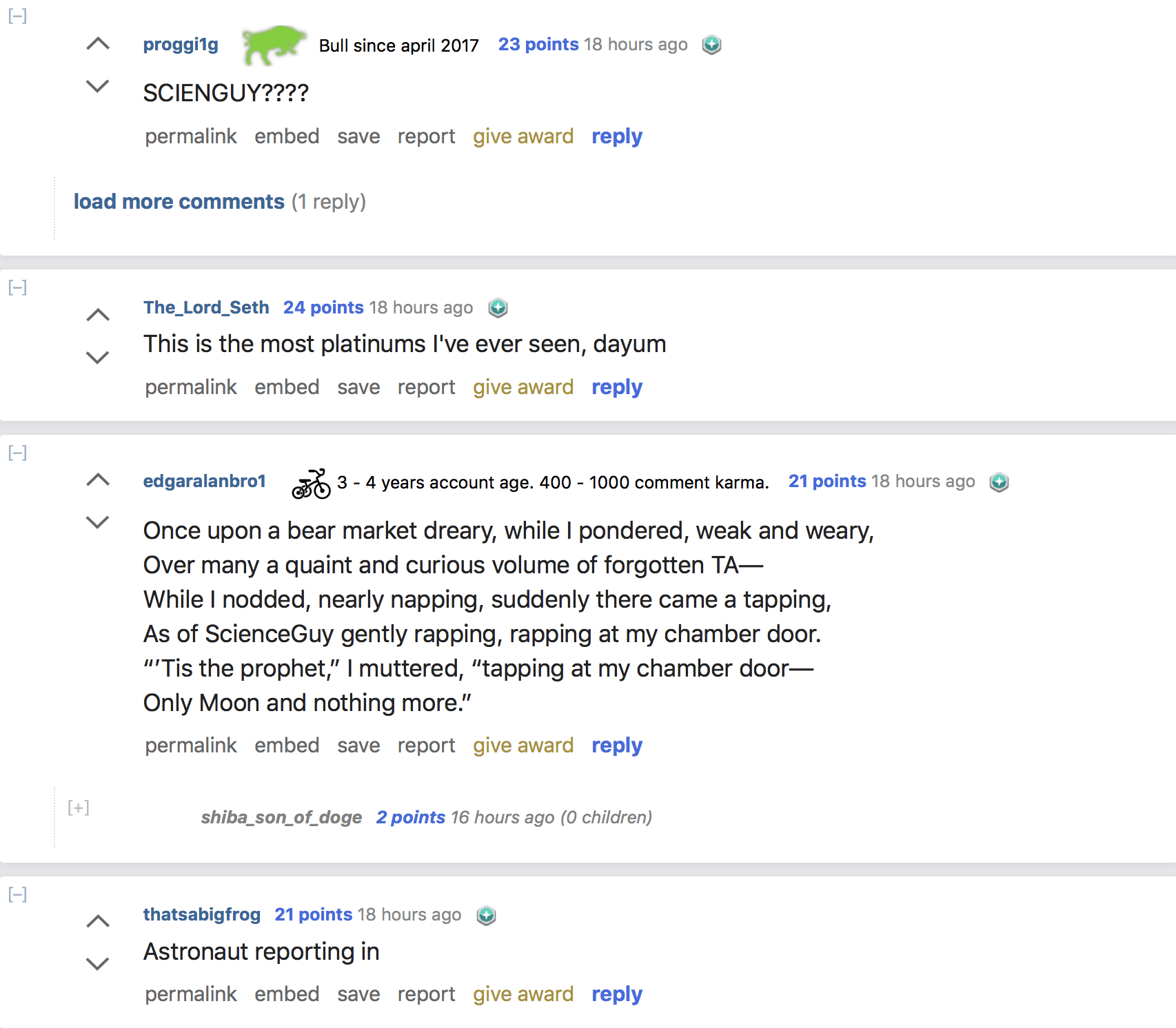 So is it true the bear has ended? Well, who is to know. Looking at fundamentals though cus we're in it for the tech (but it's true), there have been numerous relatively big developments for eth where adoption is concerned.
You've probably heard of all of it so we don't want to bore you with Samsung or Opera or global giants working on zk-snarks for eth or the builders of the world's tallest building Burj Khalifa launching an ERC-20 token, or the SEC chair confirming for the 100th time that eth is not a security (yeah, we know, these pages tried very hard to get that last year, is XRP a security though – wtb Polka or EOS?)
That's just the recent stuff. There's no way we going over all of the developments during the bear reign, but you know, we have been pleasantly surprised at the real support global brands have given to eth and cryptos in general.
It is a bit weird to know that ordinary non-cryptonians who just want a new phone and happen to get an S10, will be walking around with an ethereum wallet.
Just as we didn't think that a company of the Samsung scale would be running ethereum nodes for a service so quickly.
Some might remember a time when there was serious discussion on whether cryptos would be banned in the west, now they appear to be heading mainstream.
There's still that matter of capacity, which has been solved in a semi-decentralized way, but not quite to the planned extent.
Yet that might be of relevance to only those in it for the tech as bitcoin 2017 didn't care very much about $10 or $100 fees.
Such fees currently are below a penny for eth, with plenty of improvements on the way and plenty already done to get the infrastructure to a robust stage.
So where fundamentals are concerned, there's reason for optimism, but whether ScienceGuy is right, time will say as bulls and bears perhaps prepare to fight after four months of sideways.
Copyrights Trustnodes.com