The "manifesto" of a mass murderer has been added to the BSV blockchain after tech providers have been scrambling to remove it.
A 22-year-old man has been arrested in New Zealand for distributing live footage of the shooting. New Zealand police said in a statement:
"We would like to remind people that it is an offence to distribute or possess an objectionable publication (under the Films Videos and Publications Classifications Act 1993), which carries a penalty of imprisonment."
"The live stream video of the shootings in Christchurch has been classified by the Chief Censor's Office as objectionable," police said.
It is unclear whether the same applies to the PDF, but we're not going to provide exact details except to say it is now accessible through the BSV blockchain.
This is by a service provider called Bico.Media which says "it's a gateway to data stored in a bitcoin sv transaction." They add:
"A broad range of formats are supported, so you don't have to think about how data is stored in each transaction. Files are replicated to more than 100 data centres around the world as they are accessed.
This, combined with a strict immutable cashing policy, gives you the best chances of reaching your files fast from a source close to you."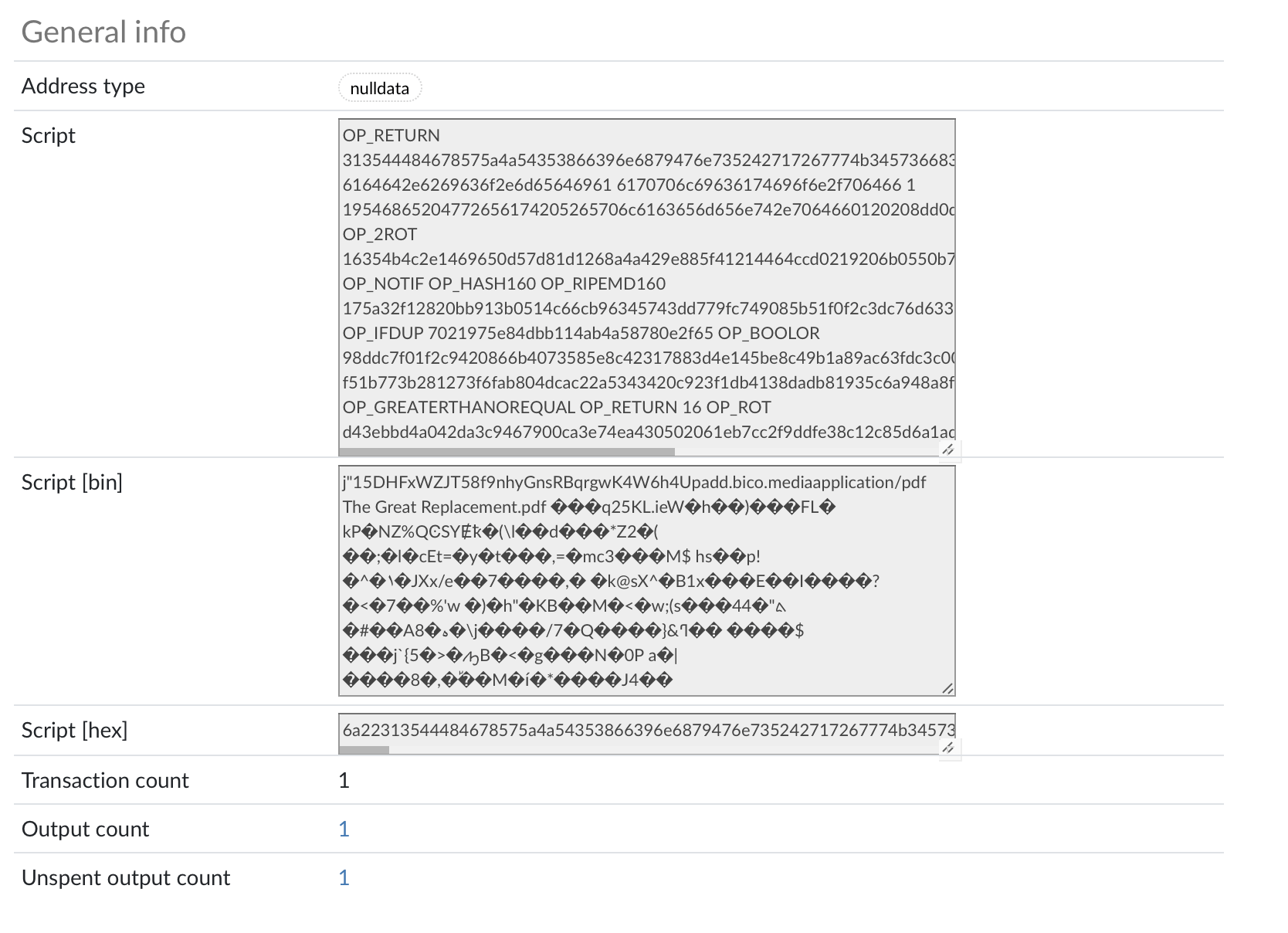 The transaction was made on March 15th at 7:25:37 AM presumably London time. Who made this transaction is not known, with it linked on 4chan.
Just how uncensorable this is, remains unclear. Obviously nothing can be done about the transaction itself, but that's just a string of random numbers and letters. The actual PDF is not itself on the blockchain. That's on these 100 data centers.
There are distributed storage networks that store the file on ordinary laptops around the world with it accessed through a blockchain hash or transaction, but here it appears to be stored on data centers.
Copyrights Trustnodes.com