The old debate of how to fairly undertake a public sale of tokens is back with Binance announcing a new system whereby who can participate is picked through a lottery from accounts that hold a minimum of 100 Binance Coins (BNB), worth not far off from $2,000 at the time of writing.
https://twitter.com/cz_binance/status/1110138217678827520
The new system limits participation in Initial Exchange Offerings (IEOs) based on the amount of BNB tokens held with up to 5 tickets per account if they hold not far off from $10,000 in BNB.



There was some criticism, including that this limits smaller investors, but Changpeng Zhao, Binance's CEO, claimed this new lottery was implemented to address bots.
In an apparent contradiction, he also said whales could not game the system due to strong identification requirements.
https://twitter.com/cz_binance/status/1109835423373623296
https://twitter.com/cz_binance/status/1109769144604352514
Presumably he means accounts that have already registered can use bots to be first, but a very simple solution to that is limiting the amount that can be bought per account.
They had such limits in fact as far as we are aware, so suggesting this is more about adding "utility" to BNB.
https://twitter.com/cz_binance/status/1109782060716052481
The catch 22 here is that if you limit the amount on sale, you're effectively artificially limiting supply. Thus once the token is listed on Binance pretty much immediately, demand might be higher than the artificially limited initial supply. So you might get something like this:



The Fetch token (FET) started trading considerably higher than the Binance Launchpad sales price where $6 million was raised.
One Fetch was sold for 0.00858400 BNB which at the time was worth about 12 cent. It started trading at 39 cent, slightly rising to a high of 43 cent, with it then downwards to now about 20 cent. Still a doubling of money for the initial buyers.
For the rest, there might have been a halving of money as price has only fallen since it was listed on Binance.
Because of that 4x from the initial purchase price, there's obviously high demand to get in during the ICO-ing stage. Once on the exchange, you then flippen it and sell it on.
That has probably made some whales quite a bit of money and perhaps not much for everyone else, hence now this "lottery."
https://twitter.com/cz_binance/status/1109763460953300992
The Fetch ICO, however, had a $3,000 maximum limit yet still sold off in seconds. Obviously this is an unregulated exchange so who is to know whether they imposing such limits, but it is all on the blockchain. You could do some analysis.
FET has now been trading for a month, so analyzing what account got how much at the time of sale would probably take some effort. These are the top holders: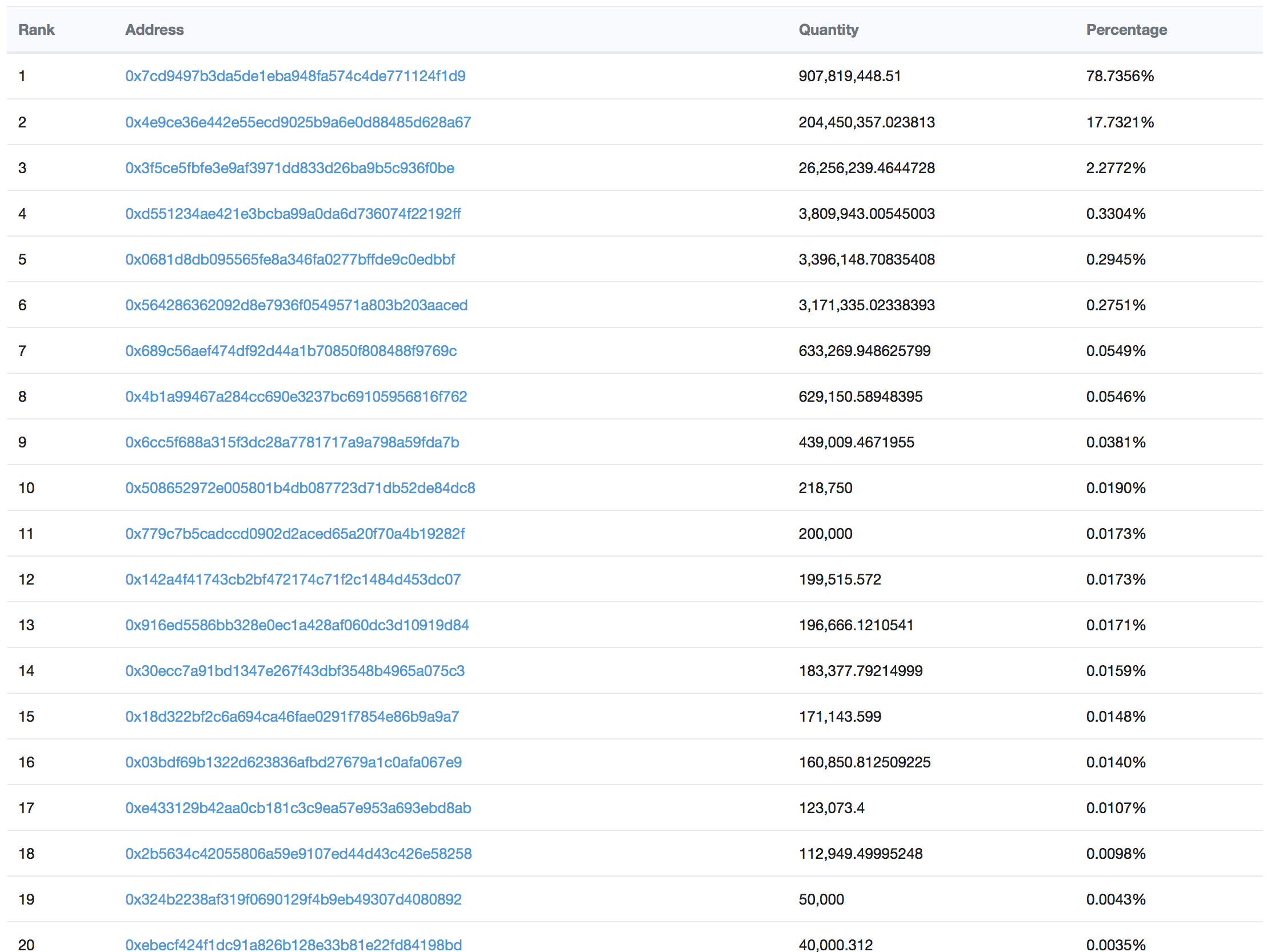 So a bit more than 1 billion FET is not on the market, giving this a valuation of circa $300 million. By comparison, video-conferencing service Zoom, founded in 2011, filed to go public with $330M in revenue ending January 31, 2019 and gross profit of $269.5M. It raised $135M to date from Emergence, Sequoia, Digital Mobile Venture, Li Ka-shing and more.
How much they will raise in the IPO remains to be seen, but so far they've raised only $135 million while making some significant profits.
Here FET doesn't quite yet have a product and still it has managed to gain a valuation of $300 million, at least on paper.
More interestingly, there's apparently not one BNB holder in the top 1,000 with less than 500 BNB. Etherscan doesn't go further, but 672.663 BNB is 0.0004% of the 189 million total supply.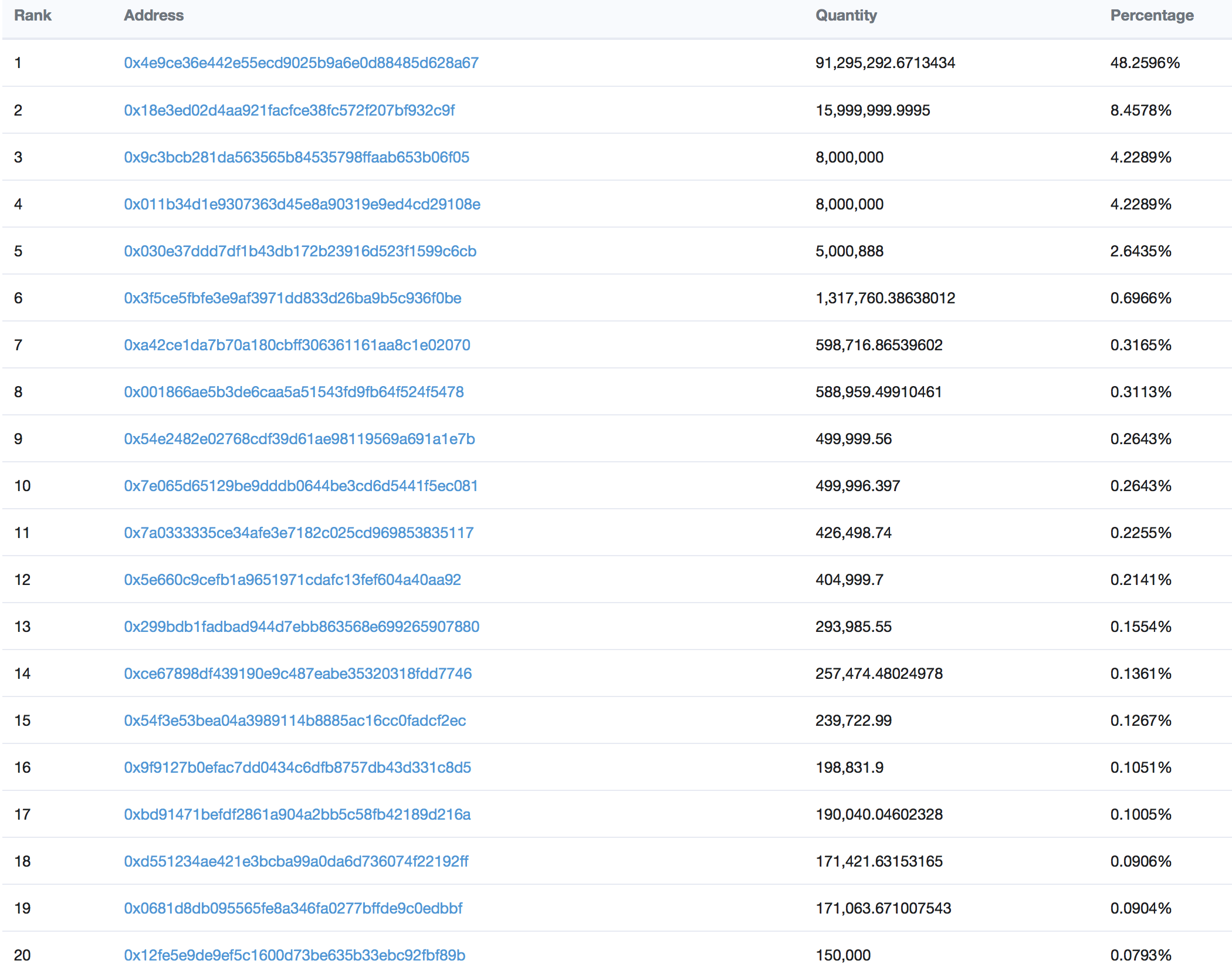 You can see there about half of it is held by Zhao (Binance more widely presumably) with many other big holders in the top 20.
Most of them are pretty much guaranteed to have the opportunity to participate in Binance Launchpad IEOs, with the small guys crowded out by what may well be hedge funds.
As bad as this sound, the traditional system is even worse. You can't participate at all unless you are rich. While here maybe you'll win the lotto or maybe you'll go play to Huobi or Bitmax where they have "market makers" to "support the price."
Peter Thiel invested $500,000 into FB for a 10.2% stake in 2004.

In 2012, Peter cashed out over $1bil worth of FB shares resulting in a ~200,000% ROI.

Crypto returns are only absurd to retail investors because they aren't normally able to fund early-stage ventures.

— sassal.eth 🦇🔊🐼 (@sassal0x) March 21, 2019

Obviously for any Facebook there are thousands and even millions of Facebooks that go to zero. 95% of token projects will probably fail too, if not maybe even 99%.
So if you want to play while you still can make sure you do so with amounts you don't mind losing because you'll probably lose much of it.
Copyrights Trustnodes.com