One of the first ICO-ing project which promised transaction fees and demurrage fees to DGD holders, has now excluded Americans from that promise, but not Chinese holders or Russian holders.
Digix is to launch the Decentralized Autonomous Organization (DAO) later this month with DGD holders able to vote on what project receives a maximum of 100 eth (circa $13,000).
For this participation, DGD holders receive DGX tokens. In describing the rewards, the project says:
"As a Participant, the DGX that you can claim from the Participant reward pool is determined by 3-step process.
Step 1 is to determine your base, which depends on your Stake in DigixDAO and how many Quarter Points you accumulated relative to the minimum Quarter Point threshold.
Step 2 is to determine any bonus added to your base due to your Quarter Points and Reputation Points.
Step 3 is to determine the amount of DGX you can claim using your base and bonus."
Effectively sort of free money or a reward for holding DGD and for participating in the DAO. You're not eligible for such rewards, however, and you can't participate in the DAO at all if you're from:
AFGHANISTAN, ALBANIA, BELARUS, BOSNIA & HERZEGOVINA, BURUNDI, CENTRAL AFRICAN REPUBLIC, COTE DIVOIRE, CUBA, DEMOCRATIC REPUBLIC OF THE CONGO, ETHIOPIA, GUINEA, GUINEA-BISSAU, IRAN, IRAQ, LEBANON, LIBERIA, LIBYA, NORTH KOREA, REPUBLIC OF MACEDONIA, SERBIA, SOMALIA, SOUTH SUDAN, SUDAN, SYRIA, TRINIDAD & TOBAGO, TUNISIA, UGANDA, UKRAINE, UNITED STATES OF AMERICA (USA), VENEZUELA, YEMEN AND ZIMBABWE.
Asked why they're banning Americans, but not Chinese citizens or Japanese citizens or even Russians, Digix says:
"Securities laws differ from each jurisdiction. Unfortunately, securities laws in America are strict and we have been advised that both the sale of DGX and claiming rewards for participation in DigixDAO could be an issue under US securities laws.
We have been seeking further legal clarity from our US advisors and will let the community know once we receive a favourable opinion."
China has outright banned ICOs and has declared them illegal in any shape or form. ICOs do remain very much legal in the United States, but there might be requirements to register with the Securities and Exchanges Commission (SEC).
However, there is an exemption to such requirements where less than $1 million is being raised. Considering here it is just $10,000 per project, it's unclear what reason they were given to exclude US. Asked who their legal representative is, the Digix founders say:
"We are unable to comment on the legal representative due to confidentiality issues."
What's so confidential about a law firm's name, is not very clear, but considering US citizens have now been banned from getting rewards in the DAO, someone asks if they could use some of their eth for DGD buyback programs. Digix says:
"Based on our current structure of DGD and DGX, we have been advised that buyback programs could be in contravention of securities laws."
No one asked them how their request for $20 million which was granted last year was not in contravention of securities laws, but someone does effectively say: alright, well can we have our eth back? Digix says:
"Generally speaking, any form of buyback by Digix of DGD and/or DGX could be an issue with securities laws. There are secondary market exchanges that are available for that option."
What that means isn't clear at all, but it appears to be a way of saying "no." Leading to some frustration among DGD holders and a locking of this AMA.
Interestingly, however, they're seemingly planning to create an actual DAO, but not quite. There is this system where people participate on what project to fund, but the eth itself is held by the Digix team, making the votes just advisory.
In an actual DAO, each participant's eth is held in a smart contract and can move only based on coded rules. That could have considerable implications on how one could run a company.
Here instead we have the same structure of the management which holds the funds (digix) and then the sort of shareholders who vote.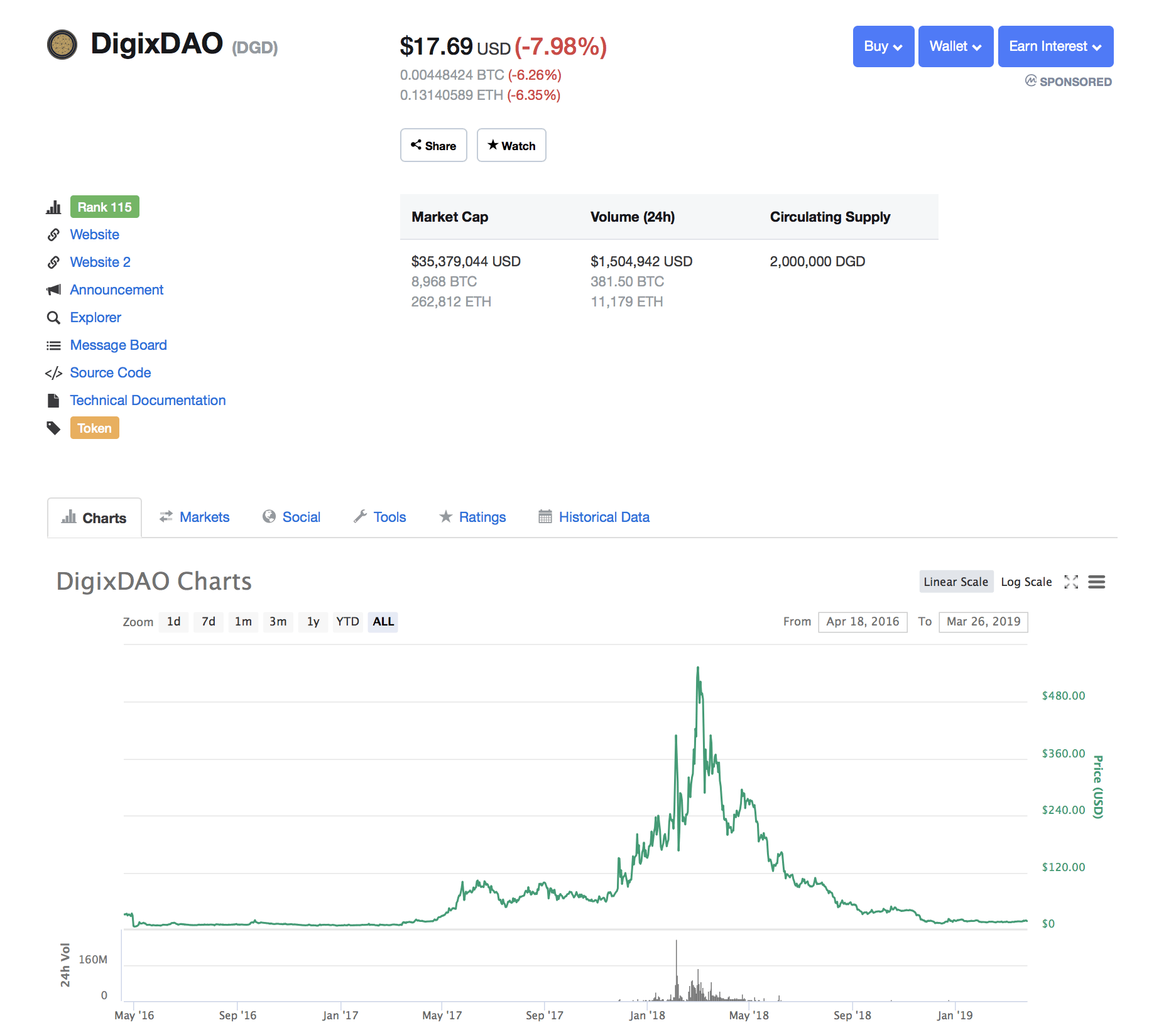 Digix raised some 470,000 eth in 2016, with ◊70,000 ($20 million worth at the time) sold in September, leaving them with 400,000 eth ($53 million).
Their aim was to tokenize gold in a centralized manner that sort of amounts to Tether, but with gold and with audits.
The first such gold tokenization took place in March 2018 with $4.5 million worth of gold tokenized so far and 15,000 transfers processed.
DGD tokens were a funding method to get this tokenized gold system up, Digix Gold Tokens (DGX). In return for this funding they were promised fees from DGX usage.
The usual method is to use these fees to buy or destroy a portion of the main token, in this case DGD, thus reducing supply and so potentially increasing price. Making it a roundabout dividend.
In this case though it appears you have to participate in the Digix DAO to correspondently receive some DGX. That could be cool too, but Americans are being locked out and understandably they're not very happy.
Copyrights Trustnodes.com