After hiking interests rates eight times in two years and after suggesting there may be two further interest rate rises this year, not only has Fed backtracked to say no more interest rises, but it may even cut them.
A recent poll by Reuters of 100 economists suggests there's now a "significant chance of cut in 2020," with Ajay Rajadhyaksha, head of macro research at Barclays, stating:
"We do expect U.S. inflation to exceed 2 percent, but not by much and not early enough to force a tightening within our 2019-20 forecast horizon. We therefore now forecast the Fed to leave the policy rate on hold through 2020."
Top White House economic advisor Larry Kudlow has stated he wants Fed to "immediately" cut interest rates by 0.50%, bringing it down to 2%.
That would still be higher than the current inflation rate of 1.5%, with Kudlow stating: "There's no inflation out there, so I think the Fed's actions were probably overdone."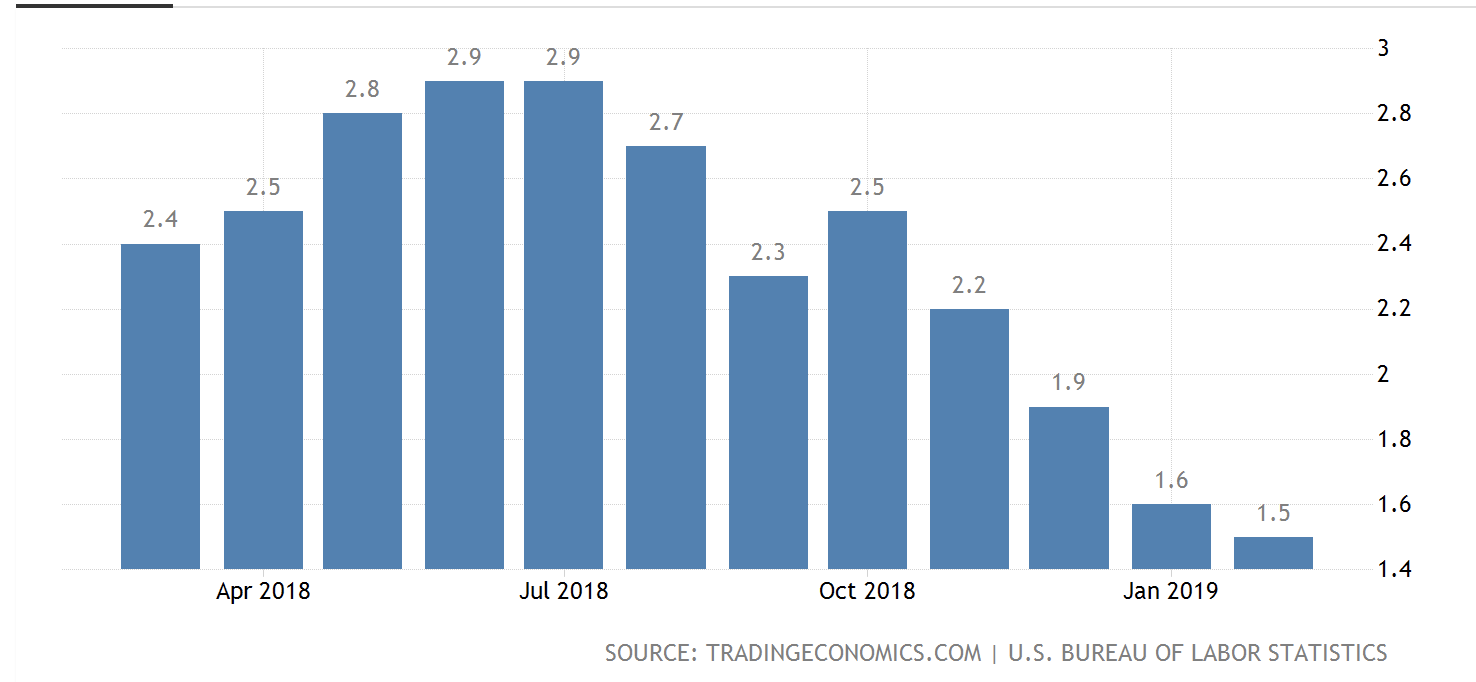 Inflation has dropped throughout this year and now stands below the target of 2% with interest rates currently 1% higher than inflation.
Had the Fed not mistakenly raised interest rates, especially since there is very little inflation, and had they not done the ridiculously timed quantitative tightening, the 3.0% GDP, & Stock Market, would have both been much higher & World Markets would be in a better place!

— Donald J. Trump (@realDonaldTrump) March 29, 2019
Fed has been reducing its balance sheet, taking money off circulation, so raising the cost of borrowing which is how fiat enters the economy.
Stephen Moore, a new nominee to Fed's board of governors, likewise has argued Fed should immediately reverse course and cut interest rates by half a percentage point.
"I just thought that the December rate increase was inexplicable. Commodity prices were already falling dramatically," Moore said.
Neel Kashkari, Minneapolis Fed president, says its not the time for Fed to cut interest rates, but supports maintaining them at 2.5%.
"Some of the risks have shifted to the downside, so pausing to get more information, to see if this really is an economic slowdown or if it's just a blip, I think that's the right move… I think economic weakness has caused the rest of the committee to say it's an appropriate time to pause, and I support that," Kashkari said.
Meaning an interest rate rise this year is clearly unlikely, but an interest cut is not out of the table, something that might act as a boost to the economy due to lowering mortgage payments.
Copyrights Trustnodes.com