Bitcoin Cash spiked by 50% in the past 24 hours, gaining more than any top crypto even as the market has overall turned green.
The chain split fork of bitcoin has nearly tripled in the past few weeks, rising from circa $100 to now $270 at the time of writing.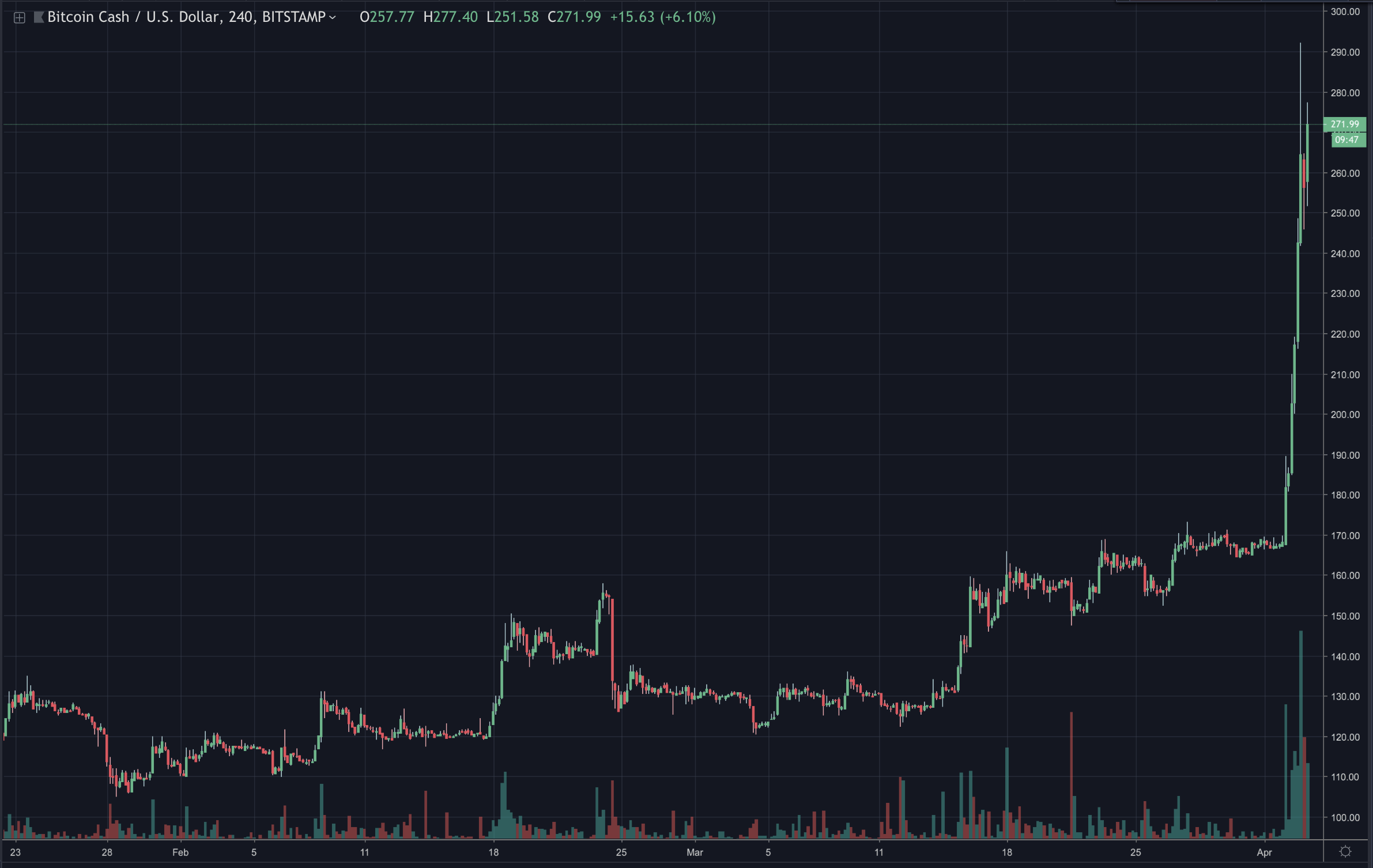 The digital currency was slowly rising in line with the market until bitcoin jumped by close to $1,000, suddenly sending most cryptos into double digits green.
While btc and eth gained about 20%, BCH went further than most, touching $290 on increased volumes of $2.2 billion.
On-chain data further shows an increase in activity, with BCH processing more transactions by value than ethereum, which has a far higher market cap.
BCH handled only 27,000 transactions, but that moved $1.3 billion worth of coins. Ethereum's transactions are far higher, but they moved less value at circa $735 million.
Bitcoin has doubled in this metric, with $9 billion moved in the past 24 hours. While litecoin interestingly is close to $1 billion even as it handles only 37,000 transactions.
That might suggest ethereum is arguably being used beyond just sending and receiving from exchanges or selling Over the Counter (OTC), but they've all seen an increase in activity.
Why BCH jumped more isn't too clear but arguably there was an over-reaction by the market following the chain-split of Bitcoin Cash.
That sent BCH's price even below that of eth which has a 5x bigger supply, with the coin then taking some time to recover.
Now that sentiment appears to have changed, it jumped to try and overtake litecoin in market cap and get back to its fourth position.
Another reason might be because BCH is to undergo a May upgrade which will implement Schnorr Signatures.
Bitcoin Core has been talking about them since forever, but it's BCH that gets to implement it first and perhaps quite ahead of BTC which still doesn't have a time estimate of when they might implement them.
A third relevant factor might be that some congestion is returning in btc as demand for blockspace increases, so individuals might be using BCH as an alternative, but that's not quite reflected in the transactions numbers.
So it's probably, overall, just a correction of its over-reaction, with BCH seemingly headed once more for its top four position.
Copyrights Trustnodes.com