A Nigerian Non-Governmental Organization, United Global Resolve For Peace (UGRF), has petitioned the Central Bank of Nigeria (CBN), the Economic and Financial Crimes Commission (EFCC) and the Ministry of Foreign Affairs over allegations that a crypto peer to peer exchange, Paxful, was fraudulently withholding funds belonging to Nigerians.
"First-hand narratives are rife of users/client's accounts being deducted illegally or accounts suspended without due process or proper investigation. More appalling is the knowledge that funds so seized are never returned and are claimed/taken over by PAXFUL," the NGO says.
Nigeria's The Guardian has now picked up the story, stating the NGO's Executive Director, Shalom Olaseni, "called on the CBN and relevant government agencies to as a matter of urgency come to the aid of Nigerians that have been defrauded by the online trade merchant group, adding that the absence of regulation of the activities of Paxful puts it above the reaches of the law and other checks necessary to keep it in line with best practices."
The so called "Nigeria's most respected newspaper" did not bother to give the other side of the story, not even in passing.
Apparently scamming attempts, whether successful or otherwise, are rife in this exchange which allows the selling of bitcoin as well as other things like Apple gift-cards. Ray Youssef (pictured above), Paxful's co-founder, says:
"Selling used gift cards over and over is FRAUD, yes this is a CRIME, like selling a car that you do not own. Note to all scammers who contact me on twitter, I will make sure your account gets permanently FROZEN, thanks. Funds will go towards victims or SCHOOLs," emphasis his.
The NGO insinuates this is somehow a problem of perception, stating: "With the multifaceted challenges that fraudsters, popularly known as 419ers, pose to the image of Nigeria and Nigerians, it is expedient that the needful be done to curtail the excesses of Paxful."
Yet when we visited Paxful's twitter, the very first thing we saw was this curious exchange of an apparent Nigerian complaining of being scammed and then presumably the scammer complains about his account being locked:

We haven't see what proof Paxful was given, but it does appear that rather a problem of perception or undue bias, there is instead some scamming going on and much of it seems to be Nigerians scamming other Nigerians.
Apparently about 40% of transactions on Paxful are from Nigerians, making it quite a substantial amount as they handle circa $20 million a week of bitcoin trading alone: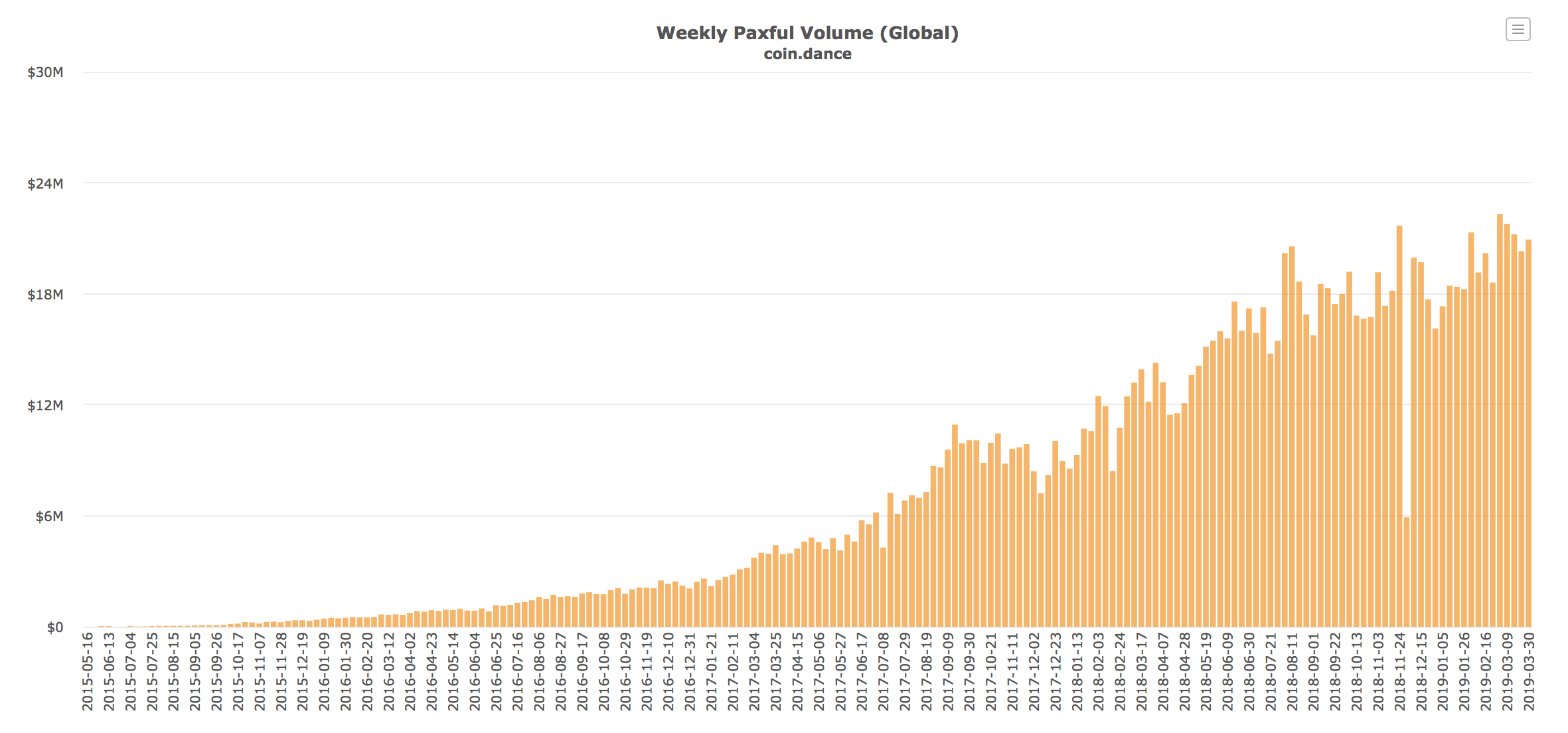 The NGO highlights that this exchange, based in Estonia, is not regulated in Nigeria and pays no taxes in Nigeria.
"The absence of regulation of the activities of Paxful puts it above the reaches of the law and other checks necessary to keep it in line with best practices," the NGO says.
Warning to all scammers who think tweeting or contacting me will help. I will double your suspension time at the very least. No room for bad actors.

— Ray Youssef (@raypaxful) April 7, 2019
It is unclear how many schools they have funded with what they claim are scammed funds, but if evidence is provided that such assets are indeed ill-gotten and that they have indeed gone to good public uses for Nigeria, then they're clearly doing what the largely corrupt Nigerian government is unable to do in preventing scamming, and presumably they're using those funds far better than the Nigerian government would put such taxes to use.
In which case you'd expect the country's most respected paper and the NGO to work with the exchange or at least to ask them for their side of the story.
Copyrights Trustnodes.com