To the moon memes have made it to the Whitehouse with President Donald Trump stating "you would see a rocket ship" if Fed stopped "quantitative tightening." He said:
"Well I personally think the Fed should drop rates. I think they really slowed us down. There's no inflation. I would say in terms of quantitative tightening, it should actually now be quantitative easing.
Very little if any inflation. And I think they should drop rates, and they should get rid of quantitative tightening. You would see a rocket ship. Despite that, we're doing very well."
Very well. Packed session boys and girls in this table chat highlights-only "news at ten" style covering of unfoldings as we clear our table of information.
We'll start with an interesting study by Chinese researchers who have acted a bit like law enforcement in setting up traps of sorts to see how hackers do their haxoring on eth. They say:
"Interestingly, our honeypot captured many attempts of sending transactions with a zero value in the gasPrice field. This brings our attention for a further investigation.
We want to understand whether such transactions could be successful, and the intentions for sending such transactions.
After performing experiments on the testnet, we found that transactions with a zero gas price received through the p2p network will not be accepted by the miner, and will be discarded as invalid ones.
However, if such a transaction is created and launched on the miner node itself (i.e., the node that successfully mines a new block is sending a zero gas transaction), then the transaction will be packed into the block by the miner itself and accepted by the network."
Clever muppets have apparently used these zero gas transactions to fish by baiting with revealed private keys. Once the tokens are sent to the fishing smart contract, then they transfer them out through these zero gas transactions which are sent directly to a mining node.
That's just one of quite a few revelations of how haxors are behaving on ethereum, with the researchers promising to release the dataset of attacks.
"Cryptocurrency Exchange Liable for Technical Glitch," shouts Clifford Chance, the international law firm. In a summary, they say:
"Where it is relevant to determine what the intention or knowledge was underlying the mode of operation of a particular machine, it would be logical to have regard to the knowledge or intention of the operator or controller of the machine.
In the case of robots or trading software in computers this cannot be that of the person who turns on the machine, but the person who was responsible for causing it to work in the way it did.
Insofar as algorithmic trading in the present case is concerned, it was observed that such programs are deterministic and have no mind of their own. It would therefore be logical to look into the state of mind of the programmer."
So if buggy code is at fault, then the owner of that code is liable for losses incurred by the contracting party.
That appears to be a reasonable balancing act of who should be responsible for loses arising from some technical glitch. If the coder made it glitchy, then their employer. So appears to be the view of the Singapore International Commercial Court (SICC).
That should make Her Majesty's Land Registry a bit comfortable (not) with it boasting today that:
"HM Land Registry has rigorously tested the technology and has successfully used their blockchain prototype to show how buying and selling a home can be made simpler, quicker by demonstrating a digital transfer of ownership.
The sale of a semi-detached house in Gillingham, Kent, was used to show how the emerging technology could be used to reduce uncertainty and delays when buying a home. Delays can cause unnecessary stress for the buyer and seller and sometimes even cause sales to fall through.
Stefan, the seller of the house in Gillingham who took part in the trial, commented:
'It was really straightforward. It shows how technology like this can help make everything so much quicker and you can see clearly what's happening at every stage. If this is the way forward, it's going to make everything easier.'
The prototype has been developed as part of the organisation's Digital Street research project. The blockchain technology has been developed through conversations with stakeholders across the property market, and tested with the close cooperation of Mishcon de Reya, Premier Property Lawyers, Shieldpay and Yoti."
Apparently this first blockchain based property sale in UK used permissioned Corda Smart Contract logic built by the Land Registry.
So bringing us neatly to some comments made by the guy in charge of Australia's Digital Transformation Agency (DTA) which assists the Government in guiding, overseeing and driving its digital and ICT transformation agendas. Acting DTA CEO Peter Alexander said:
"For government to use a technology, pick a winner, maybe the best analogy is we might choose the Betamax version of blockchain and have a number of implementations of that, when other agencies and organisations are using VHS, and then someone else will come along and use DVDs or Bluray, and in the end all we want to do is watch a movie, and we've chosen an implementation which isn't going to interoperate particularly well with others."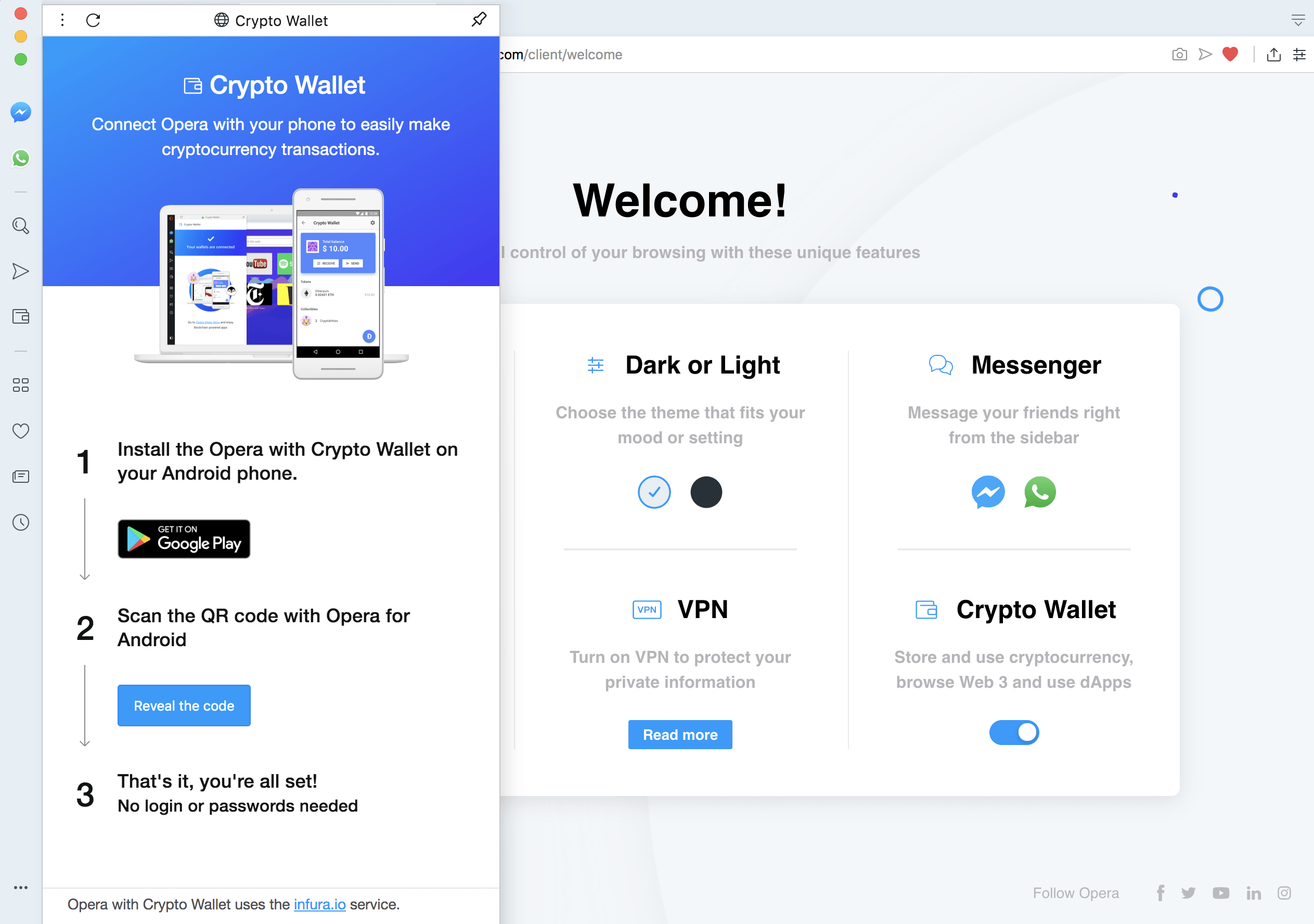 Opera has launched their dapp browser and crypto wallet with it finally enticing us to download it primarily – we must confess – because it offers free VPN.
The above shows the welcome screen where you have to turn on the crypto wallet option with the VPN on-switch being a bit more complicated in as far as you have to go to settings, then advanced, and finally turn it on.
The VPN does then work and does so reasonably fast offering the choice of regions although for some reason it never gave us a USA IP address.
We wanted to testrun the crypto wallet, but apparently you have to install it on your phone first and apparently it has to be an Android phone.
"Bitstamp today announces that is has been granted a virtual currency license from the New York State Department of Financial Services (DFS). It is the 19th company to receive a BitLicense, which authorizes Bitstamp to continue its digital currency operations in the state of New York."
So we're told. Virtual currency. With "real" money obviously you don't need a license if you're one of the 26 billionaires that own half the world.
"We wanted to make sure you tuned in to hear Circle CEO Jeremy Allaire speak on a panel with IMF Managing Director Christine Lagarde, as well as executives and officials from JPMorgan, the European Central Bank, and the Central Bank of Kenya.
Mr. Allaire will be speaking about the future of crypto and how blockchain and crypto technologies are poised to be more transformative than the internet.
The event will be livestreamed this Wednesday at 2 pm EDT (6 pm UTC). You can watch the livestream here."
We probably won't because we can imagine how it will go, but maybe some of you would like to. So, Blockbuster, what do you think of Netflix? Oh, it breaches this law and that law and a trillion other laws and reeee, but reee.
Not sure why we hearing about South Africa a bit more except that we suspect crypto adoption has been growing there since last year with it on the verge of mainstream or perhaps mainstream already at least in awareness and as far as bitcoin is concerned.
Ethereum does still court blank stares, and uttering the word eth does give you that same semi-discomfort as stating bitcoin back when, but someone was kind enough to put some sort of overview of the crypto scene in South Africa.
The skills shortage in the blockchain industry continues. Employers complain of others coming to steel their cryptonians with higher salaries and presumably flattery, including the pretense that these high school kids are Satoshi Nakamoto with ten years crypto experience.
"One reason for the sudden uptick in blockchain-related job postings is that enterprise projects have matured over the past three years, moving from proofs of concept in 2017 to pilots in 2018 to production systems this year, according to Arun Ghosh, KPMG's U.S. blockchain leader.
'We have job postings at all levels, from entry all the way to blockchain architect with 10 years' experience. I can't give out specific numbers, but suffice it to say [job listings] are in the double digits across all the regions,' Ghosh said."
Gosh indeed. Just as bitcoin fees are gosh to some. They've apparently risen to about $2 per transaction. Doom some cry, shut up and eat the pie say some others. We don't care. Sharding first and then we'll talk.
Well, this is something. Now we've been trying for months to get some clarification on this and we're still not very sure. Tempting to say "mah it's Bloomberg," but sometime they've done a worse job at reporting than us so we're not yet ready to run what would be a fairly big headline, but Bloomberg says:
"Former Wall Street trader Edgar Fernandez used some of his bitcoin as collateral to borrow nearly US$100,000 (RM410,000), a move that let him keep his cryptocurrency and avert a tax bill on the newly acquired cash.
The tax perk stems from a longstanding principle that assets aren't taxed until sold, much like borrowing against stock holdings."
So instead of selling your bitcoin or eth and thus getting taxed on it, you put them down as collateral and get a loan based on that collateral with the fiat received from that loan being tax free.
Eventually then you have to pay the loan obviously, with interest, at which point presumably you'd sell your bitcoin or eth at which point they would be taxed.
Rationally that might suggest the loan itself, such as printing dai, can't be taxed, but in that case there might be quite a few loopholes that with some sophistication could save a lot of money.
Unlike ordinary loopholes, here it would be semi-automatic and permissionless. So maybe it is happening. Maybe we are after all, slowly and almost unnoticeably, opening the guilds.
Copyrights Trustnodes.com