The Swedish Social Democratic Party currently in power has made a number of tweets about bitcoin after getting hacked.
"We have abolished the Swedish krona and replaced it with bitcoin. Time to buy," one tweet said to their circa 80,000 followers.
The tweet has now been deleted, with officials regaining access. According to a rough translation, they say:
"During The Night Our Twitter account was hijacked. Tweets and messages sent from the account during the night have not been sent by (S)," S being Socialdemokraterna.
They also changed their handle to "Bitcoin Democrats" and added bitcoin to their logo (pictured above).
Some 20 tweets were sent before access was re-gained, including one tweet that scapegoated muslims according to the BBC.
A local paper claims to have gotten in touch with the still unknown hackers. It details how they used social engineering to get access.
They pretended to be Stefan Löfven, the serving Prime Minister of Sweden since 2014. They then sent a very plain letter to Twitter's support, with that being sufficient as far as the hackers claim.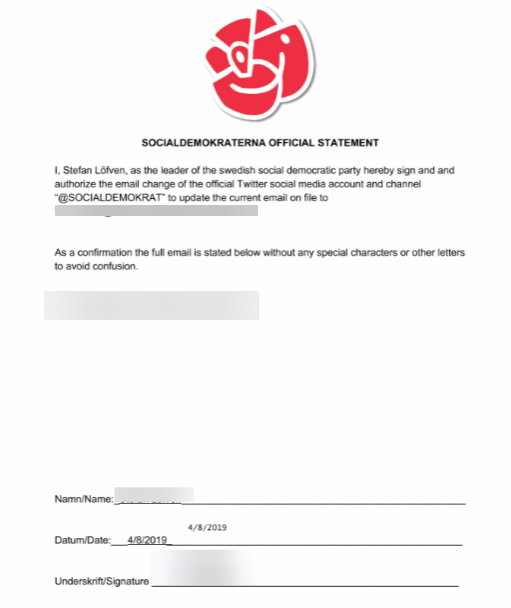 It is unclear whether it really was that simple as it is difficult to imagine why the Prime Minister himself would deal with such low level matters like twitter email changes.
If however that is indeed how it happened, something which Twitter now has to confirm or otherwise and preferably publicly, it does raise many questions about their quality controls, if they have any.
"You see, it's clear that hacking no longer is defined as rooting a server to acquire state secrets. Hacking nowadays is staying one step ahead of technical support," the alleged hackers said.
This all could of course be a cover story as in many ways it isn't easily believable. It may instead be the case that some rogue Twitter employee gave them access, with the rest then being some sort of cover.
Something which both Tweeter and Swedish authorities will now probably investigate as this significant failure does raise many questions.
Copyrights Trustnodes.com