More than a billion dollars has already been invested in blockchain start-ups so far this year by Venture Capitalists (VCs), overtaking all of 2017 and on track for another record breaking year.
$1.12 billion has been invested so far, just slightly more than $1.07 billion in 2017. There's an interesting trend however.
Corporate Venture Capital investment in blockchain tech has doubled from $0.4 billion in all of 2017 to $0.8 billion this year as of April 2019.
That's not far off from half of the $2.4 billion raised in 2018 in corporate VC funding according to data by PitchBook compiled for Reuters.
Corporate investment in blockchain companies is therefore growing considerably, with such investments including the London Stock Exchange Group and Microsoft Corp.
The London Stock Exchange recently became the first to allow the issuing of tokenized shares using the ethereum based Token Factory, according to the Telegraph, while Microsoft has backed ethereum and other blockchains since at least 2016.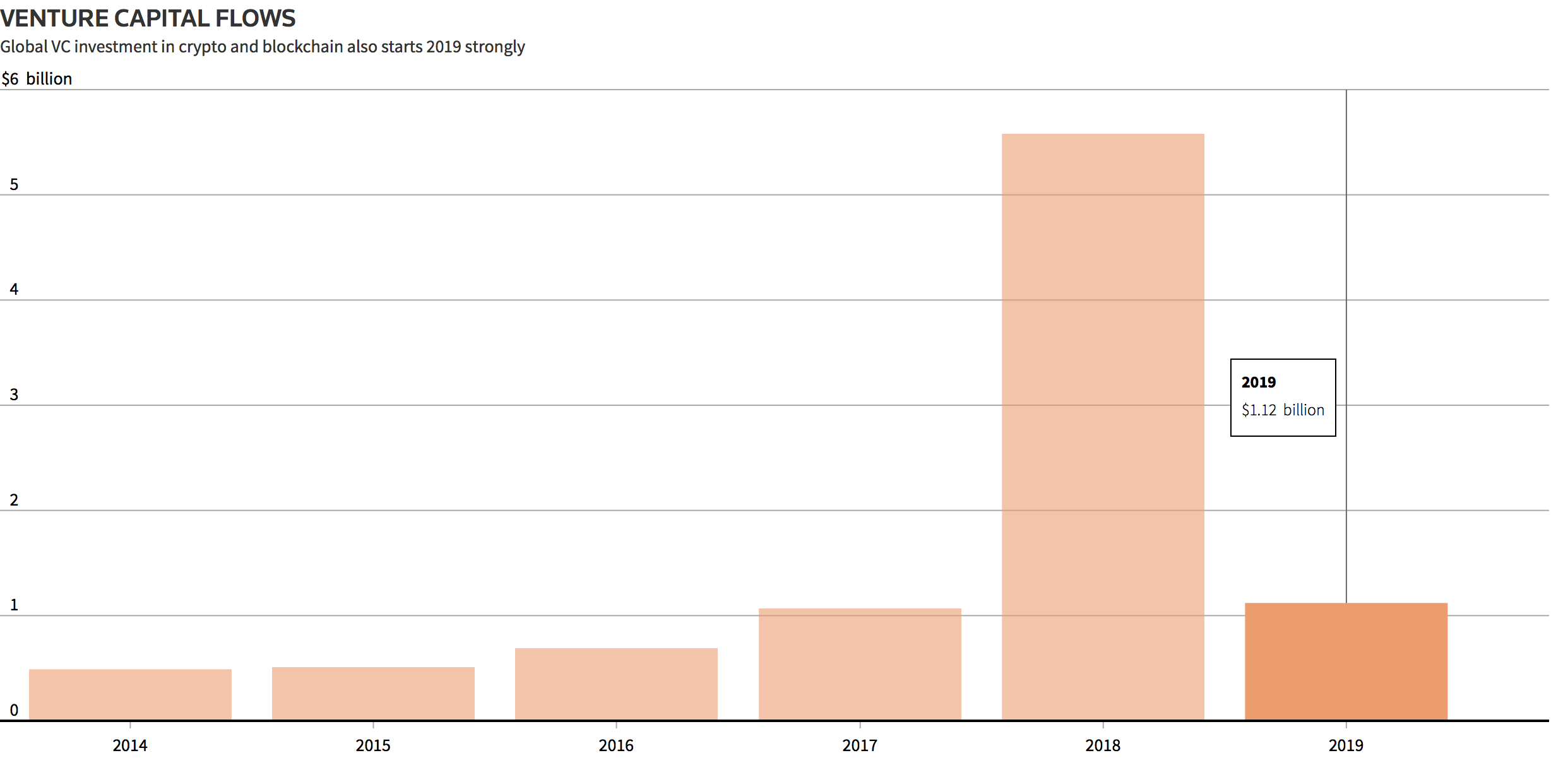 "People are really enamoured by tokenisation – the ability to produce coins or other forms of value – so that's where we see all of the action at the moment," said Anton Ruddenklau, global co-head of fintech at KPMG.
A record $5.6 billion was invested in blockchain companies last year in 617 deals with Jamie Burke, CEO of Outlier Ventures, stating:
"There is a huge experimentation in effectively the basic plumbing for a native economic layer to the web."
Jurisdictional competition is developing to attract these new markets, with France seeing an opportunity to position the EU as a leader in the blockchain space.
Bruno Le Maire, the French finance minister, stated a €4.5 billion innovation fund had been set-up with blockchain one of their top priority.
France is now trying to persuade all of EU to adopt the Pacte Law, a wholistic legal framework that is generally seen as one of the most permissive crypto regulatory legislation.
South Korea might also play after the port city of Busan was named as the preferred bidder for a national blockchain free economic zone.
That could potentially allow for a return of Initial Coin Offerings (ICOs) which are now being rebranded as Initial Exchange Offerings (IEOs).
I have to say I didn't expect IEOs to last but it's 🔥🔥all over in Asia right now

This is a picture taken from the internet of a takeout delivery boy (@meituan jacket) participating in @HuobiGlobal 's first IEO pic.twitter.com/HYP7ofqolm

— Joyce Yang 🧘‍♀️ (🇺🇦,🇺🇦) (@JoyceInNYC) April 17, 2019

Asia has been a major player in the crypto space since late 2013, with South Korea's Bithumb recently raising $200 million.
While Coinbase has apparently made $520 million in revenue last year, a third of it ($173 million) in the United Kingdom.
London still remains a major player, but potential regulatory complications from Brexit may give others an edge as crypto adoption continues.
Copyrights Trustnodes.com