Ripple Labs, the entity behind XRP which controls circa 50 billion Ripples, has apparently sold yesterday 20 million XRP worth circa $7 million.
It appears the sale occurred Over the Counter (OTC) with xrp's price slightly down at the time of writing in contrast to some gains for eth and bitcoin.
It is unclear why Ripple sold these sums, at what price, or what they plan to do with $7 million. This is a pretty small amount, however, of their overall constant liquidation of XRP.
Leonidas Hadjiloizou, who appears to be a community member of XRP, says in a very lengthy public post:
"The XRP circulating supply has increased from 40,794,121,066 on December 16th to 41,706,564,590 on March 17th. That is an increase of almost 1 billion XRP in 3 months and it is similar to last quarter's increase."
For the last quarter of 2018, Ripple sold $129.03 million worth of XRP and $535.56 million for the full year of 2018.
That's an immense amount of money, with it quite unclear what they're spending it on.
They've now added more to it. If they did indeed sell 1 billion XRP since December, accounting for price variations that would amount to circa $250 million to $300 million.
Some of it probably goes towards their nice offices in San Francisco where they have flashy chandeliers and such heigh ceilings you can barely see the roof.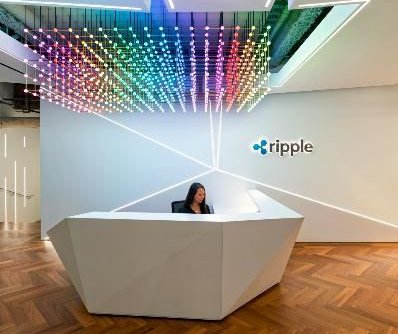 While some of it probably goes towards high salaries, with David Schwartz, chief cryptographer at Ripple, stating pay packages for crypto talent "have gotten insane."
Much of it probably goes towards marketing with suggestions there's a massive XRP sentiment shill army.
Keeping appearances is probably not cheap. XRP's daily discussion thread, for example, barely attracts more than a comment or two.
BCH's online fora, in contrast, are full of debate and discussion yet BCH is worth 3x less than XRP perhaps in part because it doesn't have much marketing.
ETH's daily discussions at times attract thousands of comments, but that too is barely worth more than XRP and if the uncirculating supply is accounted, eth is worth about half of XRP.
So whatever they're spending this money on, is getting some results, with the crypto managing to maintain top three position since 2014.
Copyrights Trustnodes.com