2019 has been a good year for cryptos so far with most of them in green except for XRP, Tron and BSV.
ETH rose by 50% in the past three months. Bitcoin Cash rose by 150%. While bitcoin saw 60% gains.
BNB has been the biggest winner by far, up close to 270%. LTC has done well too, gaining 135%. While EOS is up 110% this year (pictured above).
The monthly gains look somewhat similar, but with a bit more red. The top ones have gained. Bitcoin up 30%. Eth up 14%. While Bitcoin Cash is April's biggest winner with 67%.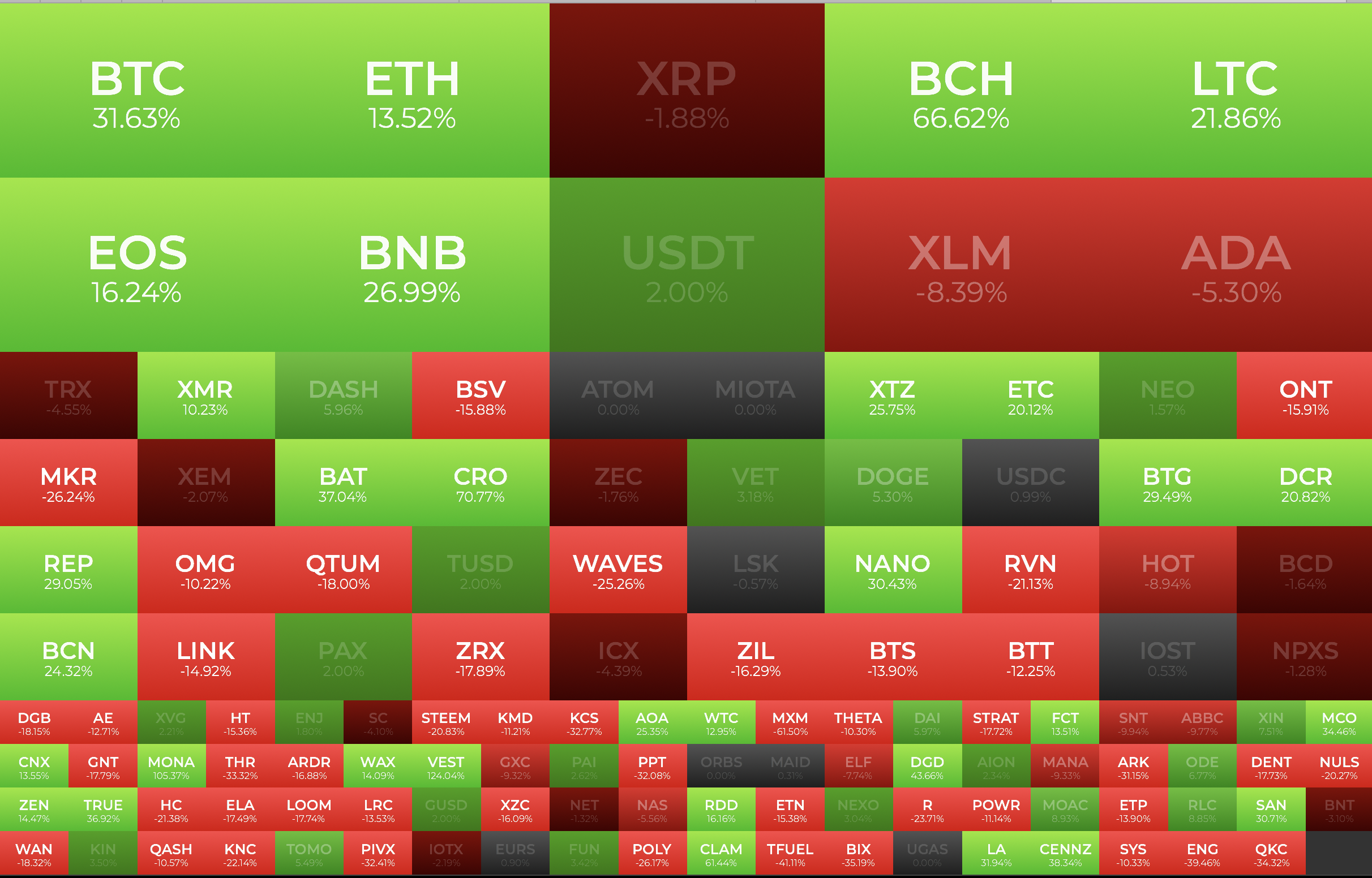 Bitcoin Cash has risen a lot in part because it fell more than any other top crypto.
Even with these massive recent gains, BCH is still one of the biggest losers over a yearly period, down 80%.
Bitcoin has done a lot better over a year, down "only" 40%. While eth has been beaten by XRP with the latter maintaining more of its value.
Litecoin too, quite interestingly, has beaten almost everyone except for bitcoin. MKR is doing alright too. As is REP. While OMG is rekt.
Green is very rare over this yearly period, but BNB is up over 50%. The rest sit in losses.
For BCH it is perhaps somewhat understandable as the November chain-split did not go very well, but why eth is losing so much ground to bitcoin is not very clear.
One reason might be because eth had a far higher inflation rate than bitcoin until recently. Another reason might be uncertainty in regards to its upgrade roadmap, coupled with very poor levels of communicating and responding to ethereans and their concerns.
XRP has done better in part because they're pretty good at marketing, but bitcoin is the dominant story at this zoomed out one year period.
The coin has managed to retain its value far better than any of the other top ones and the reason for that might be because it is simply bigger, more liquid, and remains sort of the gateway to the wider crypto space.
In addition, bitcoin is more scarce than generally perceived. The 21 million number is the headline, but so many coins have been lost especially in the early days when it almost had no value. 15 million would perhaps be a good estimate.
Finally, bitcoin is not making any changes. Something that you'd think would be a problem, but objectively it is perhaps a lot better than some council deciding to lower rewards from 3eth per block to 2eth per block in return for an algorithmic change that picks winners and losers.
It is in fact that risk of special interests lobbying for their pet issues that has led to a rigid view in some parts of bitcoin that there should be no hard-forks.
That can have its own problems during these early days when much improvement is needed, but it has its own benefits too. Chiefly, certainty that one bitcoin is in fact one bitcoin.
This space is however developing very rapidly. So what the picture will look like in a year or two, remains to be seen, but for now we can enjoy this crypto spring.
Copyrights Trustnodes.com