Pound has fallen another 4% this month and is down 12% since last May, dropping to less than $1.27 and to just 1.13 for the euro.
Brexit is pretty much the only reason for this fall, with UK imports now becoming more expensive. That means things like wine from France or olives from Greece now cost a bit more.
That brief respite at the beginning of the year was due to hopes a deal might go through parliament, but following the breakdown of talks with Labour at the beginning of the month, pound has seen one of its biggest downwards streak.
Inflation however has been somewhat muted, but that might be because there has been almost no growth, ranging from 0.2% to 0.5%, compared to America's 3%+.
When accounting for inflation at 1.9%, the British economy is basically contracting and Brexit might have something to do with it.
Divided Britain While Pound Sinks
"I understand how angry people are on both sides," Sir Vince Cable, the Lib Dem leader, said before adding:
"There are some angry Leavers and there are some very angry Remainers too, particularly young people who feel their future has been taken away from them on the basis of a very narrow majority, where a significant majority of the electorate did not vote and many young people did not get an opportunity to vote."
Brexit has divided UK like nothing else with a most crucial election now in two days this Thursday.
The European election is never paid any attention, but it's the first proper vote on the European question since the referendum in 2016.
There's of course the Brexit Party, which has no manifesto and is pretty much a one man show: Nigel Farage.
The banker is basically the only option for those who think Britain should leave. There is literally no other, except UKIP which is irrelevant now that the one man show has moved to a different party.
On the remain side, there's quite a few options but really the clearest vote for remain is Lib Dems.
There's another new party, Change UK, which doesn't even have a logo yet. They have some big names though, and they too are a clear vote for remain.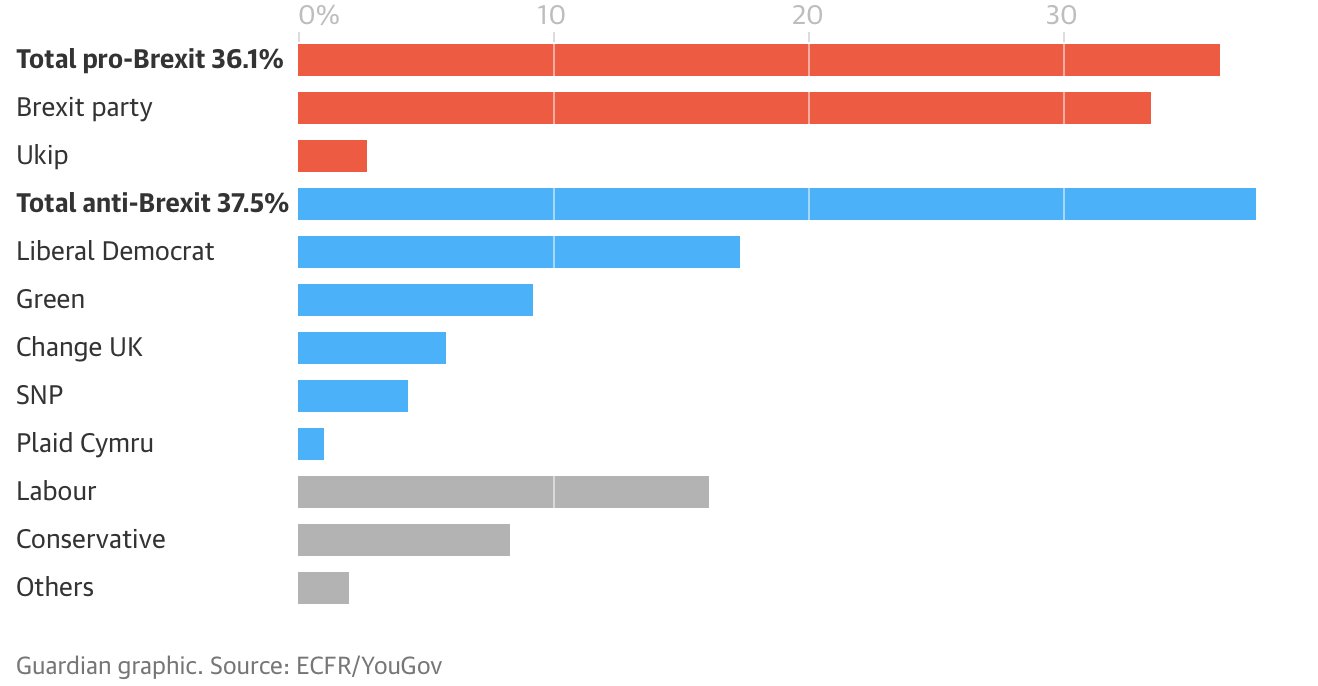 Labour is… well, a mess. They're sort of remain, they're kind of leave, no one even knows what they are. A wasted vote, basically, as far as this election is concerned.
Conservatives are even worse, they don't even know what they want, they can't agree on anything. So they too are out of the picture.
Really, this is a two horse race: Nigel Farage v Lib Dems. That is made clear by Lord Heseltine, a veteran Conservative politician, stating he will vote for Lib Dems.
Obviously some will vote for SNP and so on. They should have united in one platform since this is basically a kind of mini-referendum, but politics is politics so we have to add them all together.
Polls lie as we now know, so don't pay much attention to any of them as polling companies have an entire semi-rigged business.
The only poll that matters is the one on Thursday which could, perhaps significantly, affect markets, including even bitcoin.
The Economy vs Tribalism
If Farage surprises with better than expected results, then Britain may leave without a deal on Halloween.
That means UK would lose access to the world's almost biggest economy which is comparable in size to USA.
Wine and olives would probably become even more expensive, the pound may well fall below euro parity, Amsterdam may take some of the baking industry, while London would lose some – if not much – of its luster for Fintech.
That's before getting into geopolitics. Who would put a border in Northern Ireland and where? Would Europe take Gibraltar, and if they do can Britain do anything about it? Would the French v English centuries old rivalry come back? Remain Scotland would probably leave, but will Wales follow?
Trump said he'll give a deal, but he's around for another 5 years at most. How would another Obama treat island Britain and can the trade deal be finalized by then?
They usually take a very long time. EU and America have been negotiating a trade deal for years. It may well turn out that UK would have had a trade deal with America quicker if it was in EU than out.
On immigration, UK may have taken the brunt of it, welcoming Eastern Europe before Germany and France. Now that their standards have lifted and the economy is at near full employment, UK might leave and thus not enjoy the benefits of the costs it paid.
If on the other hand remain surprises in a win, a second referendum might be on the cards which can have its own problems.
The election, moreover, doesn't quite change anything. It's not a "real" election. It won't directly change government or even MPs. It's more of just seeing where people stand now on Europe.
That could influence things, but really the current MPs are not able to deliver anything, so there perhaps has to be a general election to make up a new parliament.
The current prime minister, however, fancies herself as the Iron Lady just because she's a woman, despite showing no Iron in her EU negotiations.
So it's a mess, with most wishing it just goes away somehow, but the real negotiations have not even begun with some saying this may go on for decades.
The upside to it is that exports are now cheaper. Whoever gets paid in dollars or euros in Britain is now a bit richer. Made in UK is a bit more affordable. Holidaying to Britain might now cost you less.
That could make some sectors of the British economy more competitive, just as it might increase capital outflows due to the falling pound.
Brits may thus buy bitcoin or cryptos to hedge, but their pound might buy less too. So it's a Brexit mess.
Copyrights Trustnodes.com