Jair Bolsonaro (pictured left), the new president of Brazil who took power this January, has stated in an interview with the popular talk show host Carlos Roberto Massa, known as Ratinho (mouse), that he doesn't know what bitcoin is.
Aired by Brazil's second most watched TV station, Tuesday night at SBT, the new president's reply to "what is bitcoin?" was "I do not know" according to local crypto media.
"It's that virtual coin. I do not know how to operate this train yet," Bolsonaro reportedly said.
They were speaking within the context of the previous government's planned experimentation for an indigenous local cryptocurrency which was to be developed by the National Indian Foundation (Funai) and the Federal University Fluminense (UFF) at a cost of about $11 million.
Within days of taking office, however, the project was scrapped. "Many contracts have been broken down and will be exposed, like the $44 million [real] to create cryptocurrency," Bolsonaro said.
His son, Carlos Bolsonaro, praised the action this April, stating according to a rough translation: "The Minister [of Human Rights, Family and Women] Damares Alves blocks tens of millions in bitcoins destined for government agencies linked TO FUNAI IN RJ, reveals suspicious destinations of billions involving indigenous health. Unscrupulous can still keep an eye on embezzlement of public money."
He obviously means bitcoins worth millions of reals, with the matter here appearing to not have much to do with bitcoin itself, but with an apparent distaste for indigenous Brazilians.
The previous government was presumably planning to experiment with a local cryptocurrency to see if it might boost the indigenous economy, but the new Brazilian president thinks indigenous people and lands should be integrated into the larger Brazilian society.
For that and many other reasons some have called Bolsonaro a nationalist. He apparently said a week before the recent second round for presidential elections that leftists "would be arrested, purged or taken to the 'corner of the beach,' a term that was later revealed to mean a Navy base where dissidents of the Brazilian military dictatorship were shot," according to Wikipedia with those comments then later backtracked.
Bolsonaro considers himself to not be far right, just "ordinary" right wing, but Bolsonaro has apparently argued against a division between state and religion, saying:
"God above everything. There is no such thing as a secular state. The state is Christian, and any minority that is against this has to change, if they can."
He has seemingly praised military rule in Brazil during the 70s and 80s, with this 64 year old man clearly looking more towards the past than the future as shown by his apparent unawareness of what is bitcoin.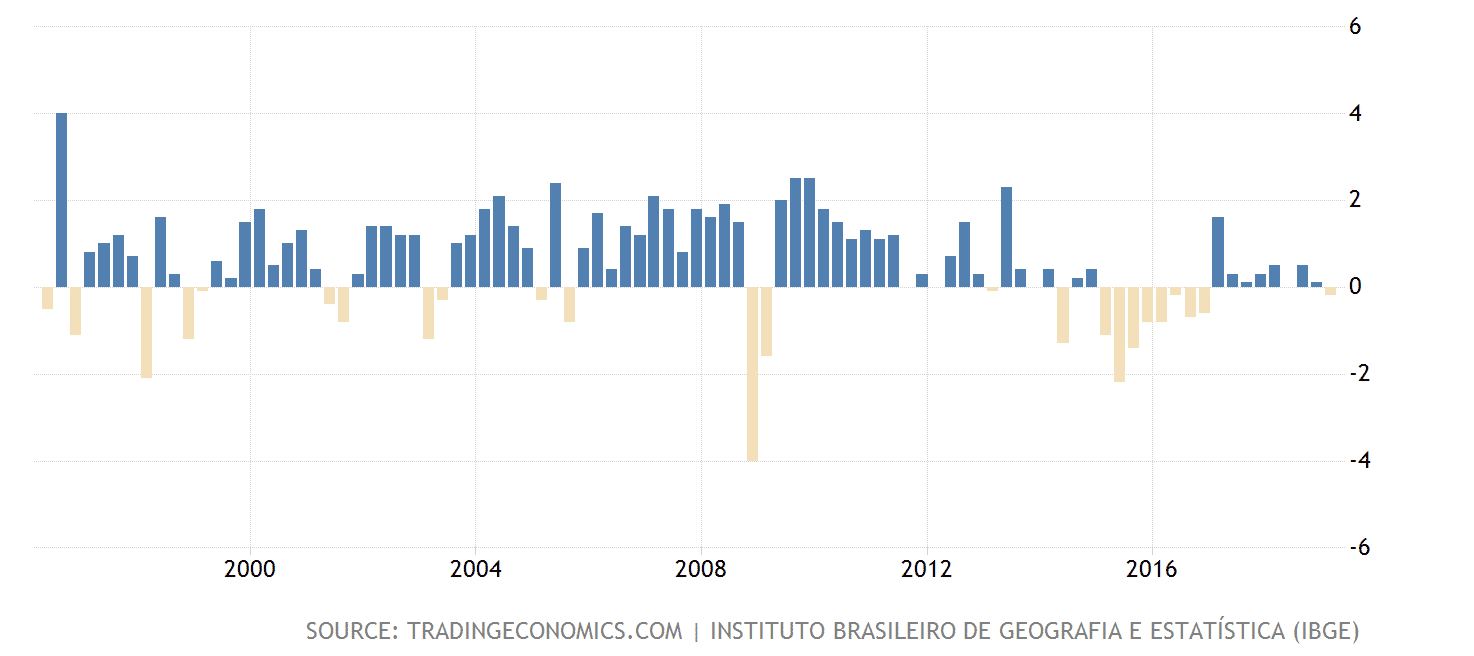 We can see above the Brazilian economy hasn't really been doing very well and it has just come out of what looks like the longest recession in about three decades.
Why this is doing so badly in light of technological advancements and all the rest may be explained by what looks like complete monetary mismanagement especially during the dictatorship that the president seems to praise.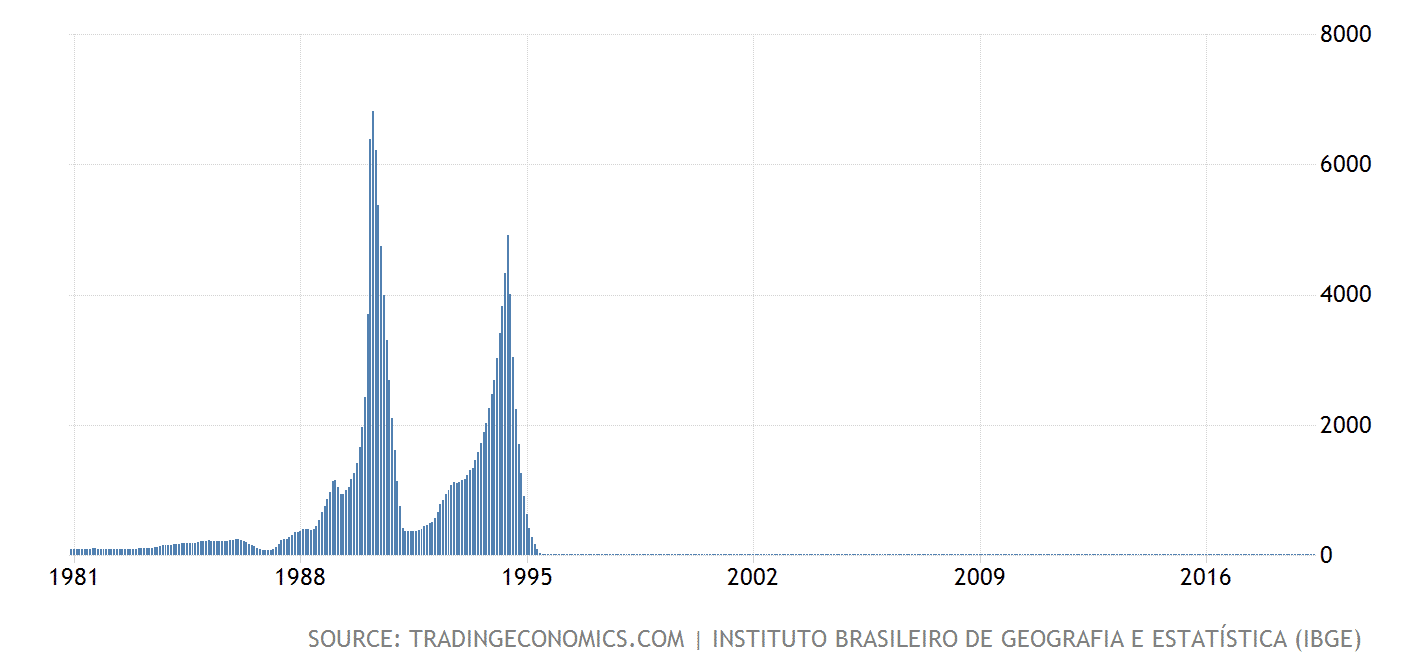 As we can see, things got completely out of hand where money is concerned, with that hyperinflation distorting the chart after 1995 which should show inflation ranging between 10% to a current circa 4%.
Meaning this country is not growing and has not been growing for a long time in real term. So then to complete the equation we have interest rates and we see absolute madness:
The Brazilian central bank has been ravaging this country with loanshark like interest rates that stand far above inflation, and that's the base rate.
From this data one should think borrowing money in Brazil is pretty much impossible. Without that upfront cash from banks then this must be an economy relying on inheritance, meaning meritocracy is somewhat non existent.
That's however not the problem according to this very old man who grew up in a time of little education. The problem instead is the poor, with Bolsonaro stating:
"Only a rigid birth control can save us from chaos… We need to adopt a rigid birth control policy. We can't make demagogic speeches any longer, proposing bills and means of government to support these poor people that are increasingly proliferating throughout the country…. It's past time to discuss about a policy to contain this demographic explosion, otherwise we'll keep voting in this Chamber only matters such as… loans for the poor, gas vouchers etc."
That's, of course, eugenics which can't stand to the proposition that from roses come thorns and from thorns come roses.
Loans to the poor at higher than inflation base rate is not loans. It's suffocating. Not that loans to the poor is more relevant than to the middle class or businesses.
At such crazy base interest rates of some 6.5%, Brazil is taking all produce and giving it to banks while facilitating no risk taking, no innovation, and thus of course no economic growth.
You'd think someone who rose to be president would be smart enough to see so, but clearly the banking cartel has Bolsonaro on their pocket and use his figurine to maintain a somewhat tragic sucking of value from producers and entrepreneurs.
Copyrights Trustnodes.com