The United States of America is beating only Africa when it comes to blockchain technology according to Gartner, the global research firm with $3.3 billion in yearly revenue. They say:
"China – and other countries in APAC – are way ahead of the U.S. when it comes to Blockchain adoption.  In fact North America lags behind every region except Africa when it comes to blockchain project progress and production."
Baidu and other internet giants in China jumped at the opportunity to accept bitcoin payments all the way back in 2013, while in US Amazon still does not accept it, nor does even eBay, so suggesting perhaps some sort of staleness stratification in American corporations.
While where blockchain is concerned, ordinary produce in supermarkets already have QR codes that trace its supply chain through the blockchain in China.
Baidu and others, however, stopped accepting bitcoin in 2014 under government pressure with Gartner suggesting China is taking a "closed" approach towards the blockchain:
"According to various reports and market observers, China will most likely implement a closed controlled national blockchain which runs completely contrary to non-sovereign and decentralized blockchain principals."
Yet they say: "but in any event, the U.S. has no national strategy for blockchain – open or closed."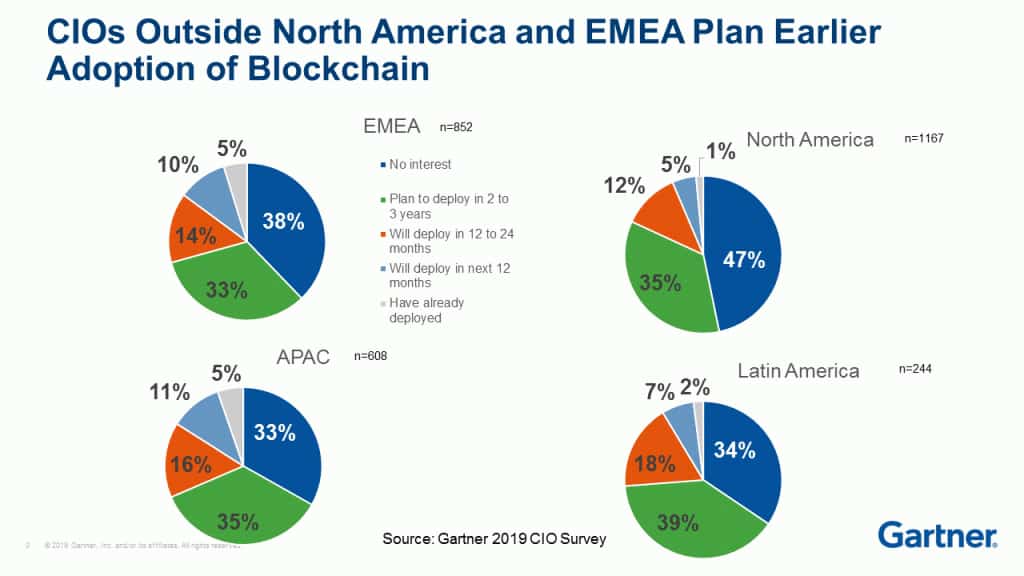 These findings reflect the concerns of many techies that America's regulatory environment and the approach of the current and past administration is just too stifling.
Managing to only beat Africa, however, must hurt the patriotic pride of Trump and his supporters as they promised winning, presumably against everyone rather than just Africa.
The suggestion that Europe has overtaken America in blockchain tech is very interesting because in appearance you would think US citizens and companies were the drive of this space.
Yet in the early days, the now gone MT Gox was based in Japan. Bitstamp is based in Europe. Bitfinex is in Hong Kong. Only Coinbase is in America and the hardly used Gemini.
Where industry is concerned, of course there is some in America looking to utilize blockchain technology, but in Europe almost all car manufacturers have announced pilots, with further implementations where the national grid is concerned and other industries.
As well as, of course, finance. That's where you'd think America would shine, but again their stifling century old regulatory framework appears as if designed to keep out any innovation. Gartner says:
"Our research found blockchain in the banking and securities sector constitutes a shrinking portion of adoption across all sectors between 2017 and 2019.
Similarly projects in banking and securities sector seem to move more slowly into production than do projects in utilities, manufacturing and wholesale trade, though the latter sectors have far fewer projects."
The global and open nature of blockchain technology can potentially have strategic effects if for nothing else then as an excuse to update and digitize old, stuffy, dusty, mainly paper based, processes.
Such effects will not be felt for years and maybe even a decade or two because naturally any invention and transition is an incremental process, but bit by bit it might all end up to a transformation.
We can not see in the present how paint dries, but with time, the difference between what was and what is does become clear. And that digitization is far more efficient and convenient than paper or much else, is obviously self evident.
Copyrights Trustnodes.com