High politics, bitcoin, drugs, parties, Europe's youngest leader, allegations or defamation, an election and a collapsed government.
It has it all, beginning with a "paper," Zoom Institute, that seemingly came from nothing to claim it walks among the halls of journalistic power and claims, according to a very rough translation of reporting by established local media:
"The Bro network, the first part of the research, sheds light on connections between entrepreneur Martin Ho and Sebastian Kurz. The website suspects a connection between exclusive parties and the awarding of state orders and favors.
A person close to Kurz himself also told journalists that Israeli political advisor Tal Silberstein was said to have a photo showing the ex-chancellor consuming cocaine at Martin Ho's premises. The platform operators also requested comments from Kurz, Ho and the Federal Chancellery. Their inquiries apparently remained unanswered."
Sebastian Kurz, the former chancellor of Austria whose government recently collapsed, stated:
"2017 – we all remember the dirt bucket campaign of a SPÖ advisor – was apparently just a taste. From left and right it hails almost daily new undertones, defamation and dirt from the deepest drawer."
Another paper reports: "ÖVP Secretary General Karl Nehammer was outraged that 'under the guise of anonymity, a supposed Swiss institute disseminates falsehoods and insinuations, only with the aim to harm Sebastian Kurz'. Apparently 'throw dirt until something gets stuck…'
The ÖVP general called on SPÖ and the FPÖ to 'swear affidavits that they and their environment are not behind this page.'
Secretary General Harald Vilimsky promptly informed the FPÖ that he was ready to do so – but in return he requested from the ÖVP a sworn statement 'not to have known or initiated anything in advance of the Ibiza video.'" 
The Ibiza affair was a video involving the coalition partners of Kurz, FPO, which some call a far right party. The video showed Heinz-Christian Strache, the former vice-chancellor of Austria and leader of the Freedom Party (FPÖ) and Johann Gudenus, a deputy leader of the Freedom Party, seemingly appearing to be "receptive to proposals by a woman calling herself Alyona Makarova, and posing as the niece of the Russian businessman Igor Makarov, discussing providing the FPÖ with positive news coverage in return for government contracts," according to Wikipedia.
That video was followed by another one showing five hard-drives were destroyed by what media there is saying was the head of the department of social media for OVP, Kurz's party, with Kurz stating it was "a legitimate process when changing government."
There's rumors of some email or emails which might or might not indicate Kurz knew about the Ibiza affair before the video was published, hence presumably the relevance of these hard drives.
Making all of it potentially explosive and so finally bringing us to its relevance to bitcoin.
"Media Startup that Accepts Bitcoin is Suffering Censorship Campaign in Europe"
That's the title of a post on Reddit by what appears to be a pseudo-anonymous person who says "we suspect an illegal censorship campaign against Zoom by right-wing populist Sebastian Kurz, who is one of the closest allies of Russian president Putin within the European Union."
There is no evidence provided that the person is actually connected to the Zoom Institute, but he says: "I'm the guy who filed a market abused report against Jamie Dimon! in 2017, after he called Bitcoin 'a fraud'."
His previous posting history references an article by London's CityAM which now shows 404, so we'll quote in full:
"Blockswater, an algorithmic liquidity provider, has filed a market abuse report against Jamie Dimon for 'spreading false and misleading information' about bitcoin.
The firm filed the report with the Swedish Financial Supervisory Authority against JPMorgan Chase and Dimon, the company's chief executive.
Blockswater said Dimon violated Article 12 of the European Union's Market Abuse Regulation (MAR) by declaring that cryptocurrency bitcoin was 'a fraud'.
The influential executive last week slammed cryptocurrencies, pushing the digital currency to a three-week low.
Dimon said he would fire an employee who traded in cryptocurrencies for being 'stupid'.
The complaint said Dimon's statement negatively impacted 'the cryptocurrency's price and reputation'. It also said Dimon 'knew, or ought to have known, that the information he disseminated was false and misleading'."
So the Zoom Institute's self-proclaimed co-founder is some sort of trader or market maker and has now launched this start-up investigative journalism site.
There's no evidence of censorship by the Austrian government as far as we are aware, with Kurz and OVP not currently in power, but the bitcoiner says:
"Show the world once more, that one of Bitcoin's main purpose is to defend journalists and whistleblowers against censorship."
They have received about $20 worth of bitcoin as of writing, with the site stating they accept PayPal donations too which presumably means they're pseudo-anonymous at best, but on their site provide no information of who is behind it.
Whoever it is, they're clearly good at marketing, with all this within the context of elections in Germany's neighbor.
High Stakes Elections
If history shows nationalism has reached a peak, then the Ibiza affair may well be the symbol of its downfall.
Kurz, they say, is a somewhat "ordinary" conservative or Republican, but his then coalition partners, some say, echo a bit of the last century.
Guy Verhofstadt, perhaps the best known proponent of liberalism after Macron, called Strache a "traitor" after the video was published.
The very emotive rhetoric was utilized within the context of the then European elections where something remarkable happened: the Greens came top in Germany.
In Austria, the picture appears to be a bit different according to opinion polls over the past month: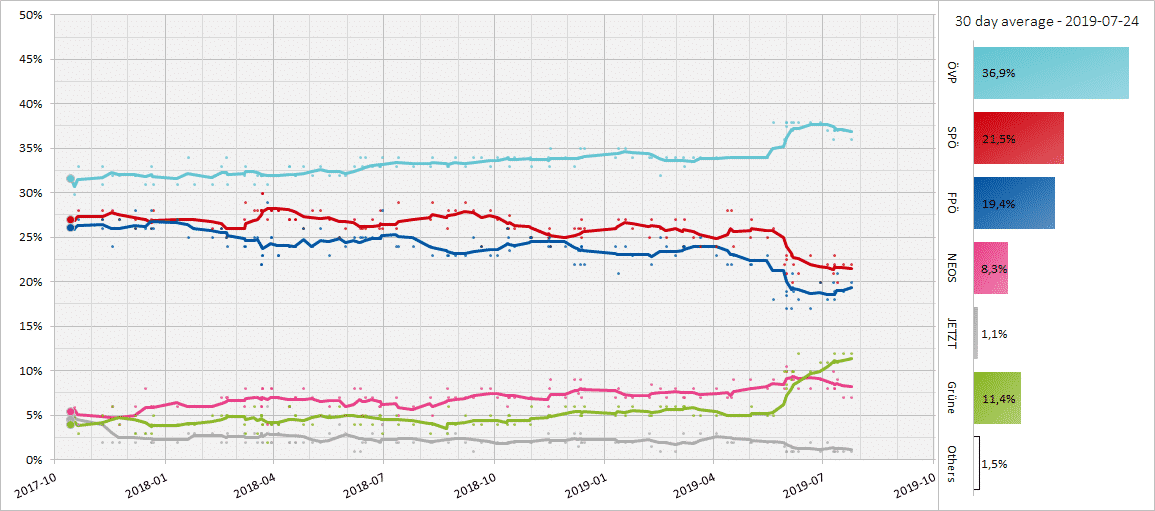 OVP, Kurz's party, is clearly in the lead with 36.9%. SPO is presumably what you'd call the left, far behind with 21.5%. Then Strache's party closely follows.
NEOS are Libdems or classic liberals of the Verhofstadt sort, with them not getting much love in Austria unlike in Belgium and suddenly even in UK following the Brexit mess.
Finally we have the Green, and with that we complete a picture that looks very familiar because while Kurz appears to be in the lead, presuming they won't coalition again with FPO, then the other parties might be able to form a majority together without Kurz.
The trend is also very interesting. They're almost all falling, except for the Greens and Kurz's party.
With a lot more weeks to go, public views may well change with this election looking a lot closer than it appears.
The Greens in particular could be a wild card because there's a movement of sorts rising across the globe with some 70% of Brits thinking climate change should be prioritized above even Brexit.
With the recent heatwave fresh in European minds, that rising Greens trend may well continue in Austria which is seeing perhaps the most heated election in its recent history.
As far as this space is concerned, who wins appears irrelevant because Kurz seems friendly towards this space and as this Zoom site accepts bitcoin – and is presumably from the left or greens- you'd think if they win then they'd probably be friendly too.
So we're neutral, but with a wave of heated elections across the world, what happens in Austria may well matter.
Copyrights Trustnodes.com