Some $600 million worth of paper value Link tokens have vanished amid what appears to be continuous selling by the Chainlink team.
The 2017 ICO-ed Chainlink token, which back then raised some $32 million, has a very skewed distribution where the team seems to have kept some 650 million Links, with just 350 million currently circulating out of a total of one billion.
What appears to be a marketing blitz began earlier this year, with 4chan's /biz/ becoming almost unreadable amidst all the Link "spam."
A 10x rise in weeks made us wonder whether there is something here, so leading to our surface review of this project on July 3rd.
"I'm financially ruined," someone commented in that article ten days after it was published. "How is this legal???" asked someone else.
On July 6th, the Chainlink team published a statement that to anyone with a brain basically said something like: this has gone up enough now, dump. Or in their words:
"We do sincerely appreciate our community's continued support and understanding as we expand the number of people working on Chainlink, and we will of course do our best to ensure that our expansion plans are accomplished responsibly, carefully managing the company's resources, capital and LINK."
They were basically telling the public they will begin selling some of their huge holdings ostensibly to hire more people like a "Technical Documentation Writer" despite having raised $32 million less than two years prior.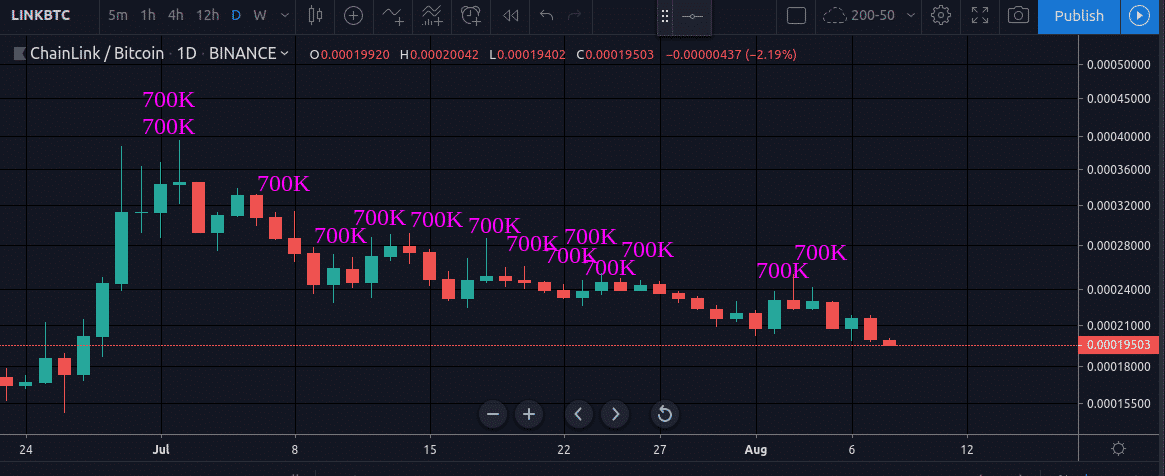 The above chart has been shared on social media, so we haven't quite verified it, but we had a look.
According to etherscan data there have been 14 chunks of 700,000 Link sellings for a total of 9.8 million links so far, or an estimated $30 million.
For some 40 days Chainlink seems to have been selling, by going through a small chain of addresses to end on Binance, this huge amount of funds.
In addition, there is something extremely interesting because we have never seen this before or at least not on a Binance chart:
That last big green candle is 29th of June. Then we have this kind of proportional wicks. Price oscillates wildly, but kind of settles on what presumably is the "real" activity.
This was happening before the big green candle as well and it's just… it doesn't look natural. After the green candle, it sort of looks ridiculous.
Presumably the aim there is to foment fomo, or hope. Something like o look, it's going up – for maybe a minute.
That can perhaps be seen best in the second candle from the bit we have emphasize where that green candle has a wick that kind of returns to the previous price, but the real direction is down.
That then continues as price falls, with trading volumes on the 30th of June at quite an incredible $863 million for a token that then had a market cap of $1.4 billion.
Such trading volumes are now at just $70 million while the market cap is at about $850 million.
Meaning there may have been some shenanigans here, with the project itself called by some as a Json Parser.
That being it's just a way to call to an API or have an API read from a smart contract with the ostensible innovation here being that you can go through many nodes/servers that do that parsing for you, instead of you just connecting yourself to the many or the one API as you want.
The project doesn't quite address the veracity of API's data, the entered data. It just focuses on ensuring that the data does in fact come from an API and that data has not been changed so you can be sure it is whatever the API says.
The problem is obviously whether the API itself has the correct data, with API here being basically people entering information and so "broadcasting" them through the application programming interface.
The problem is obviously ensuring the veracity of the entered data themself. This could potentially be solved by having more than one data provider, but even a scriptkiddie can do that himself.
So Chainlink, from what we gathered anyway, appears to be mainly kind of a template, or middleware as they call it, that allows you to DIY smart contract connections to APIs.
You'd think if you can code a smart contract, then you wouldn't need these chainlink intermediary servers to get the data from multiple APIs for you as you can just connect directly and do it yourself, but this could potentially evolve to be a bit more useful by allowing people to be the API, instead of being just some sort of conductor.
That however might be a bit ahead of its time as there's the scalability issues and all the rest, so maybe leading to this "hiring" of "technical writers."
Copyrights Trustnodes.com