The biggest gainer of the year is starting to become the biggest loser, down some 75% in weeks from $4.50 to now about $1.50 as pictured above.
That's after it jumped ahead of Coinbase listing at the end of June, reaching a high of $5 on that exchange.
Since then, it has only been goin down in part because the Chainlink team itself sold some $30 million worth of Link tokens.
Before the jump, /biz/ was flood with posts about Chainlink. As it dumps, it is still flood.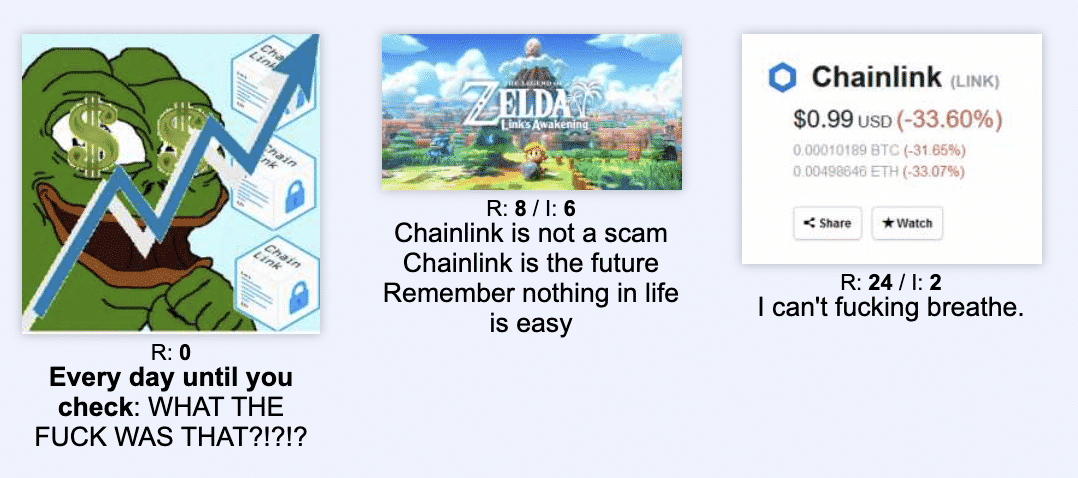 More evidence has now come out that this token was an actual pump and dump with an analytics start-up stating:
"We are confident that our research is illustrative of artificial market manipulation as it involves a small number of addresses accounting for a hugely disproportionate transaction volume over a short period of time, and that these transactions were subject to various forms of obfuscation and concealment atypical of legitimate market activity."
That may well explain why the ERC20 Chainlink token is taking so much gas/capacity in ethereum, ranked as the 4th biggest user.
Interestingly, VentureBeat received a response from Sergey Nazarov, who describes himself as CEO of SmartContract – that being the startup behind Chainlink.
He said "the market for Link tokens operates apart from Chainlink." So we have no denial of these allegations.
Publicly Nazarov has made no statement on his Twitter since May this year, just as the alleged pump was to begin.
That was a retweet of the official account announcing "Chainlink's decentralized oracles are live on Ethereum mainnet."
Link was at 50 cent a few weeks before that announcement, reaching $1.80 on the 22nd of May, to then crash to $80 on the 5th of June.
From there it goes somewhat parabolic, so naturally we had a look to see what was happening.
From what we were told, the project does not concern itself with the veracity of data, but only or primarily with the transportation of it.

So they've announced recently for example the launch of seven new crypto price reference data sets on ethereum.

The data itself is provided by a number of different APIs, with the Chainlink nodes then transporting this data to the smart contract.

So if an API says ethereum's price is $1,000, then that's what the Chainlink node says too. Here we use more than one API, and then we aggregate this data.
Why we need Chainlink in the process isn't too clear because with a Json Parser you can just connect the smart contract to the APIs yourself, with the problem of course being whether the data is true or not.
As long as in any part of the process a human input is required, the veracity of the data itself can not be assured. So the project limits itself to providing a middleware whereby you get the data from a number of providers, instead of just one.
The Chainlink nodes are meant to be paid to transfer this data, but if the data in question is eth's price, then arguably you don't even need an oracle as you can potentially get it from smart contract based decentralized exchanges.
There are of course instances where you might want external off chain data to connect to smart contracts, but the problem there is whether the data is factual, rather than how exactly to connect to it or to many of them.
The solution for now is to connect to some trusted data provider, like the API of Binance itself and/or Coinbase, with it unclear whether there will be a better solution in instances where the network/code itself doesn't provide the data.
Copyrights Trustnodes.com