The vast majority of ethereans, nearly 90%, want to reduce issuance with some 70% in favor of dropping it to 1 eth according to a non easily gamable poll.
Out of 7.6 million donuts, which is close to 20% of this tokenized reddit karma supply, some 68.6% are in favor of reducing the mining reward to 1 eth per block.
Another 19.4% are happy to compromise to a reduction of 1.5 eth per block. Only 12% want no change.
Donuts as you may know, besides buying gifs, are a way to measure someone's contribution to ethtrader with the aim of that acting as a non fakable metric in votes like the one above.
Although donuts can be bought and sold, in this vote only donuts "earned" are counted, with these donuts earned by commenting, submitting, or by participating in polls like the one above.
The other tab above, 257 votes, counts actual accounts instead of donuts. These can be zero day accounts and thus it can potentially be faked, but here too 63% want to reduce it to 1 eth, and 13% want to reduce it to 1.5 eth,
That makes it a combined 76% who want a reduction, with 22% being in favor of no change: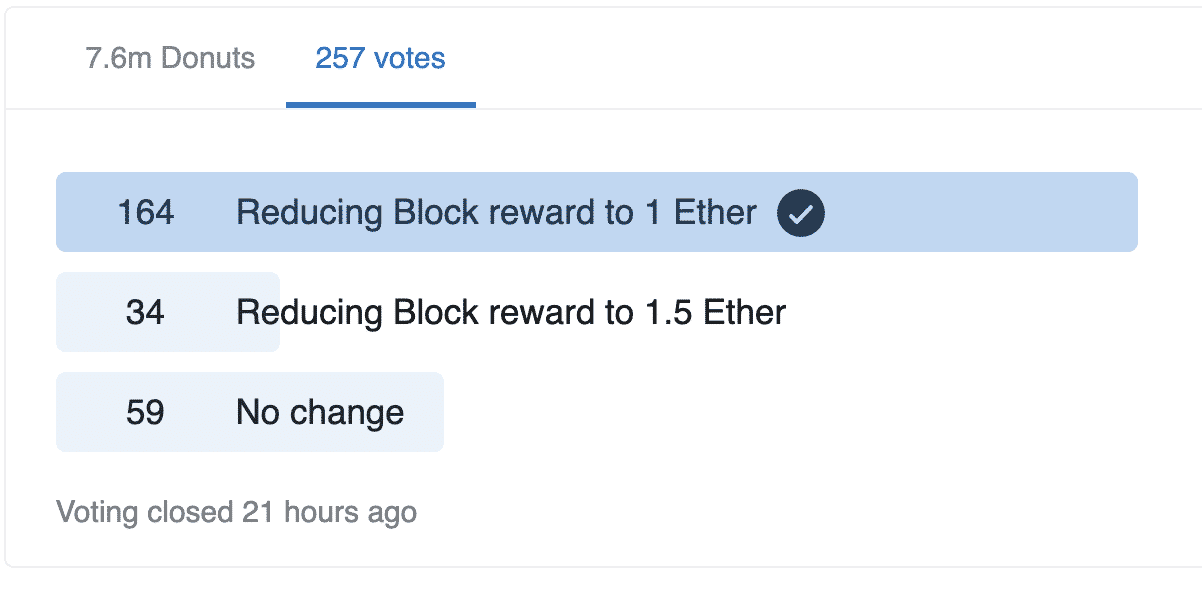 This vote is in the context of a proposed difficulty bomb delay which is to kick in on or around January 2nd, in just 10 days.
Every time the difficulty bomb was delayed previously, an issuance reduction accompanied it because the fact the network was able to run fine during the period of the difficulty bomb issuance reduction showed that it was safe to so reduce it.
As it happens, ethereum's hashrate is currently at the same level as it was during the peak of prices in 2017:
Ethereum's hashrate was at around 150 Terahashes a second in December 2017 when eth's price went off to $1,400. It still is at around 150 Th/s now that eth's price is just under $130.
Ethereum's price was last at around these levels in May 2017. Back then, hash was at 25 Th/s.
The circumstances are obviously a bit different as then hash was rising, while now it is falling, but the argument is that ethereum has operated at these price levels with far lower hashrate.
Developers however are not even considering whether there should be a reduction or otherwise. They've just decided they are to delay the difficulty bomb for nearly two years, and that's that.
Copyrights Trustnodes.com