There's maybe a dash to grab some of that bitcoin market cap as it might be facing resistance at 70%.
The show for now has been grabbed by BCH and BSV on halvening hype with both rising on high volumes.
BSV in particular is going nuts, up some 90% at the time of writing and not far off from overtaking bitcoin in price.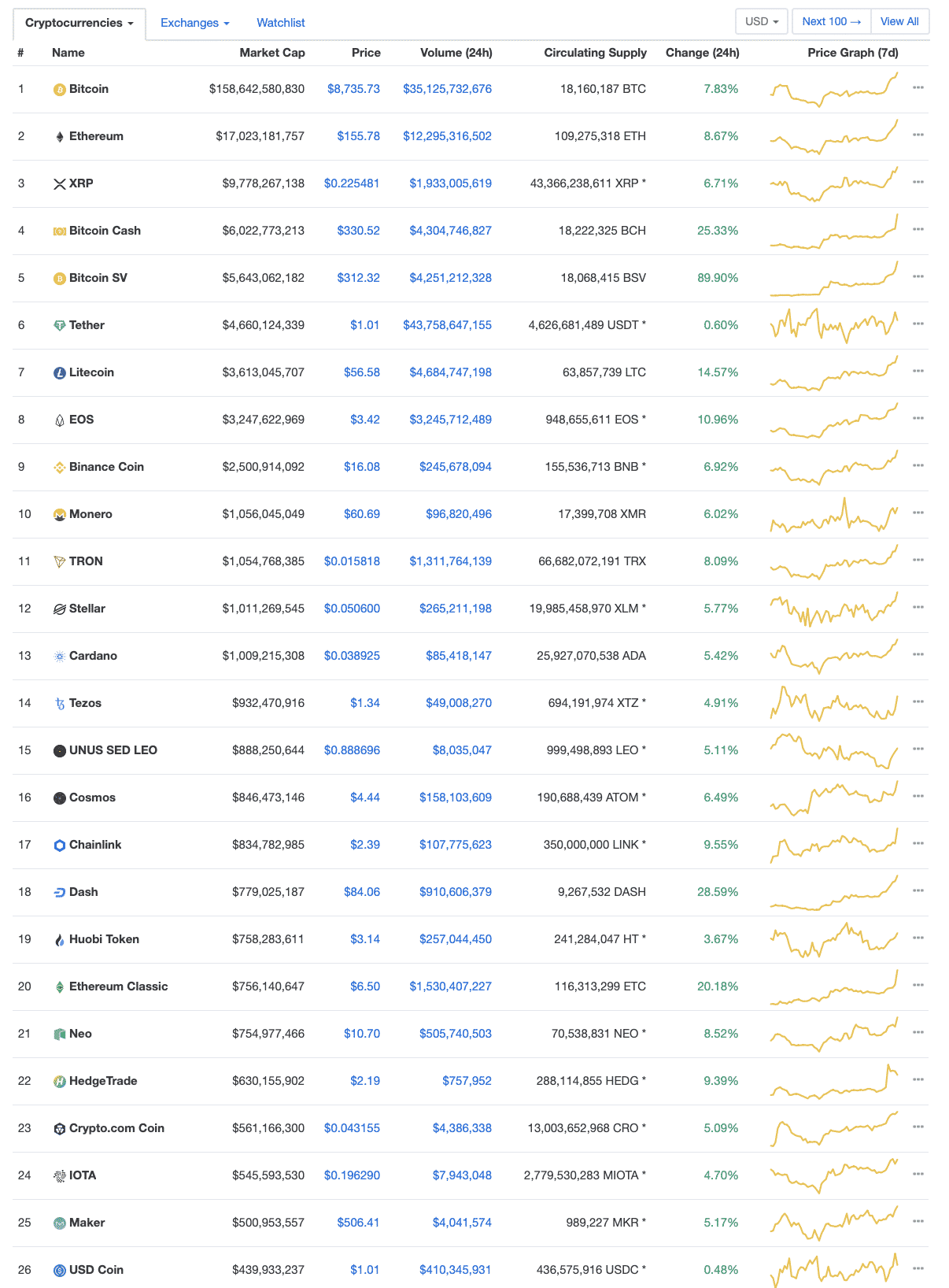 All are up today as you can see, and most are up more than bitcoin. Even ethereum is beating bitcoin today, with Litecoin rising twice as much as BTC.
Interestingly there's a Dash to remind all that this ancient coin still exists, rising some 30% with ETC not far behind at plus 20%.
Zcash couldn't fit in the image above, but they're too getting some love, up 17% at the time of writing.
Even Bitcoin Gold is 23% green, as well as Bitcoin Dimond, that's up 21%.
There's no speculation on whether Musk's safe word technically is not bitcoin, but bitcoin, erm… Lithium? That's free musky, take it.
Anyway everything is up and unfiltered volumes have gone crazy at now $121 billion in the past 24 hours?
The combined market cap is now $236 billion so these mostly fake volumes are now more than 50% of the market cap itself.
That makes it interesting, even if fake, because… well, there's more fakeness so presumably that means more people are bothering to fakery and so presumably there are more non fake people.
The big question is whether this is just halving speculation or whether cryptos have gained a bit more credibility after the theatre play that opened the year.
If we must opine, that event does make bitcoin a bit of a bigger boy and something that plenty would probably look again and say: hmmm.
It could all be just that 4chan guy though. What did he say, $29,000 by the end of next month? Yer right get off muh intranet. Now Feb next year, who knows?
Image André François McKenzie, Copyrights Trustnodes.com