Bitcoin's trading volumes have risen to their highest level ever, doubling recently in unfiltered volumes from circa $20 billion to now $46 billion in the past 24 hours.
That's far higher than when its price was at all time high back in December 2017 when volumes reached "only" $15 billion.
Combined crypto volumes have gone stratospheric, reaching an incredible $170 billion in the past 24 hours.
Much of this volume is fake because the combined crypto market cap is $240 billion, so there's a lot of same coins going back and forth in wash trading and the like.
In addition there's double counting. Tether's volumes for example stand at $60 billion, yet if we say $30 billion of it is against BTC, then bitcoin's volume would show as $30 billion.
So making the combined volumes of the two in this example $90 billion when it's $60 billion.
Now do the above for all the thousands of cryptos and you get a very inflated number without even accounting for wash trading and the like.
Yet the number was partially inflated/fake before today too, so a change in its level can be taken as an indication of a real change in volumes.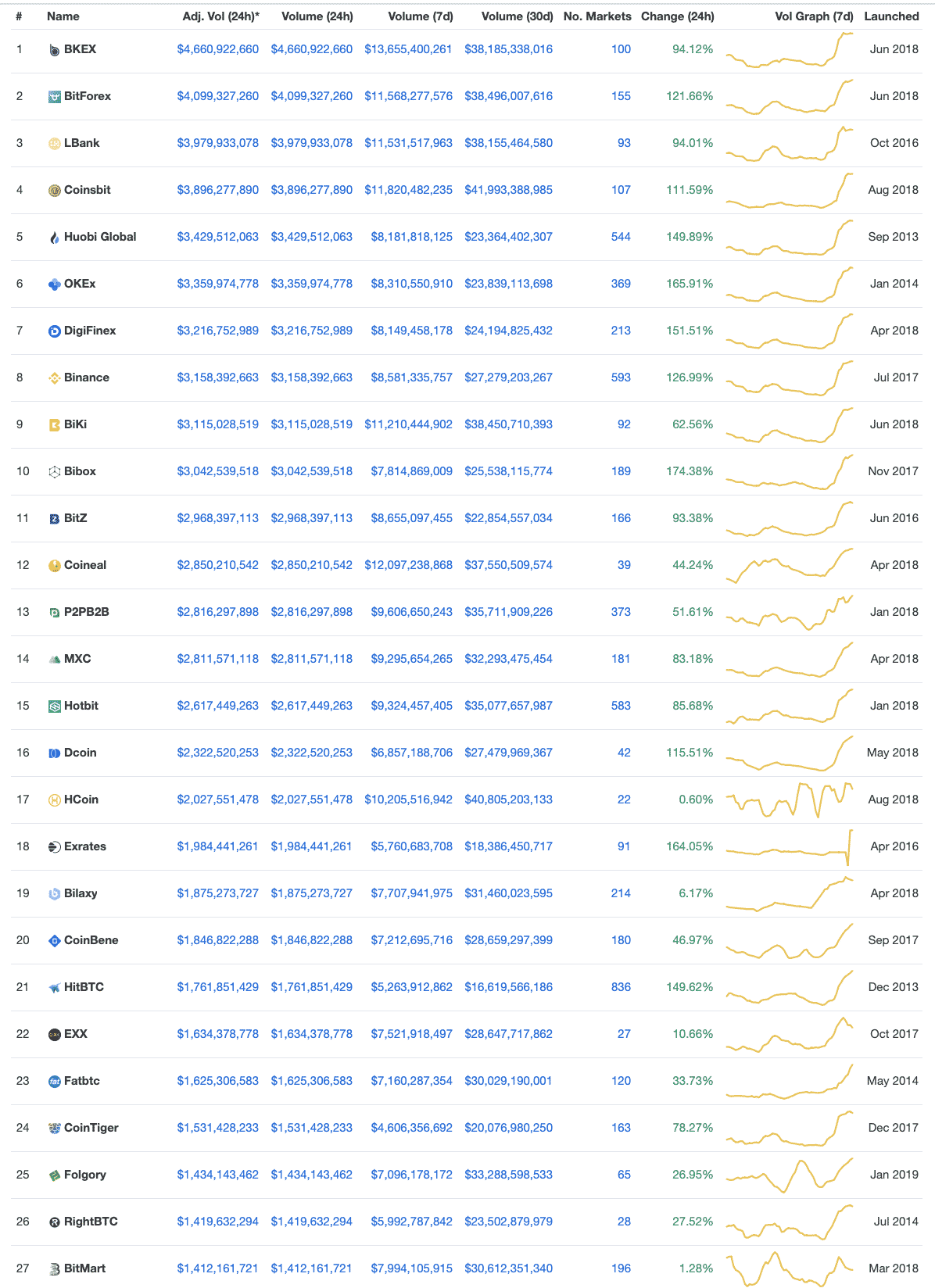 So we zoomed out a lot in taking a screenshot of the reported top exchanges by trading volumes and we still can't see Coinbase or any long established exchange in the top 27.
There's instead only Binance, Huobi and OKex among recognized exchanges, with both having Chinese roots.
Huobi and OKex in particular have long been accused of wash trading and the like, but both do have a very nice trading interface and experience, as well as margins, futures, and the lot.
A number of exchanges listed above are known to engage in what is called transaction mining. That is, the more trades you make and thus the more fees you accrue, the more of an exchange token you get.
The exchange token is sort of similar to Bitfinex's Leo or Binance Coin or the Huobi token. These three however had a more ICO like launch, while exchanges like Bitforex launch/ed their token through this transaction mining.
There are some exchanges here we haven't seen before. Folgory? MXC? As well as plenty of others.
It is a fast moving space however and adoption is growing globally, so while it is a wild west in exchanges, this is also an indication of real growth across the world.
Copyrights Trustnodes.com