Bitcoin has gained $400 from $8,300 to $8,700 since yesterday in what appears to be a potential market reaction to a virus outbreak in China.
Most global stock markets are down. Dow Jones is -1.37% while FTSE is down 2%.
There is no confirmed case of the virus in the United Kingdom. There are five confirmed cases in America, but all are of individuals from Wuhan, the centre of the outbreak.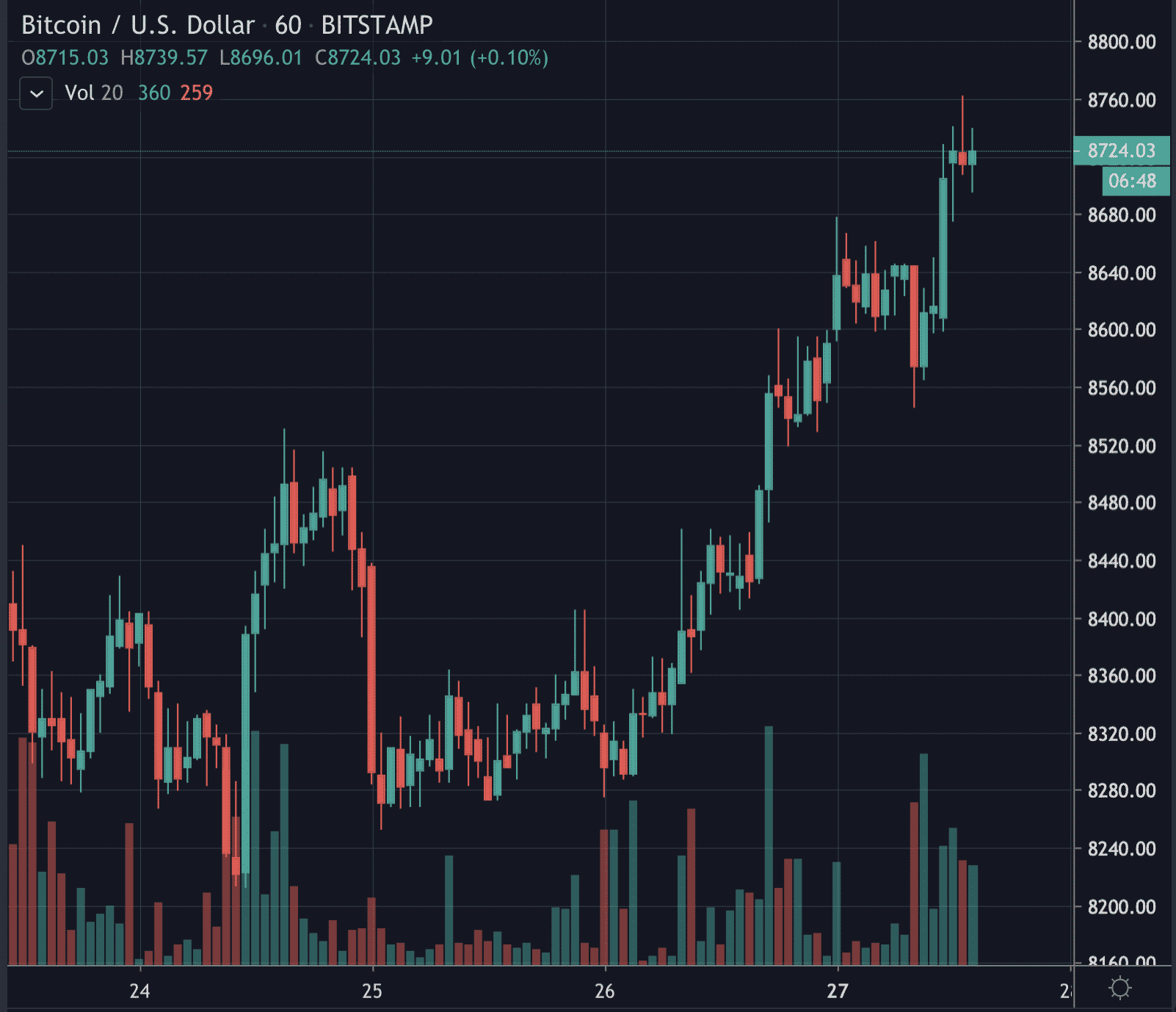 This is a very infectious virus growing somewhat exponentially in China with calls rising to close the borders.
In China many cities are in lockdown with people there told to stay indoors as a $9 billion fund is unveiled.
Economic productivity thus may take a hit which could affect the global economy as much is manufactured in China, including primary parts in supply chains.
The seriousness of this outbreak is not too clear, but every person infects 2.6 other people. There are reports of family members being infected while visiting their loved ones in hospital for Coronavirus treatment.
The fatality rate is unknown too. There are suggestions it's as low as 3%, but all of this is far too new so key facts are missing, like how long it can survive outside of a carrier.
The World Health Organization has refused to declare an emergency as this thing keeps spreading, reaching Bangkok while in Hong Kong confirmed cases have risen to 8.
Nurses in Hong Kong have threatened to go on strike if the border is not closed. A quarantine area there has been set alight for being too close to residential areas. A homemade bomb has been thrown into a public hospital in Hong Kong. Protesters have taken claim, stating:
"We will act on our word. Go on strike immediately if you don't want to die. We will take more actions to call for the closing of borders."
The theories are two. This virus came either from some Chinese people eating bats, or it's a bioweapon probably accidentally leaked from a hospital near the source of the outbreak.
A Canadian government scientist was under investigation back in October for training staff at the Level 4 lab in Wuhan, China.
Dany Shoham, a former Israeli military intelligence officer who has studied Chinese biological warfare, said the above lab is linked to Beijing's covert bio-weapons program.
Shoham suggested the virus may have originated in the Wuhan laboratory. While China has denied they have any bio-weapons program. China has also stated they do not know the origin of this virus.
First Outbreak Since Mainstream Internet
There were some 1,700 people watching a livestream of the building of a hospital in China within 10 days. It's currently day four.
Reports of an initial coverup by local authorities in China has led to speculation on how serious this outbreak really is.
China's president has warned of 'grave situation' with the world's second biggest economy initially announcing the building of one hospital that was soon followed by announcing a second one.
The quarantine of cities with tens of millions of residents has led western countries to try and evacuate their citizens, but China is not allowing the evacuation of anyone.
There are unverified statements and videos that suggest the numbers are being under reported, with all this coming after an economic slowdown in China and at a time when Shanghai stocks have stagnated for a year:
Reports suggest this is similar to the severe acute respiratory syndrome (SARS), which also came from bats and was treated at this Wuhan hospital.
So calls will now rise for these grotesque markets to be shut permanently and perhaps even to be declared illegal as the working theory is this virus came from bats.
In western countries currently there isn't much of a risk of catching this virus, but it's a good excuse to tip you towards washing your hands instead of not washing them with a bit more hygiene good at all times, but especially currently as for a week to two weeks carriers show no symptoms. Thus knowing how much it has spread lags considerably.
Handshakes are out too, and perhaps even opt for Netflix instead of cinema for now as it becomes clearer how and where this is spreading.
As stated there are just five cases in US and none in Europe except for 3 in France and now apparently one in Austria, all from Wuhan or people who travelled through there.
So daily life continues as normal in the west, but this virus has a very high infection rate and is spreading very quickly so best to work from home if you can and be a bit more hygienic than usual at least for the next few days when it should become clearer where it has spread, but suggestions are for most people this is just a strong cold and China has taken considerable measures to prevent it spreading, so no need to be over cautious.
Copyrights Trustnodes.com