One of the richest land on earth is wooing crypto businesses by signing a deal at Davos to establish what is being dubbed the Dubai Crypto Valley.
"Sat at the crossroads of the world, DMCC is a dynamic business hub that drives global trade through Dubai," said Ahmed Bin Sulayem, Executive Chairman and Chief Executive Officer of DMCC before adding:
"The launch of the Crypto Valley in DMCC will enhance the city's dynamic business environment, and support the wider strategy of the UAE Government to attract the innovators, entrepreneurs and pioneers that will shape the future economy."
The Dubai Multi Commodities Centre (DMCC) is described as "the world's flagship free zone" where there is zero personal or corporate income tax.
They plan to set up there "a variety of services including incubation for early-stage start-ups, co-working facilities, innovation services for corporate clients, blockchain and entrepreneurship training, education, events, mentoring and funding."
This comes after the country celebrated four years of blockchain that began after Hamdan Al Maktoum, the Crown Prince, stated in 2016:
"Dubai will be the first city in the world to conduct applicable Government transactions via Blockchain by 2020."
In those four years they have engaged in numerous blockchain related projects as Dubai vies to maintain its hub status with the aim of being at the forefront of the digital revolution.
This Crypto Valley is a step up of those efforts, comparable to London's 2014 bid that turned Shoreditch and the City into a Fintech zone.
The one in Switzerland was somewhat organic based primarily on the fact the country is neutral and has more direct democracy in a semi decentralized system of governance.
While in Dubai the aim probably is to serve the entire region, acting as a base of sorts with shipping potentially a good use of blockchain tech, in addition to perhaps crypto related financial services that include tokenization and the like.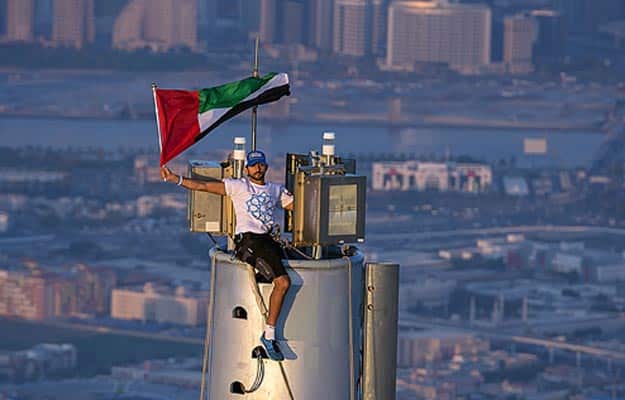 Whether this is coming from Hamdan Al Maktoum, better known as Fazza or the poet, is not clear but the western outward-looking millennial has been spotted at a number of blockchain related events.
The London educated Crown Prince flew the UAE flag at the top of Khalifa, the world's tallest building and a monument to the incredible economic success of this small nation, after winning World Expo 2020 (premises pictured) .
It's probably under his leadership that Dubai was Crowned the Blockchain Capital, with a Global Blockchain Exhibition to be showcased during Expo 2020 that opens in October.
Copyrights Trustnodes.com