Ethereum's value against bitcoin has reached its highest level since July, up to now ₿0.0285 with a potential eye for ₿0.032, $324, where it may face resistance.
Much of the gains have been made in the past three weeks after a long period of stability seemingly settled a floor that encouraged bulls.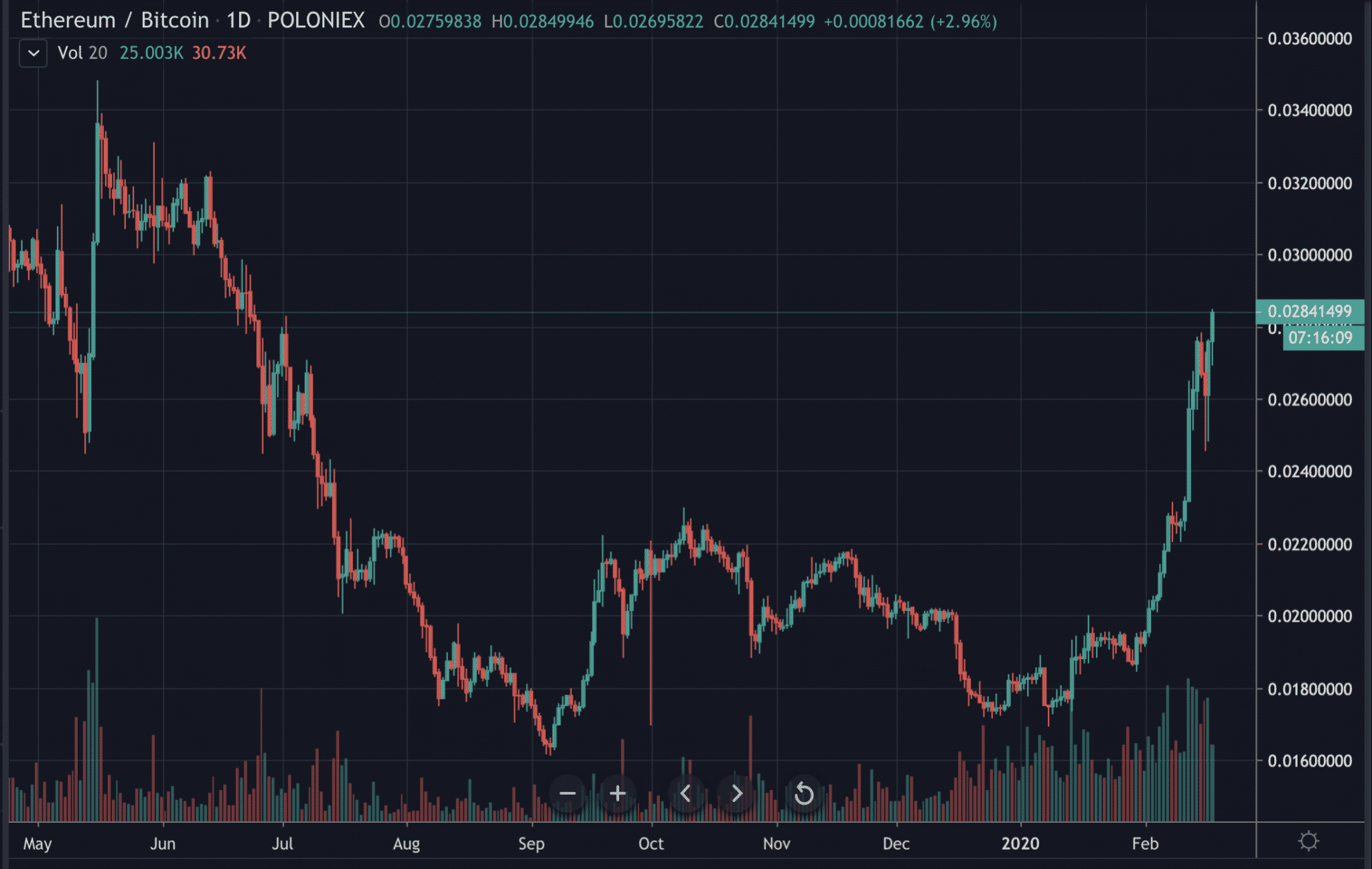 This recent rise follows two years of only downwards with ethereum's value against bitcoin falling to 2016 levels after reaching near parity.
The rise of defi-ance however has seemingly led to a re-evaluation of the value of the two, not least because financial dapps are now satisfying a very significant use case of unlocking liquidity in crypto assets.
Flashloans is the latest, and obviously you can't do that on bitcoin's primitive script language, but it is only one among many new inventions that are creating open source finance.
That is a very new field, and what it will mean in years to come remains to be seen as a boom in innovation has only begun.
Then there's obviously staking which might hopefully go out this summer, turning eth itself into a yield producing asset, unlike bitcoin which has no returns in itself.
The whole zk tech field is also pretty fascinating. And again bitcoin doesn't have that either. So, it's a bit too early to be talking about flippenings, but second time the charm perhaps although bitcoin has its own use of ??? hedging and moving value globally and also the fixed limit which eth plans to set too by reducing monetary inflation to near 0, but in a year or more likely two.
On top there's the fact bitcoin has gone mainstream while eth hasn't. You still get the 'what' when you mention ethereum, in contrast to 'bitcoin, yeh course I know bitcoin.'
That's relevant because both do have plenty of room to grow but eth arguably has a lot more room to grow as a lot of these things going on in defi even we are finding difficult to wrap our heads around let alone the general crypto audience or far less the general public itself which thinks nothing of just four banks controlling $200 trillion that, at least partially, can be controlled by smart contracts, blockchains, and really what should be called open source bots.
Copyrights Trustnodes.com