Bitcoin's hashrate has continued to fall, now down to 75 exahashes from around 140 just at the beginning of the month.
That's even though price has seemingly recovered after crashing to briefly just below $4,000, now standing at some $6,700.
In addition bitcoin's price fell by around 30%, or even less if we take it from $8,000, while hash has fallen by some 50%.
That suggests part of this hash fall might be due to industrial miners in Europe and America perhaps temporarily closing their premises under government orders as much of the west is under curfew.
Yet eth's hash has not been affected at all even though its price plunged, making it a bit peculiar and maybe more due to GPUs distributing their hash proportionally across different coins.
So if all GPU coins fell by around the same %, then the profitability rate remains the same and thus miners are not moving.
That however indicates ethereum continues to be profitable to mine at these prices as they're not turning GPUs off, although they could be mining at a cost in expectation of a price rise.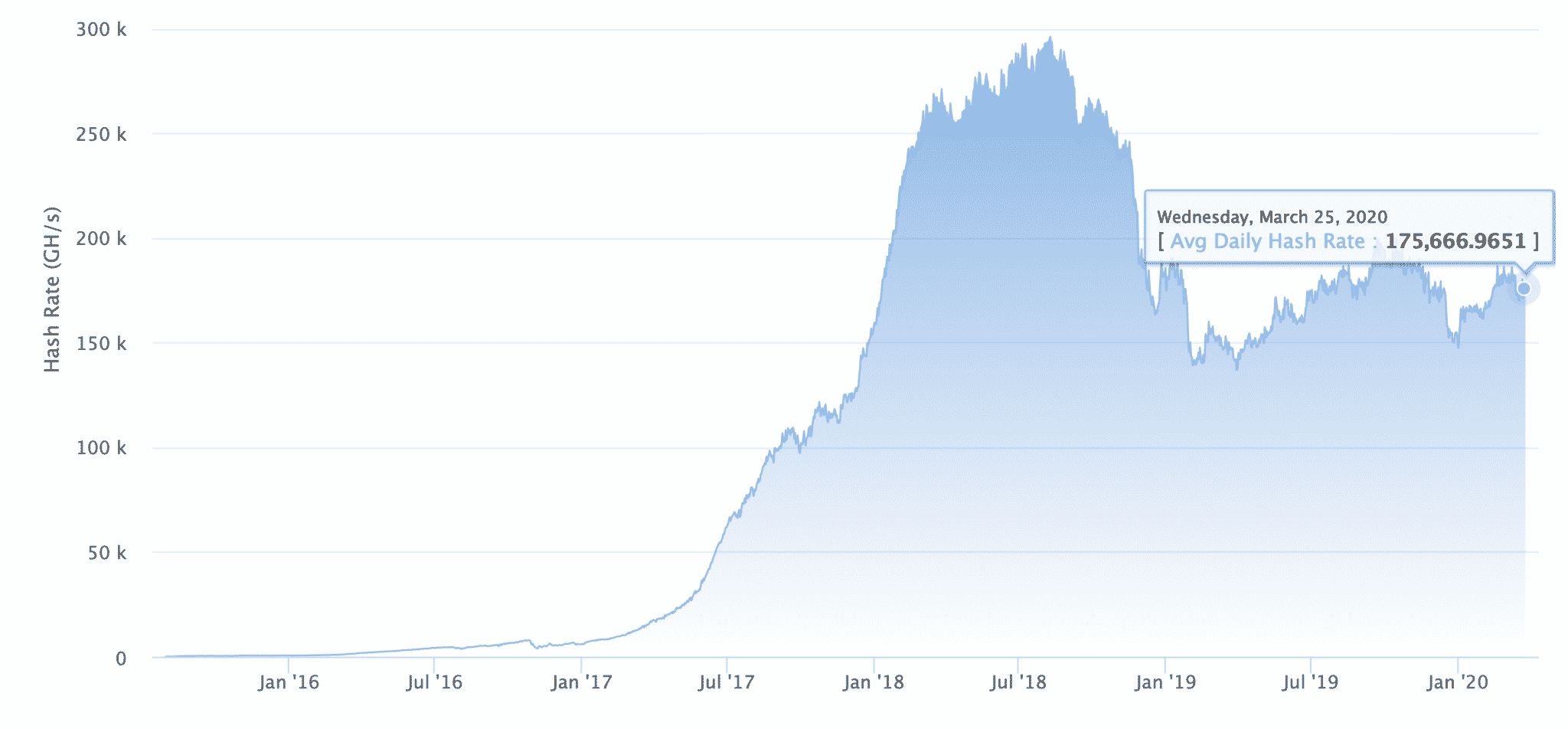 Such expectation of a price rise might be due to considerations the recent price moves were due to temporary events which should hopefully now clear off in a couple of weeks as these bureaucrats are put under the microscope for their 'advice' and for failing to treat patients.
There may thus be a V recovery as the western world cheers on Trump's attempts to get those bureaucrats in line and end this quickly.
The $2 trillion stimulus has of course helped with Americans now to get as much as $3,000 from the government.
Debt levels therefore will skyrocket, with some countries potentially even going bankrupt as unemployment levels are set to rise with the economy contracting.
Yet the economy and much else may bounce right back in a couple of weeks, with Dow up more than six percent today as markets expect evidence to build up in regards to treatment with some initial results hopefully coming out maybe today, but tomorrow potentially.
Trump and others presumably are looking like a hawk at the data from New York, so some patients should be getting better today and tomorrow if they began treatment on Tuesday.
In the European trial they won't report the data until after the trial has ended in six weeks, but hopefully Trump will get the data from New York within days as weeks is useless because people need treatment right now not when all this is over.
Copyrights Trustnodes.com