European Union member states are to spend €2.77 trillion to keep the economy afloat amid widespread month long curfews.
"The European Union, it's institutions and member states have mobilized €2,770 billion," the new European President Ursula von der Leyen said.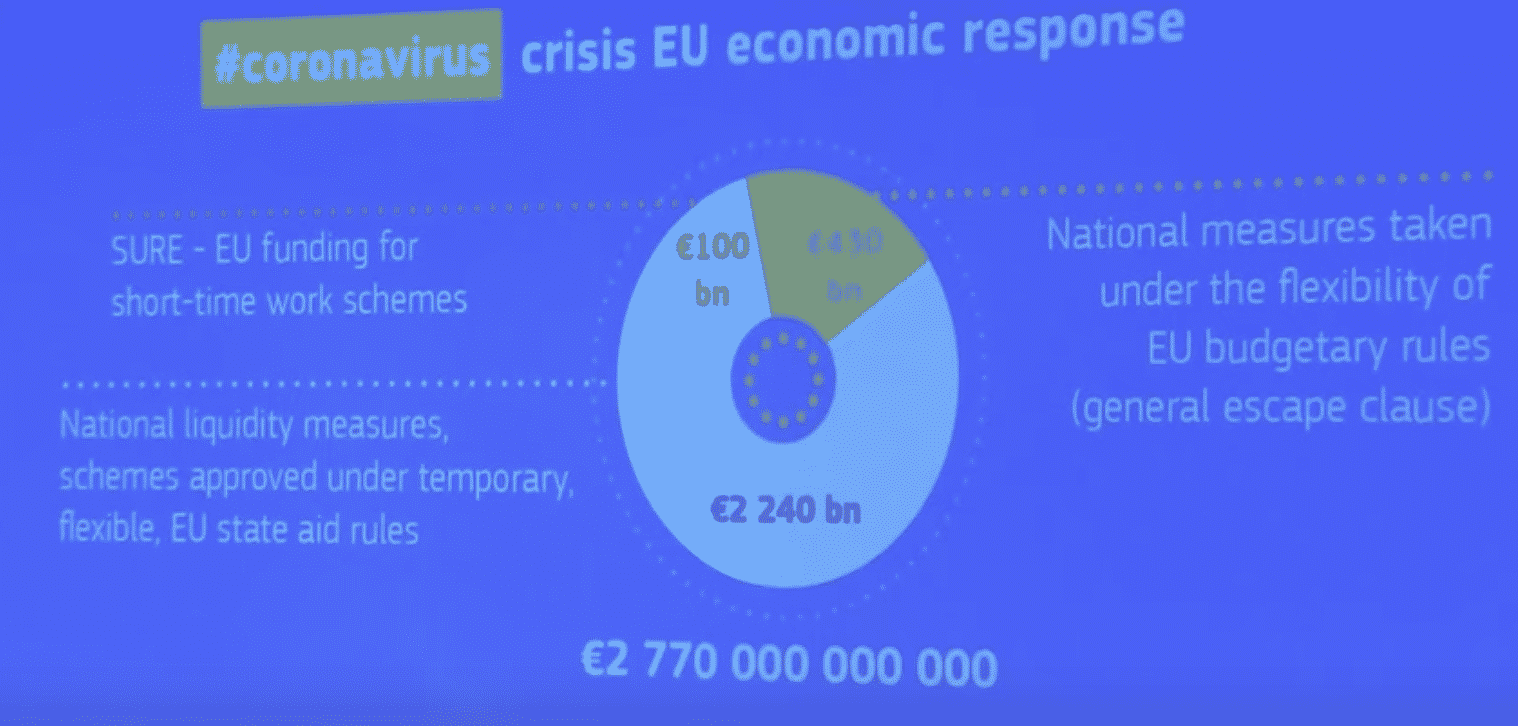 Member states have guaranteed €25 billion for €100 billion in loans available to all EU members, Leyen said.
Other measures that have been approved under temporary EU state aid rules amount to €2.24 trillion.
Those are measures by member states themselves, like Germany for example which is splashing out €700 billion, but they breach numerous EU rules so that had to be approved at the EU level.
Likewise for another €430 billion borrowed in breach of EU budgetary rules which have temporarily been made more flexible.
The €100 billion is on top of these measures and it's a "state funded short term workers scheme," Leyen said.
As a whole that makes it a bigger package than that of US President Donald Trump who got congress to agree to $2 trillion.
EU member states have taken different approaches, with some wrangling going on between them as Italy wants to borrow at German rates even though its productivity or state financial discipline is no where near that of Germany.
Same for Spain, both rich countries but in Italy for example they never seem to get around economic reforms as they keep changing their Prime Ministers every year.
The question for all countries is how are they going to pay for all this. The $2 trillion for US for example is more than half their entire yearly tax intake and it is some 10% of the current debt.
But US had a federal approach because they have federal taxes, while in EU it's national taxes with EU institutions themselves not receiving any funding from citizens through direct taxation.
So the European Union for now is more a talking shop, with Leyen promising a two years long Citizens Summit on whether more powers should be given to EU institutions and if so how should the relationship between EU citizens and institutions be arranged.
This Citizens Summit however was only mentioned once when she stood before the European Parliament ahead of its approval of her candidacy.
We have not heard anything since, with it unclear whether that remains her plan, but there is significant support among europeans for a more federal approach to protect the borders for example or where it concerns protecting and promoting European interests.
Copyrights Trustnodes.com