Ethereum continues to rise more than other cyrptos, up by 4% today while bitcoin gained only 0.7%.
Ethereum rose by another $10 from $188 before reaching the current price of circa $195.
It has stayed at that $195 level for much of the day, but the general trend has been upwards for much of this week and even this whole month.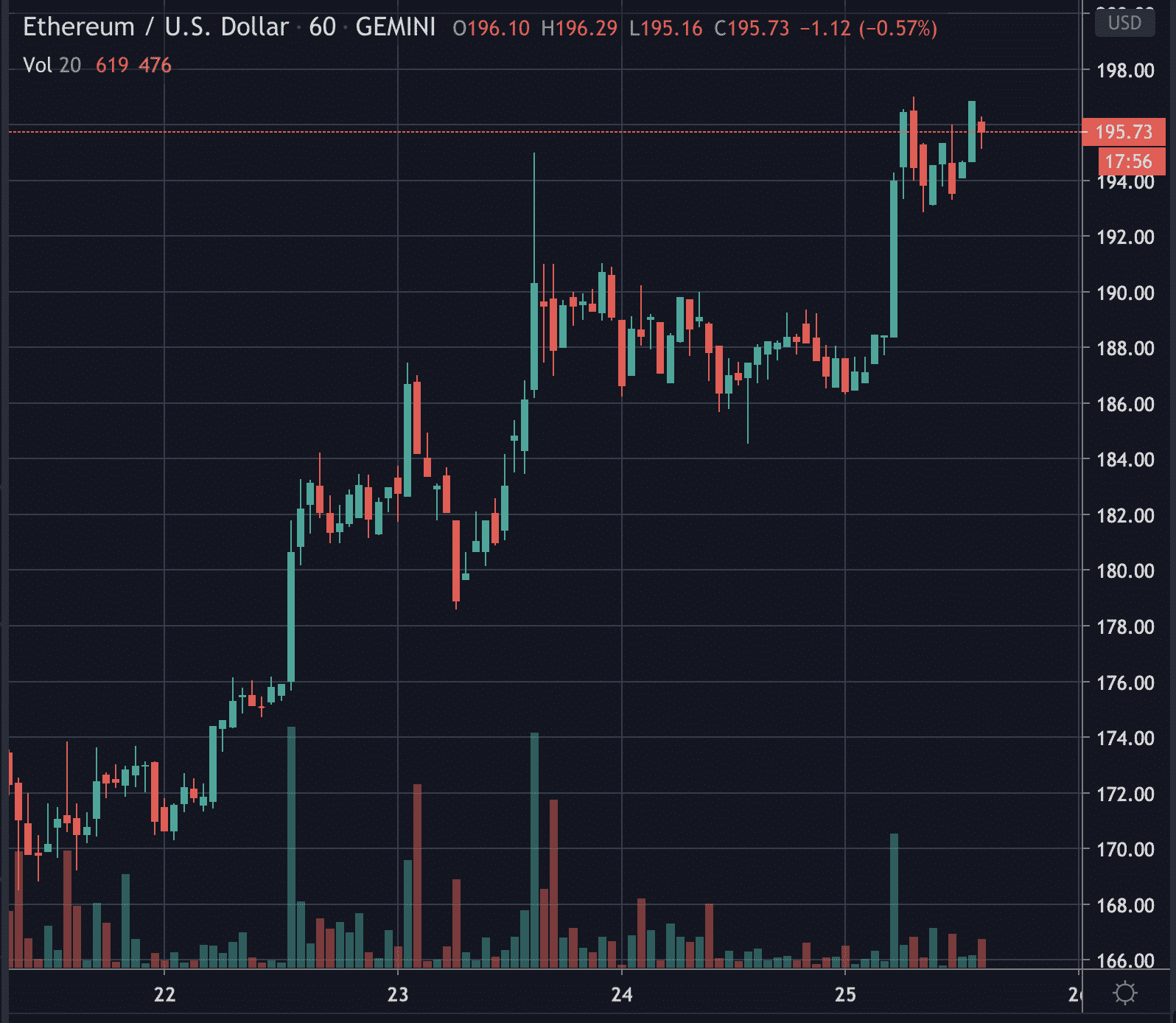 This trend of rising more than other cryptos is a new development with it unclear what may be causing it, but a general recovery has been occurring throughout all cryptos and even in stocks.
For ethereum that recovery has been a bit faster. One probable reason is that a number of tokens running on eth seem to be a bit frothy.
Hex is an obvious one due to its huge and fast rise, but there are others as bitcoin's market share has been dropping for much of the week.
Another reason may be the progression towards the ethereum 2.0 testnet with Danny Ryan, the ethereum 2.0 coordinator, releasing a new spec version which he says is "all about tightening it up."
So they're just polishing things now as Ryan says: "With our new commitment to backwards compatibility within semi-major versions (thanks q9f!), v0.11.2 is fully backwards compatible with v0.11.1, so keep testing those testnets."
One single client testnet by Prysmatic has been running successfully for the past week with it now reaching 22,000 validators under live like conditions of 32 testnet eth deposits.
"We only control 59% of the testnet, and we are seeing 97.4% of active validators properly proposing blocks and voting on blocks consistently," says Raul Jordan of Prysmatic before adding:
"We are seeing nodes with over 300 peers active in the network, while we only run a total of 8 nodes internally at Prysmatic Labs."
Lighthouse is to launch a single client testnet too hopefully next week, with the major milestone now being the actual multi-client testnet where at least two but preferably three clients "talk" to each other to run the test network together.
We're nearly in May so June maybe would be optimistic for that multi-client testnet, but it may launch perhaps around that time.
This needs to run for three months without problems, bringing us to around September, so really the new target date for the live launch should be Devcon now.
If there is a Devcon this year, that is, but there should be one in… erm has that been decided?
Well, if it hasn't been decided then presuming the prospects of the live launch are realistically achievable by Devcon, then it should be in London because that's where eth1 was launched and maybe bitcoin too because of The Times paper.
Alternatively it could be Berlinas because of its hacker scene, or some other big city because hopefully it will be a big event this year.
Copyrights Trustnodes.com