Ethereum's value against bitcoin has been falling with some speed for the past week as all eyes turn on BTC.
The second crypto was leading but since the 29th of April it has lost 0.005 BTC in value against bitcoin, worth about $50.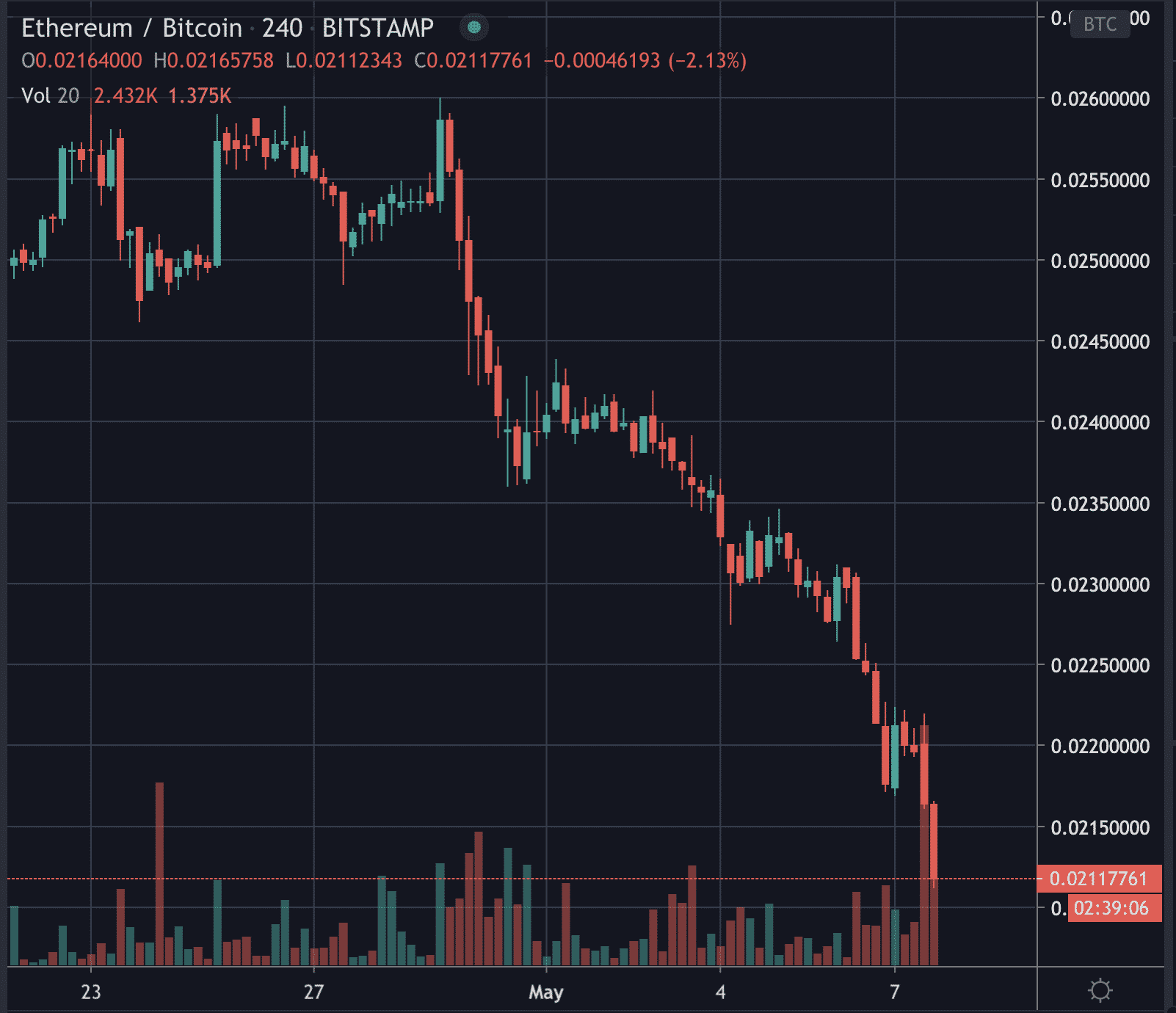 That means eth hasn't been moving much and is even down since the third of May, while bitcoin has gained $1,000 since May 3rd, a 10% increase.
Nor is eth alone in being left behind, all top cryptos are either down or not moving much at all.
That suggests everyone is moving to bitcoin ahead of its halvening in four days with other cryptos seemingly not playing for now.
Development towards the multi-client testnet continues in eth, however, but that's just for a potential launch of staking in about five or six months.
"Schlesi might very well turn into the multi-client testnet in a couple of iterations, but for now, expect the net to be restarted every week or two as bugs are found, versions are bumped, and more clients come online," Danny Ryan, the eth2 coordinator, says.
It's not too clearly what exactly happens once this new blockchain launches because there would effectively be two eths, the PoW eth1 coins and those eth1 coins that people transfer to the new eth2 blockchain.
In that eth2 blockchain they won't be able to move them until at best some storage sharding goes out in phase 1 which at this stage is pointless to estimate when it might launch after the experience with estimating when this beacon chain might go out.
During all this, ethereum will keep running at an inflationary rate of about 4%, increasing by about 0.22% once the beacon chain goes out, while in a few days bitcoin's new supply will fall to 1.8%, a very first for a blockchain of note.
The desperately needed on-chain scaling for eth moreover is now unlikely for probably at least half a decade, while in bitcoin they're trying to do all sorts of compressions and optimizations to fit more and more data within the same space, in addition to having raw space that is twice that of eth.
Plus this multi-year transition for eth which creates uncertainty couldn't be at a worse time as amidst much uncertainty in traditional markets people crave for something they can trust.
And that something is the bitcoin code, it's algorithmic rules, and orders, outside of humans, all of which gives certainty and even comfort while much else appears to be quite a mess.
Copyrights Trustnodes.com