The British Prime Minister Boris Johnson has confirmed little is to change two months on except the slogan which is now 'stay alert, control the flu, protect lives.'
People will also be able to have unlimited exercise, sit in the park if they want, even play sport as long as it is with members of their own family.
Those who can not work from home are now encouraged to go to work. The government never prohibited them, but it also didn't clarify the fine print of their STAY AT HOME constant shouting at the public.
The rest remains the same but there's now an alert system with colors from the 'biosecurity centre.'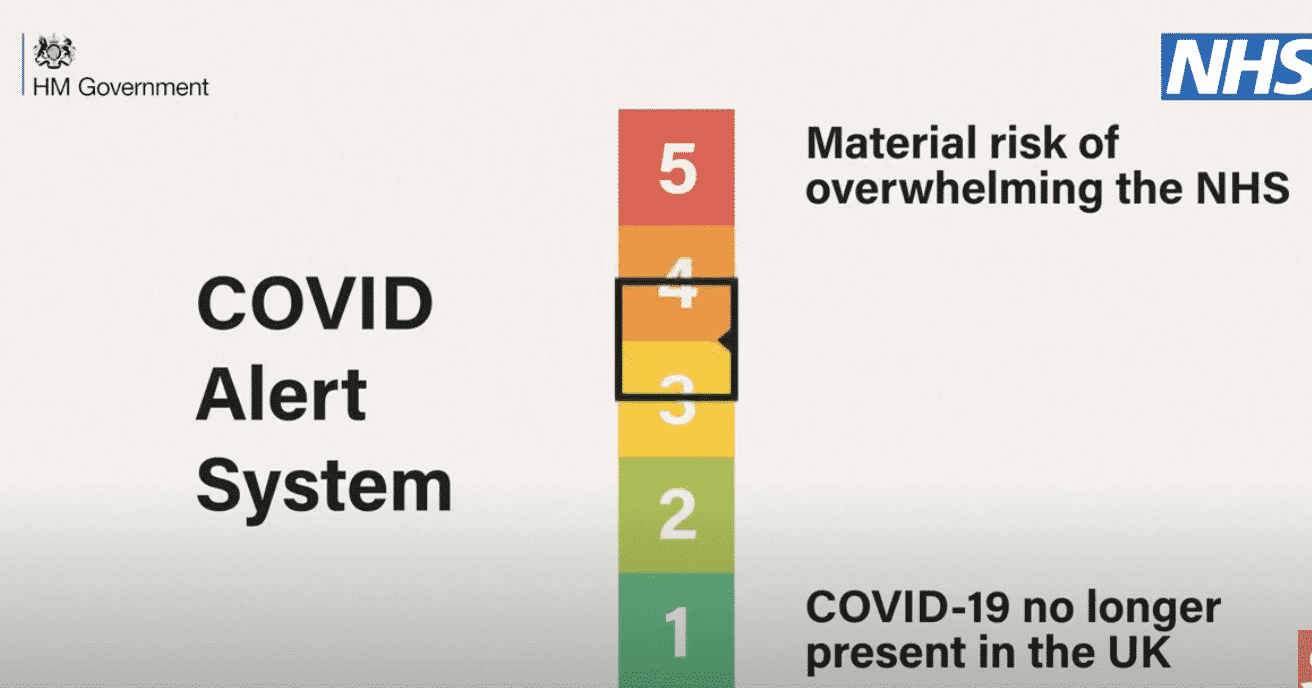 UK never reached level five with hospitals running under capacity than normal instead of being overwhelmed, it so being an orange 4 during the lockdown.
Now they're suggesting it is 3.5, even though Boris Johnson said R is between 0.5 and 0.9, meaning it should be between 2 and 3 above.
It appears most of all this is affecting only hospitals, where very ill people are vulnerable in an environment that appears to have taken no measures to prevent the spread, and in care homes. Excluding those two, R is 0.5, meaning anyone person spreads this to far less than one other person.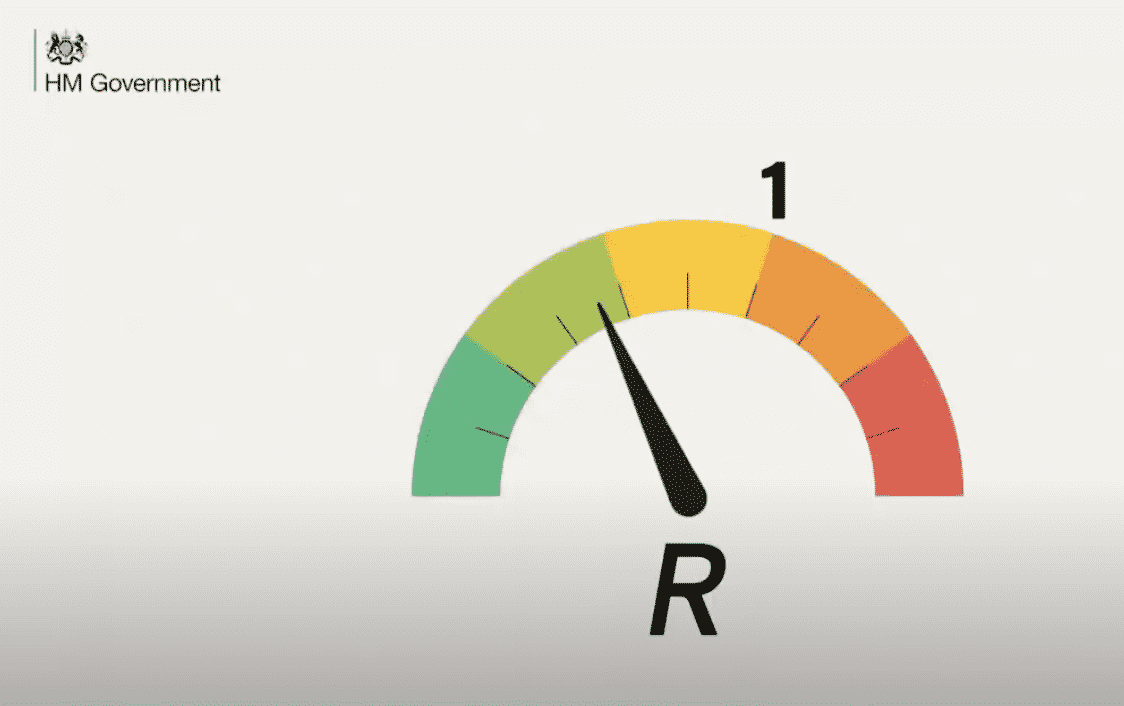 We now have a nice little graphic for children to tell them just how scared they should be and just how authoritarian the government can be with anyone that comes to Britain by air now 'soon' to be 'quarantined' because this dumb blond is presumably suggesting they can now contain this after months of it spreading and after SCIENCE has made it clear you just can't.
"No this is not the time to end the lockdown," said the new dictator of the United Kingdom who has not put all this to any vote and thus arguably has no legitimate power to make such proclamation.
He is to lay down details in parliament tomorrow, with it to be seen whether our new tyrant will allow the revolting backbenchers to attend.
In a first, he also said he will take questions from the public tomorrow evening with no details provided on how exactly he will take these questions and on what platform.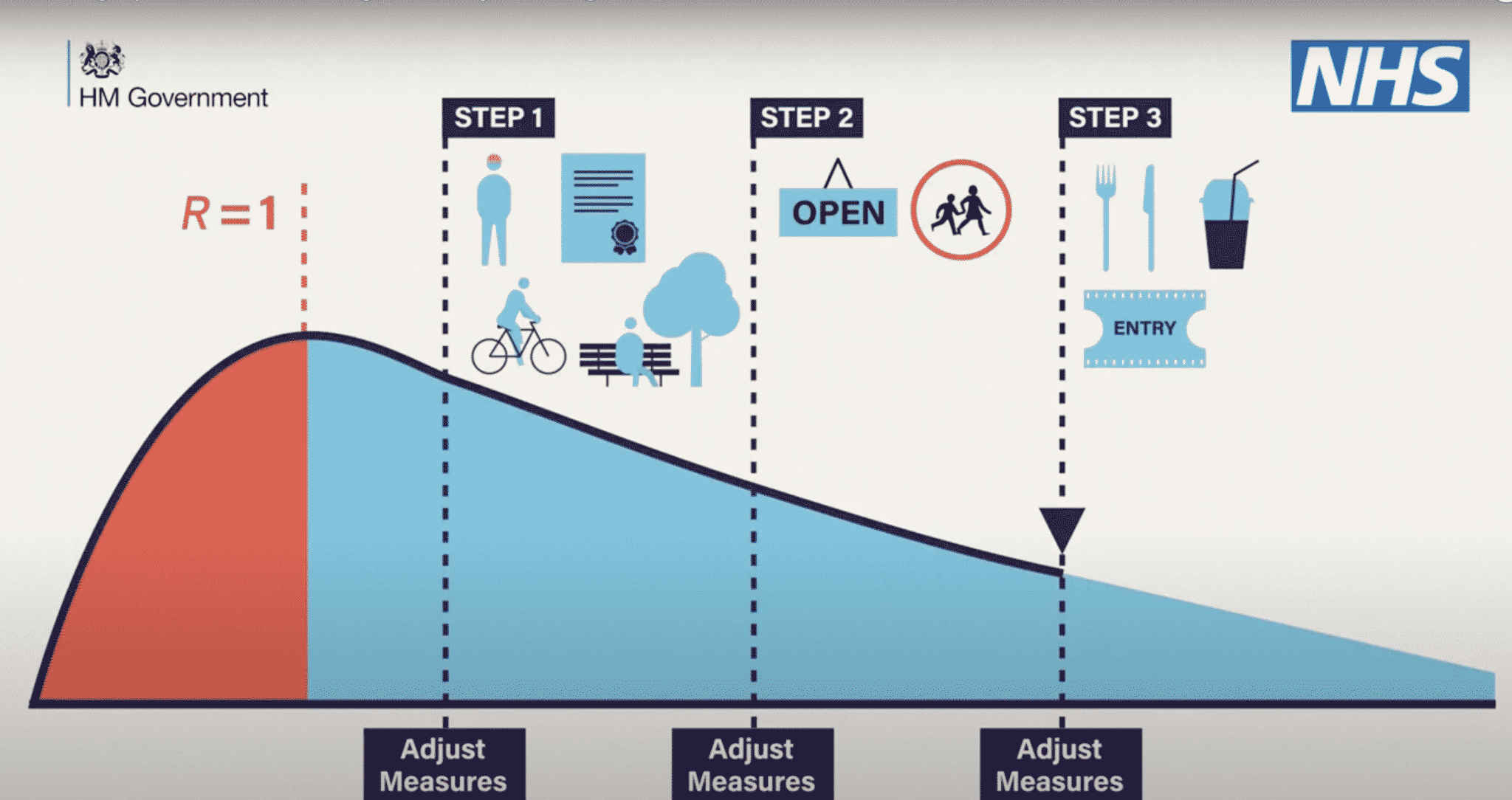 So step one is the one we having. You can sit in the park, you can cycle or walk to work preferably and otherwise take 'covid secure' public transport with the nice certificate there for employers to show they meet 'covid secure standards'.
In a 'few weeks and months' he 'may be able' to move to step two which it might be June the 1st where there may be phased reopening of shops and primary schools for year one to six.
Then we have phase three maybe in July when they might reopen 'some of the hospitality' businesses.
As you can see in this nice graph this never ends as that blue space never meets the floor line, giving our new dictator thus continuous power for as long as he likes.
Boris said the government is "not driven by economic necessity, it is driven by public health."
That 'public health' emphasis is driven by what he claims the 'reasonable worst case scenario was half a million fatalities."
This is based on the predictions of Nigel Ferguson's spaghetti code which once looked by code experts after it was open sourced has been found to be totally flawed.
Something the prime minister is most probably very aware of, yet appears to totally ignore it, presumably because who doesn't want to rule without any accountability.
"We've been through the peak but coming down the mountain is more dangerous," he said. "If the alert level won't allow it, we'll simply wait."
Who is 'we' exactly is not clear because there has been no vote on any of this, with it all being solely and only Boris Johnson's decisions without any accountability whatever, without any debate, and without any checks and balances, in what amounts to a coup albeit hopefully temporary, but that latter part is now very much in doubt.
"The UK will be changed" by this, he said. With the government thus so finally proclaiming they intend to maintain a system of dictatorship and tyranny without any accountability or public vote or even parliamentary vote for months now depending on what the 'alert system' says after consulting god presumably because it's not clear how else it would have any clue in a factual manner as shown by them stating R is between 0.5 – meaning green – and 0.9, meaning orange.
All this means the third quarter is now rekt too, and therefore GDP estimates need to be adjusted to a yearly fall of 30% or more.
That's more than when much of Europe was razed after the then governments decided to just kill millions during the second world war.
It is more than during the trenches of the first world war after Boris Johnson's ancestors sent our grandfathers to pew pew for no gain and for the eventual loss of the British empire.
It is more than when this donkey's ancestors fought Napoleon and won, but just about despite ruling the world back then.
And just like any nice dictator they have bought the people's support by giving them "free' money to sit at home, money that they will pay back at the tune of 4x or even more.
That's while Boris and his aristocratic ilk will continue to pay no taxes, will continue to fully ignore the rules with his hair looking very nice, and will continue to ignore the public at best or terrorize them at worse so that he can ensure the unchallenged privileges of the Bullingdon club and so that the rest know they are subjects and peasants who can have their bread taken from them or can be sent off to the trenches, without consultation and at any moment's notice.
Copyrights Trustnodes.com