Optimism. It has been a long time since we had a taste of it but it kind of feels like it is here, and for ethereum there is little more optimistic than wondering whether it can take the crown to become the new king of the crypto movement.
For that, it would need close to a 10x rise without bitcoin moving, but can ethereans nonetheless start dreaming of flipppening?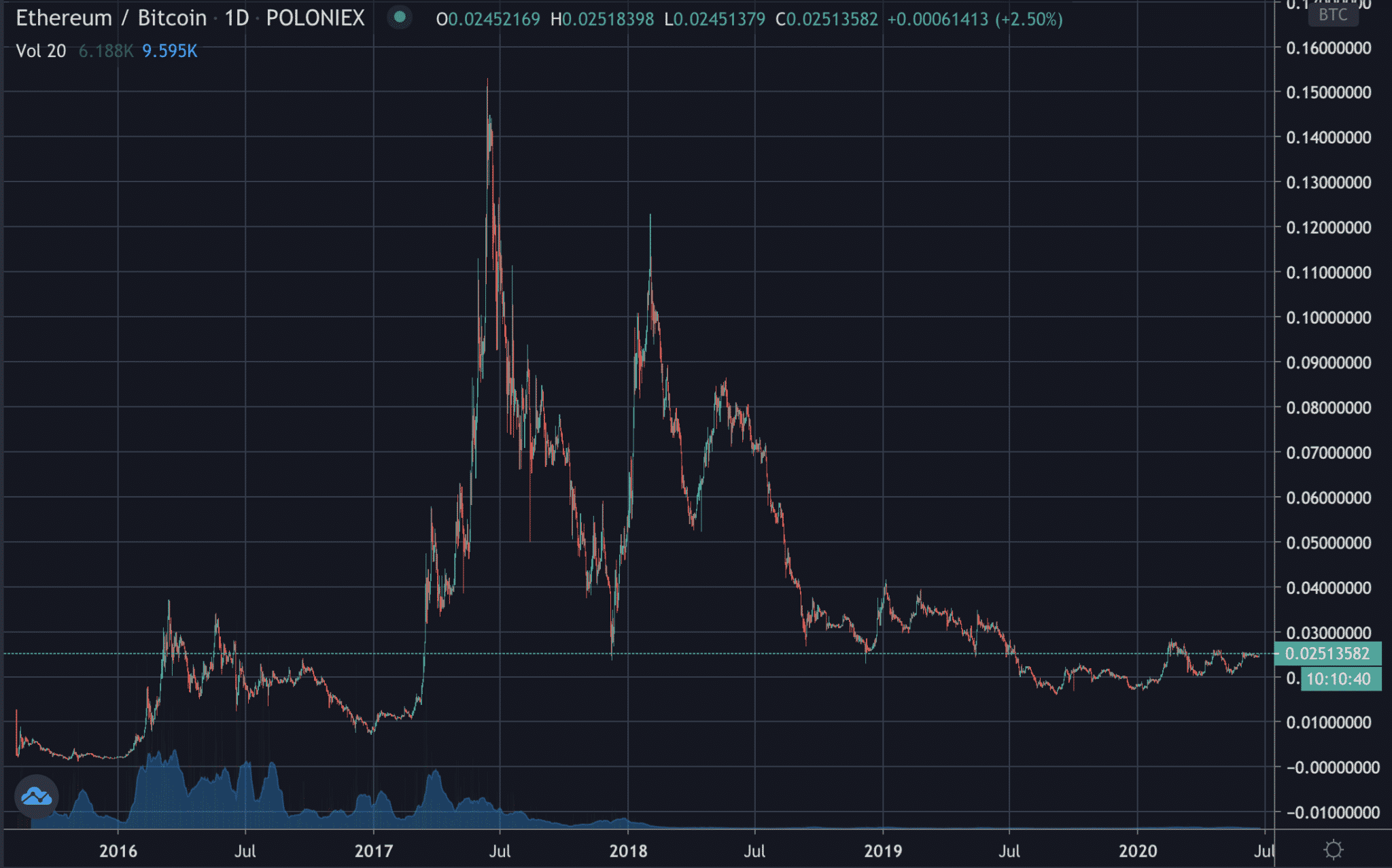 This is maybe the most impressive chart in the whole crypto space. Too beautiful and if you lived through all those ups and downs you can probably spend hours looking at it.
That eth's value in bitcoin in 2016 was higher than currently is a lesson on inflation from Nakamoto himself as ethereum has consistently had twice the inflationary rate of bitcoin.
Its stupendous quick rise in spring 2017, on the other hand, is a lesson on the second part of the equation, demand, and just how quickly that demand can go viral.
What you can then easily see in the above chart is how bitcoin very skillfully took over the narrative, calling anything that eth was doing as bitcoin.
That was to the point 'good for bitcoin' became a meme as any good news for eth led to bitcoin gaining in price.
Is that changing however, might the market start re-adjusting the relative value of the two biggest cryptos?
Ethereum Defiance
Bitcoin has its unique quality of a hard fixed number in its algorithm which where the matter of money is concerned, makes it a very interesting asset.
It is also an asset that provides an alternative as the people of Lebanon can attest in their struggle to access their own money from banks.
Ethereum however has those qualities too, except for the fixed limit, but you can keep your eth in your own wallet, in your pocket, and no one can say they won't give it back to you like banks can say with deposited money.
Then on eth there's a whole financial system in addition. So rather than keeping your money in your own pocket for it to do nothing, you can give it to a smart contract.
Others that want to use your money can then borrow it in a way that is 99% guaranteed they will pay it back.
That 1% we'll leave out just because it is a very new financial system, with it fairly successfully passing the March blackswan in general, although with some relatively small hiccups.
Then there's of course the risk that the smart contract has a bug. So while you can be almost certain the borrower will pay back, you can't be too certain you'll still be the owner of the assets that you've deposited as they could be hacked.
Hence why mummy and daddy is not using this yet, if ever. It's more the cutting edge of finance and all of it is happening on ethereum.
The New Flashboys
It's difficult currently to not have some excitement about the potential of the ethereum ecosystem to replace or disrupt some of the traditional financial system.
System, not necessarily the people who work there because quite a few of these financial dapps are coded or imagined by people that come from the traditional financial system.
That talent magnetism is one clear indication that many think they can perform old services, but in new and better ways.
Better because it is raw market forces alone that act on setting say the interest rate to borrow tokenized bitcoin or to lend it or indeed the interest rate level for you to just keep it on the smart contract to provide liquidity to others who can use it.
Raw within its own ecosystem in as far as there is no custodian, no manager who can fiddle the accounts as happened just recently with Wirecard.
But obviously if the Fed manipulates the value of the dollar through increasing or decreasing its supply, then there is interference in the new financial system as well because it may lead to more or less demand for lending or borrowing or depositing crypto assets.
On that front cryptos have the different aspect of algorithmically set supply, but they still do operate within the greater system and therefore are affected by the dollar strength index as far as we have seen.
Flippening Friends
There is significant rivalry between bitcoin and eth with both seeing something like the fed more as an old, outdated, grandpa institution over which they both think they have significant superiority in quality.
So the bitcoin or eth v fed et al rivalry is more pointing fingers and laughing, with sometime also more serious discussions, like our analysis of fed's recent claim that bitcoin is not new money.
The bitcoin v eth rivalry however is of a different level as it is not quite on the nature of money itself or old tech v new tech (well).
Fundamentally it's not even a rivalry as market forces have told us over the years that bitcoin and eth are very complementary.
Yet they have their own price and thus the market has to judge each on their own merit and on their relative merits, with it unclear why exactly the market thought in 2017 that eth and bitcoin are almost of equal value in market cap, and now thinks eth is worth about 10% of bitcoin.
What exactly has changed for eth in that timeframe save for the better? Narratively maybe there were changes, but fundamentally ethereum's ecosystem is 10 to maybe even 100x bigger now than three years ago.
Obviously there are difficult technical problems in regards to capacity especially, that gradually like any new tech will be improved from dialup to now gigabit internet, in addition to that being a problem that both bitcoin and eth share in common.
And this year there have been significant improvements on that front, but even if nothing changed, is a $10 fee to get a 7% or even a crazy % interest rate really that much of a problem?
Techies debate, of course, that we need do this or that to improve things and the better, the better.
Sometime they also argue, and sometime very publicly and very directly, and sometime others who have no clue about what they're arguing join in, but that also is a clear sign of the passion and the feeling of many that they want to improve things.
The market however so being both emotional and rational as at the end of the day it is people that are the market, probably needs some time to move the emotional to the rational in a random price walk.
Plus, you obviously can't come out of a bear market in just days, so the best news for eth ratio in a long time is that straight line we can see in the above chart which has lasted for a year or more.
That's saying the market does not want to go further down [insert here disclaimer about price can do whatever it wants].
Keeping it in a straight line would at some point get boring you'd think especially as there is plenty moving, so maybe it is time it tries up?
It is summer afterall. Friends flipping on the beach is the favorite pastime of many. So maybe next summer we get some flippening action here too as for this year just dreaming while gently swimming would be good enough.
Editorial Copyrights Trustnodes.com