Decentralized exchanges (dex-es) and financial dapps (defi-ers) have overtaken the trading volumes of Kraken and Coinbase for the first time ever.
Curve alone nearly surpassed yesterday all of Kraken's trading volumes, stating "$93M daily trading volume! How's that possible even?"
Innovation, the mother of all wonders led this Sunday and keeps leading to a frenzy of trading in the most underground happening even in this 2020.
So underground in fact even we haven't testrun these things yet to see how you get these free tokens, but plenty are 'testrunning' and to the tune of billions a month.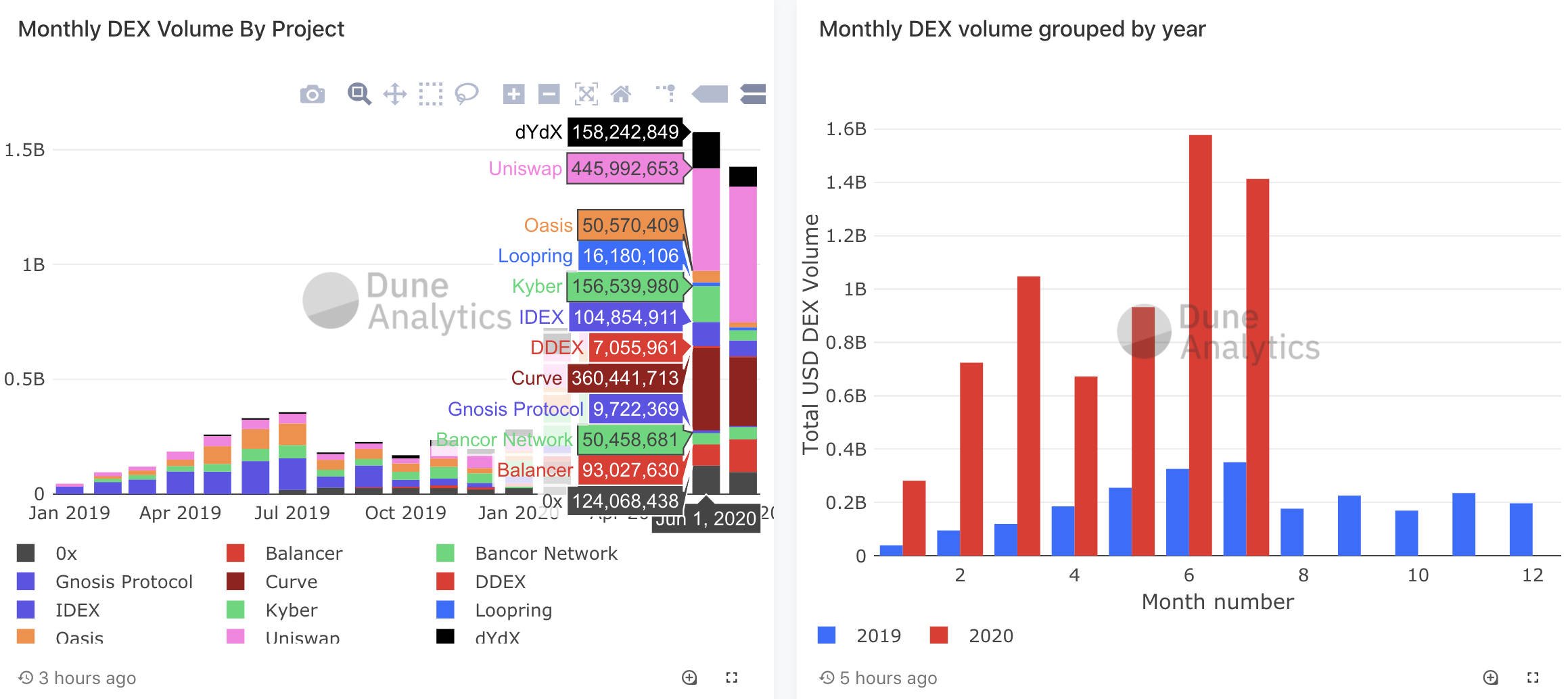 July has quite a lot more to go still and it's already close to overtaking June, but what shows far more clearly the rise of defi is the comparison with last year.
January 2019 barely had $50 million in trading volumes as the space was just becoming. Now, $2 billion will probably be crossed this month.
These are onchain transfers for the most part (some like Loppring do use contract level scaling methods to keep much offchain), so if there is any fakening then it would be quite expensive.
Making much of this real financial activity, with both Coinbase and Kraken known to not fake their volumes, at least not intentionally.
Kraken handled $120 million in trading volumes within the past 24 hours as can be seen above, with bitcoin's value against the euro being their biggest trading pair at $30 million.
Defying dexes handled close to $160 million in the past 24 hours according to Dune Analytics, with Uniswap being the biggest at nearly $60 million.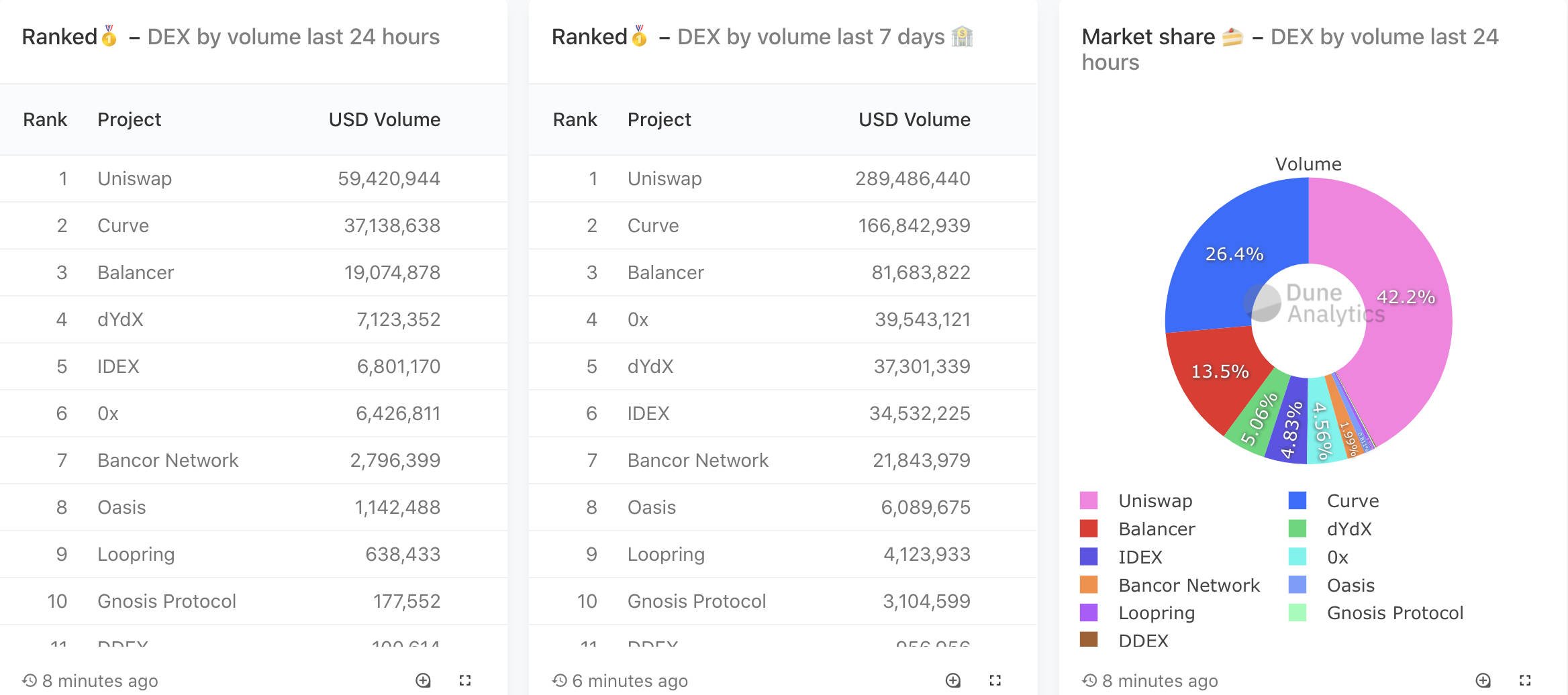 Close to $700 million was processed in the past week, with Curve quickly rising as the second biggest at nearly $40 million in the past 24 hours.
New boi Balancer comes third, with it not very clear how inclusive these stats are as Aave should be there somewhere.
Interestingly they have Gnosis doing something. This space is moving quickly now so what exactly that something is, is not very clear, but we suspect it might be their smart contract based wallet which we haven't had time to look at yet (good marketing works), but it's apparently handling some $200,000 in volumes a day.
Gnosis so being close to the smallest defi dex listed above, and yet it beats the EOS/BTC trading pair on Coinbase Pro, with all of these listed defi dapps beating all of Coinbase yesterday, and are close to doing so today too.
Uniswap beats Coinbase's biggest trading pair, and beats it by quite a bit, $59 million vs $46 million.
The third ranked defi, Balancer, beats what really should be the second trading pair, ethboi, at $19 million v $17 million.
However that is partly because eth and bitcoin are kind of watching the defi show right now instead of playing themselves.
So volumes on Coinbase and other centralized exchanges are lower than usual because of the endless sideway that has been going on for months now as both bitcoin and eth are to break the biggest triangle in crypto history.
On the other hand, both Coinbase and Kraken are close to a decade old, while Curve was barely launched last month, and Uniswap was hardly much of a thing even last year.
So them flippening so quickly clearly shows something has been unlocked here, with that something presumably being freedom itself.