Bitcoin is close to reaching 100,000 TRY (Turkish Lira), rising by some 20,000 this month and by 10,000 just this week.
It has now reach 87,000 TRYs, significantly more than the previous all time high of 80,000 reached in December 2017.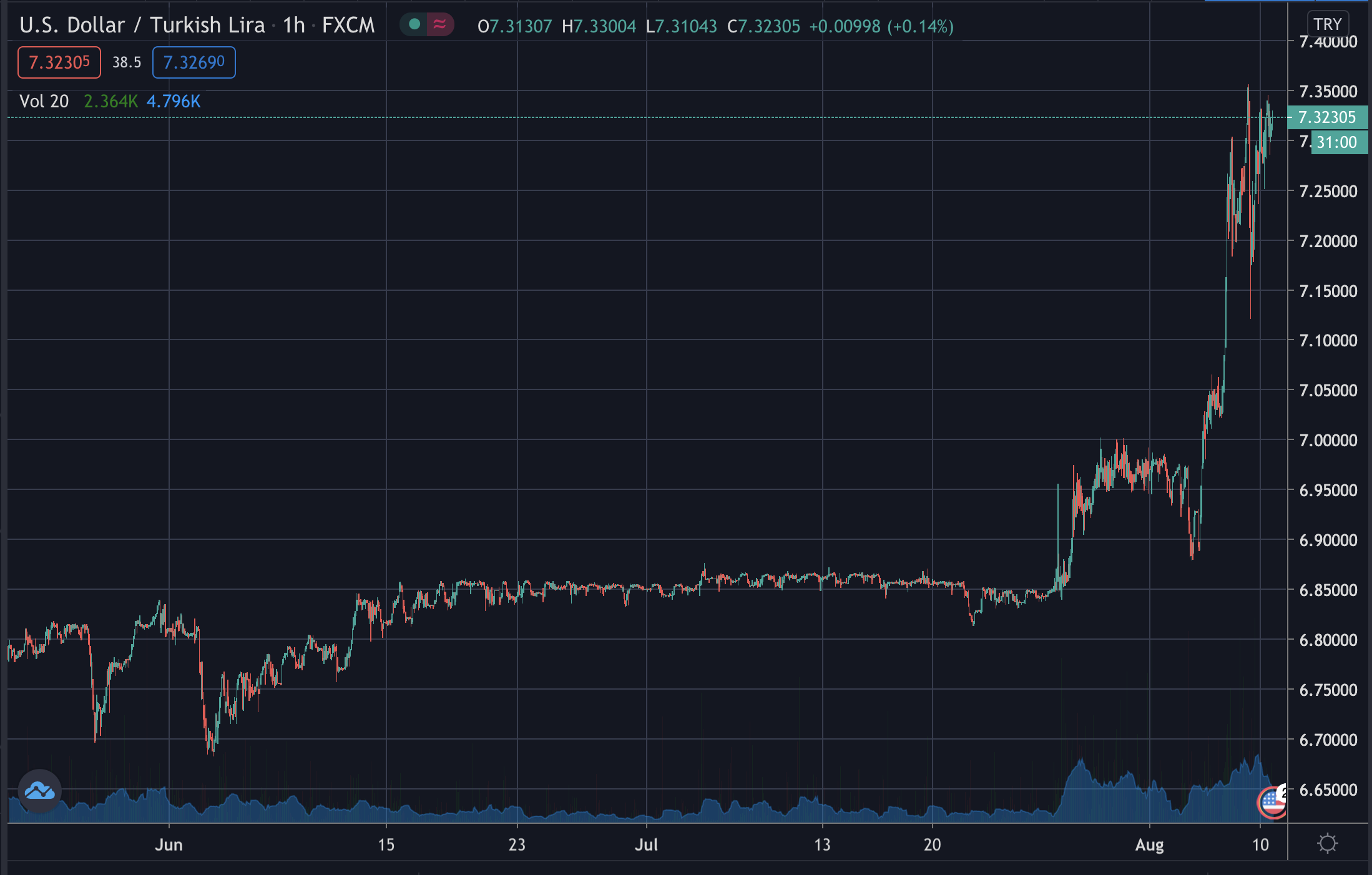 This all time high for bitcoin's price is due to the lira falling significantly in value against dollars, especially this month.
While at the same time bitcoin has risen to now flirt with $12,000 on increased unfiltered volumes of $24 billion.
About $17 million of that is on BtcTurk on the BTC/TRY trading pair, with Sistemkoin handling $112 million in trading volumes during the past 24 hours on the same trading pair, while also seeing a small premium of $100.
That suggests bitcoin is somewhat big-ish in Turkey with even houses there sold for BTC.
It may grow further as Turks try and hedge, with the question of course being how long this deprecation will continue.
Some suggest it may reach 8 by the end of the year, with Turkey a fairly big economy that has a GDP of $750 billion.
It may grow bigger still as Turkish products become cheaper, but they also import a lot and a bit more than they export, yet when it comes to tourism especially it is quite difficult to measure just how much is being exported.
The question is whether this is temporary as bankers and Erdogan stare at each other on the matter of lower interest rates decrease inflation as claimed by the latter, which the former say is wrong think.
This shorting of the lira therefore seemingly began when inflation ticked up a bit in June to 12.6% from 10.9% in April, but it has gone down again in July to 11.7% and it was at some 25% last year.
TRY did not appreciate while inflation was going down significantly and the economy was growing a lot by western standards, even 12% for one quarter, but suddenly now it accelerated in deprecation this month and has only fallen in value with it about halved since December 2017.
To be fair to markets however, inflation is still high as interest rates are high as well at above 8%.
Yet from corporate media commentary it does sound like there's some politics involved to all this, instead of plain market actions, as it isn't too clear why TRY should fall significantly against the dollar when the latter is being given to the unemployed in America at $400 a week now, previously $600 a week for some 30 million hopefully temporarily unemployed, on top of straight out checks to all Americans and bailouts for everybody.