Chainlink has seen a spectacular crash, falling some 25% within one minute after reaching an all time high of $20.
The ethereum based token saw its market cap fall by more than one billion in a night of frenzied trading:
You can see above half a million links were sold at 11:09 UTC, so midnight London time, making it morning in Shanghai at 7AM.
That doesn't mean China crashed this, but bots brought it up somewhat quickly, with a second wave then being less sharp.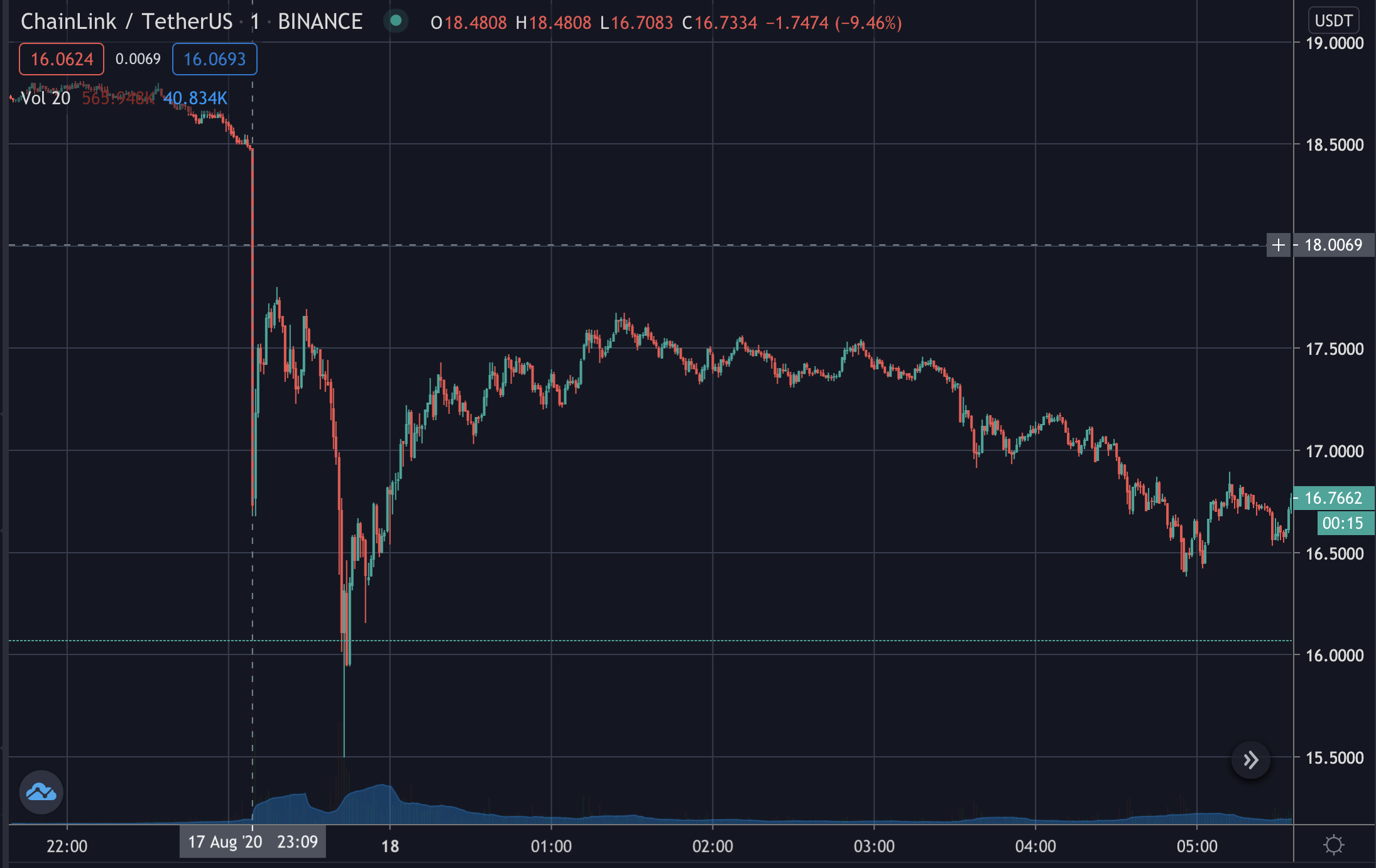 Binance's chart looks a bit different in as far as the first sell off, again in just one minute, wasn't as deep as on Coinbase.
That suggests either Coinbase doesn't have much depth liquidity, or maybe more likely, they started off the sell off.
Binance thus reacts but not fully, and then they maybe learned of the sell off and so react a bit more 'appropriately' and more slowly, thus maybe a bit more organically, a few minutes later.
Who done it? Well devs apparently need money which last year was for 'technical writers' while this year it's not very clear not least because they've been selling about 500,000 links per week for months.
As our previous analysis shows, the latest batch of this 500,000 went primarily to a stop address where it stayed with previous history showing it then goes to Binance a few days later.
So they were in the process of selling, but they've been selling for months now and they presumably wouldn't market sell the one minute chart.
So maybe some whale who shorted then dumped, works every time if the timing is right with $20 historically a huge resistance line and usually the cycle top when it is first reached.
That was the case for bitcoin and for eth, with link not having much base demand in as far as only about $6,000 is paid for their oracle services, the rest of the now $5.7 billion market cap so presumably being just speculation.