"Banks, today you're not ditching me, I'm ditching you." So says a front page ad on Hong Kong's biggest paper, the Apple Daily, which had its CEO Jimmy Lai arrested recently.
That led to huge support for the paper with its parent company, Next Digital, rising like a bitcoin, up 10x.
In addition the daily readership of 70,000 has ballooned to 500,000 with some calling this the last independent paper in Hong Kong.
It's a pro democracy paper at a time when democracy does not seem to be much appreciated in Hong Kong any longer.
Following a national security law, numerous pro-democracy Hong Kongers and media figures have been arrested, "raising fears of a broad crackdown by China," says the BBC.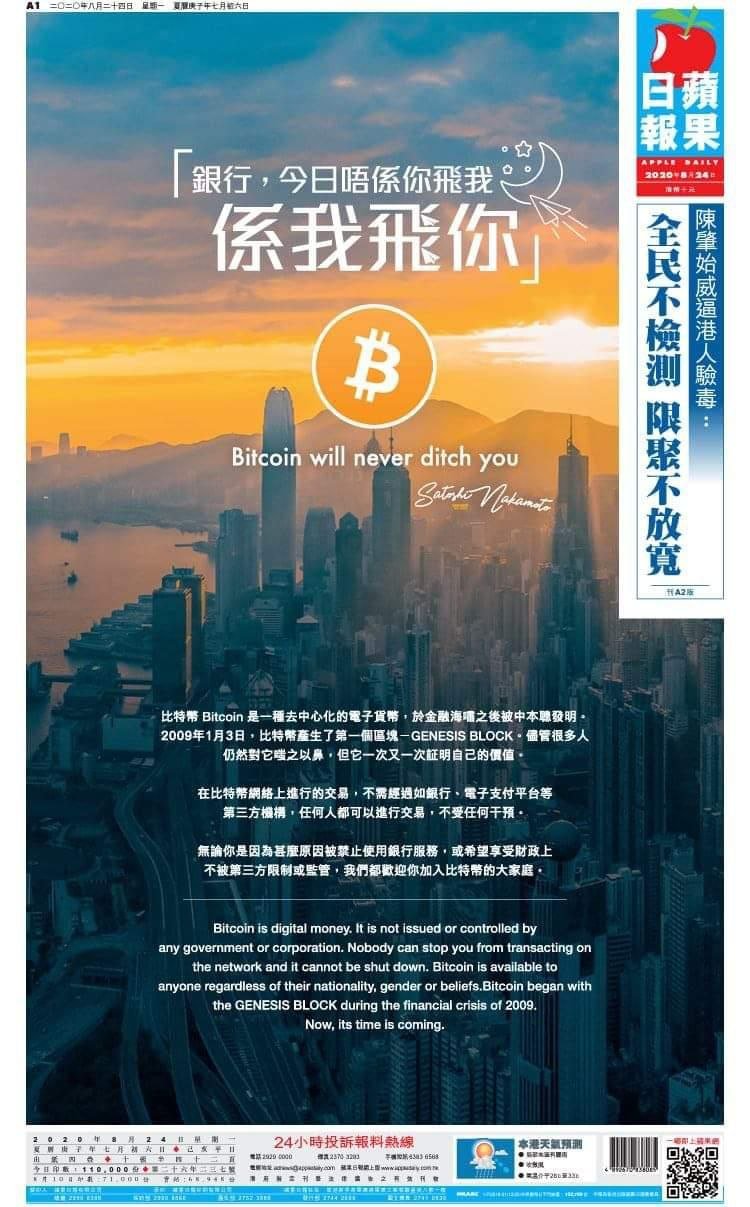 An exodus may now be afoot with Britain and other countries offering citizenship to Hong Kongers that want to move.
That has led to a surge in house prices in London according to Reuters as Hong Kongers rush to buy new homes.
This is a small but rich country, with a population of seven million and GDP of $360 billion.
However, for a year now the GDP has been contracting, minus 9% for both of the last two quarters:
It's not too clear why this has been performing so terribly with it going all the way back to the last quarter of 2018.
The protests obviously may have contributed to it a bit, but it does look like the economy was going downhill beforehand and now it's basically rekt.
Again why so much is not too clear because China saw 4% growth in the second quarter, suggesting the democracy issues may have more to do with this than the pandemic which in Hong Kong was very limited.
This is Russia's GDP and we point it out because it is the only country of note to start off within our lifetime as a democratic European member of the continent that valued an independent press and all the nice principles the rest of Europe enjoys.
So during that period Russia saw huge growth until 2008 when you'd think this had something to do with the banking collapse, but China grew during that period and very considerably.
So what also happened during that period was Putin returned for what turned out now with hindsight to be an endless term and also he invaded Georgia.
Russia in effect, or more specifically Putin and his administration, started to become what most succinctly can be called as the opposite of a European country.
Still Russia was one leg in and one leg out, but gradually the country has now become the very definition of dictatorship for the state there poisons politicians.
You can see that journey above. Nice growth, half growth, and then halved further as the country goes from European to two centuries ago.
This is China's GDP and apparently they've eradicated booms and busts there with very nice growth for three decades in what must be one of the longest period of uninterrupted prosperity.
Until recently, when we have the first contraction with their growth trajectory appearing to have become more a downwards bend.
There's a debate in China whether they should become a more open society and reap the rewards of growth, or risk the cost of dictatorship and see themselves become poorer and poorer like the Russians.
With three decades of uninterrupted growth you'd think euphoria there must be high and with euphoria comes delusion.
They may think it is different this time, that they do not need to appreciate the more advanced principles of how to run a society, principles that have proven time and again bring prosperity.
Yet Hong Kongers probably know what dictatorship means for their future for they still do have some freedom of speech.
In addition, the generation that saw this city grow from a backwards village to a global financial centre is still among us.
Some of them also saw what the dictatorship way means. Mass starvation, usually. Something that even some of the youngest generation, the millennials, have seen and for some of them first hand in Russia's late 80s and across what back then was the red wall.
The general consensus is that this starvation was due to communism, and that may be the case in part, but there is also a strong argument to be made that the primary cause was dictatorship.
If scientists are unfree to speak of scientific matters for fear of offending some dog, if the pen can not freely analyze what might be the problem and what could be the solution, if new comers in the civil service or any other place can not suggest new ways, then perhaps it isn't too ambitious to suggest that there is a certain law of entropy that dictates the end result just as gravity dictates our motions.
Therefore one hopes the fundamental reasons why Europe holds the principles it does will finds its way to an understanding in cross-roads nations which may well be mistaken in thinking it is the economy model, rather than primarily the political one which is what determines the economic model, that causes prosperity or lack of it.
Knowing so, it is not too surprising many Hong Kongers seem to be leaving, and for many of them bitcoin may well be a safe way to transport their savings.