The first academic study to look at the effects of ethereum in line with the Modern Portfolio Theory finds eth acts as a diversifier and as a hedge.
The study looks at the newest asset among more established national assets across USA, Europe, China and Australia with one of the authors, Walter Obaseki, being a researcher at the School of Finance, Actuarial Studies and Applied Statistics at the Australian National University (pictured).
They start off with a useful summary of the academic literature on crypto's effects in investment portfolios, and point out so far studies have been almost exclusively focused on bitcoin, for which they say:
"In terms of the diversification effect of bitcoin in a well-diversified portfolio, Eisl, et al. (2015) and Brière, et al. (2015) find that Bitcoin should be included in an optimal portfolio because it improves the risk-return ratio.
Bouri, et al. (2017) suggests that Bitcoin is a good hedge against commodities while Kajtazia & Morob (2019) finds that Bitcoin plays a very significant role in portfolio diversification strategies in China, the United States and Europe."
There have been numerous studies on bitcoin, including one that shows portfolios with bitcoin in it as replacement for gold perform better.
A more recent one finds bitcoin is a hedge against geopolitical risk, while on eth, they say:
"Katsiampa (2019) analysed the relationship between Bitcoin and Ethereum volatility. The result shows that while both cryptocurrencies have similar response to major news, Ethereum can serve as a hedge against Bitcoin.
Within the US stock market, Ethereum cryptocurrency can serve as an intraday hedge against the US stock market and safe haven against gold (Meshcheryakov & Ivanov, 2020).
But when currency markets are concerned, Meshcheryakov & Ivanov (2020) documents that Ethereum tend to act as a diversifier on intraday basis for the US Dollar."
Generally there's a high level of correlation between eth and bitcoin, but there's also a big rivalry between the two.
So eth being a hedge against bitcoin is an interesting proposition and a correct one but for certain time periods.
8% of the Portfolio in ETH?
For some time now financial advisers have suggested 1% or 2% of a portfolio should go into cryptos, however for eth this paper suggests 8% as it says:
"By applying only 8% of the weights on the Ethereum, the unconstrained portfolio has the least impact on standard deviation, which only increases to 17.88% and delivers the relatively high promotion on Sortino ratio compared with equally weighted and long-only portfolio."
They also say "within equally weighted portfolio, we find that Ethereum largely increased both the return and standard deviation of the portfolio by more than 4.5 times."
They looked at data between September 2015 and April 2020, so covering both the bull years and the bear, implementing "the modern portfolio theory and Black Littman" while examining "the difference in values of return metrics for portfolios with and without Ethereum."
They constructed the Ethereum China price index, Ethereum Europe price index, Ethereum Australia price index and United States price index using data from www.coingecko.com.
Monthly data was used instead of daily data because they say with monthly data, returns are at least approximately normally distributed (or, at the very least, the simplifying assumption of normality is more evident) than with daily data.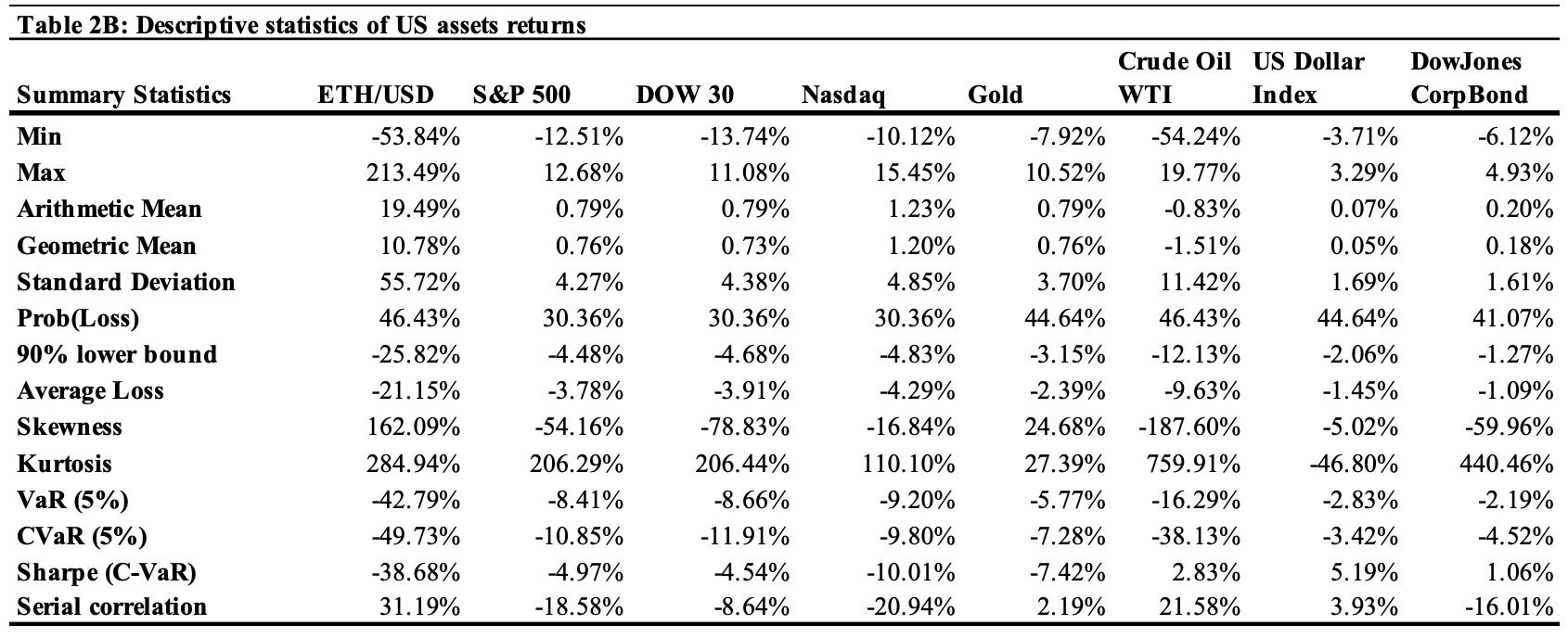 Above are the results for the United States which generally reflect ethereum's role in an investment portfolio for the other studied regions as well. We'll let the authors speak by highlighting what we find interesting:
"Ethereum's average month's return is around 20 times higher than the second-highest asset in the US market, and the price is 55% of standard deviation and 21% of the average loss.
In the case of Chinese assets, Ethereum illustrates small correlations with all Chinese assets. A relative significant positive correlation with S&P WCI Gold ER and one-year government bill and a relative significant negative correlation with USD/CNY currency. It suggests that Ethereum could be used by some investors to hedge during some circumstances that adversely influence the price of the assets. Besides, the low correlations with all other assets also indicates that Ethereum is decoupled with respect the movement of the returns of other assets.
The correlation matrix of the US market show that Ethereum has a low correlation with most of the assets. It has a positive correlation with gold and US corporate bond and a negative correlation with the US dollar index. So, Ethereum might be used to hedge the forex trading asset.
We conclude that adding Ethereum to a portfolio of risky assets could improve the portfolio's diversification because Ethereum has a low correlation with traditional assets like stocks, currencies, and commodities.
Our result shows it increases the return and volatility of the portfolio, which explains the high-risk premium offered by Ethereum."
There's currently no ETF in the United States to buy eth or bitcoin in a traditional portfolio, but there is a bitcoin ETF in Canada.
In Europe there are numerous ETNs which can easily give you access to bitcoin, eth, and even other cryptos through your stocks or pensions account.
In addition the growing literature, which for bitcoin has become established while for eth has just began, has attracted significant interest from institutional investors which are becoming more and more confident in long term investments in cryptos.