One of the biggest crypto exchange handling some $2 billion in daily trading volumes has burned 4.872 million Huobi tokens (HT), worth about $24 million.
"The month on month burnt HT has increased by 97%," they say while the "circulation deflation rate for the month is about 1.63%."
So the supply is decreasing by 1.63% a month, with Huobi stating their trading volumes have doubled recently.
Some of their profits are meant to go towards this token that has a total supply of 500 million HTs.
A cool 219 million has been burned, with some 100,000 of it destroyed in just the past two months: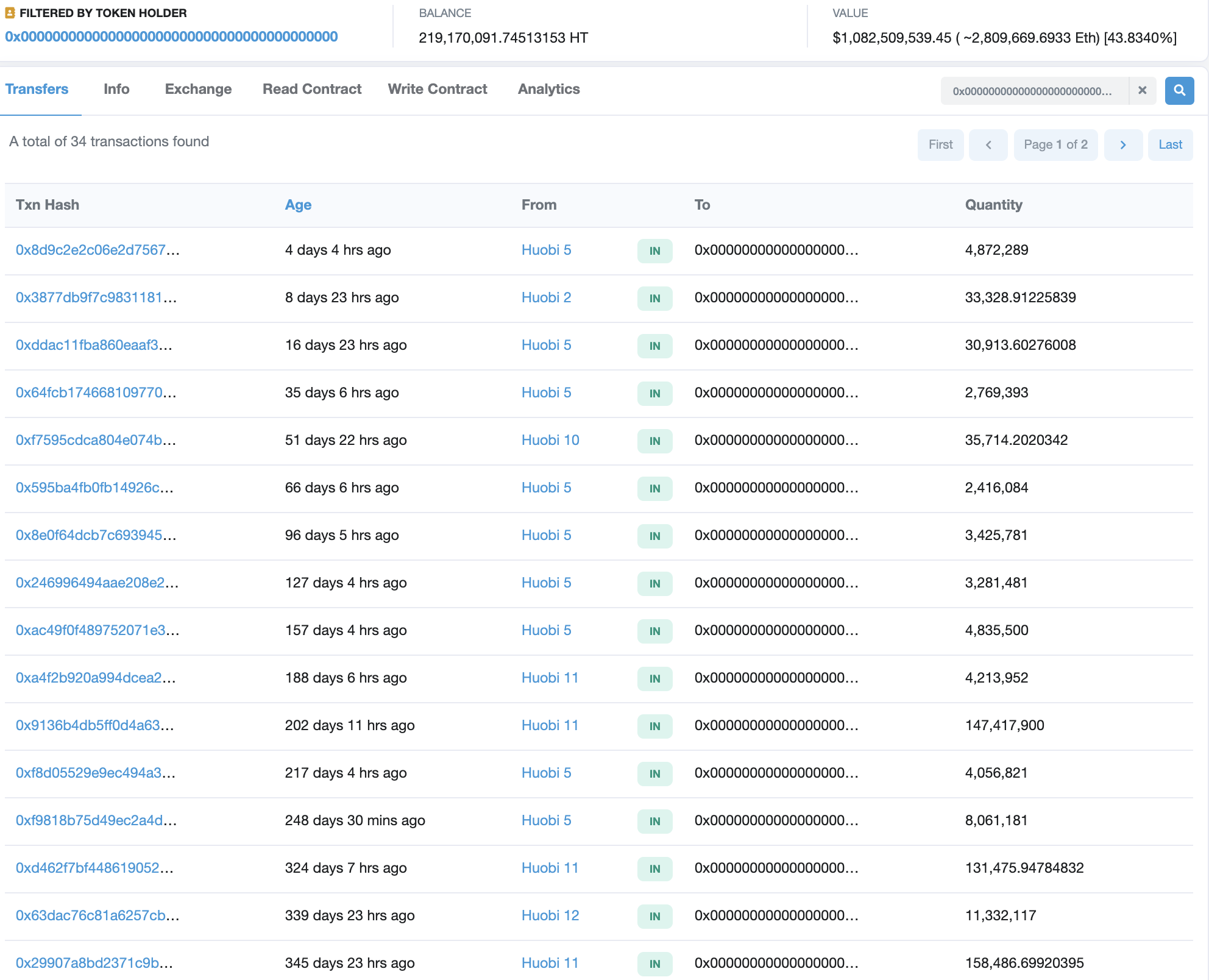 The zero address is the ethereum network address. It's 'owned' by the eth nodes, as in the protocol itself, with it not having a private key.
So this 219 million has gone now with it unable to exchange hands any further as the tokens have effectively been destroyed and are now kind of a museum piece.
This burning of tokens is meant to act as a dividend distribution of sorts with that reduced supply leading to a price appreciation in theory provided all else is equal.
There hasn't been any notable change in the price of Huobi, however, perhaps because it faces much competition from many new tokens that provide governance rights and ownership over dapps.
Uniswap is the latest example, with this being a decentralized exchange that is now to go through token holders votes to set numerous parameters, including how the daily fee revenue of about $1.5 million is to be distributed.
There are two main methods currently. YFI requires staking with only those that lock the token and vote on governance getting the fees.
Somewhat indirectly this locking would benefit those that are not staking as well due to it temporarily reducing supply, but the main reward goes to those that do a bit of work like voting.
The other method was kicked off by Binance with it being more like the traditional stocks buyback where you use the profits to buy the token and take it out of circulation.
That's done wonders for Binance's BNB price which has increased by nearly 10x since it launched to a market cap of $4 billion.
With a decentralized dapp, it's not clear how this buyback can be done in a code based way as in the case of sushi for example, the token holders voted for the buyback, but an individual with custody over the eth carried out the operation.
Theoretically, there's no reason why the code can't do the buyback itself with Andre Cronje probably able to write it up within a week.
The code currently gives the fee of 0.3% to Liquidity Providers (LPs), so to set it to 'buy uni on the uni/eth pool and burn' shouldn't be hard.
That would then make this a deflationary token, with it being a proper share ownership of a code based automated business.