Some ethereum influencers have been caught red handed in what they say is a joke but to plenty looks like a pump and dump.
According to Defi Dude, who does "community stuff" for Kyber, Aave and other dapps, some guy called Sam messaged him saying "we're getting 50 smart people in a group, going to airdrop evenly, vest the tokens, and just do something."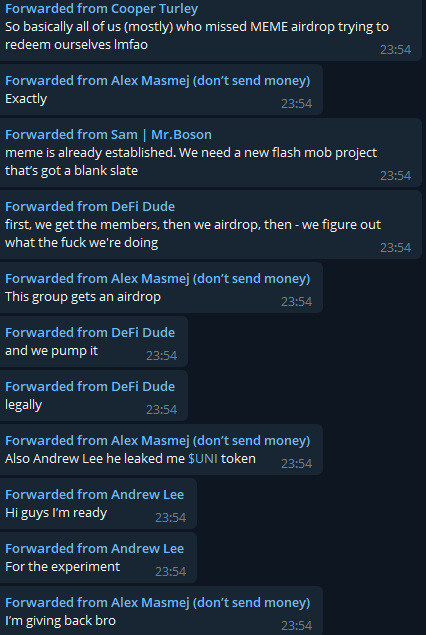 "I'm giving back bro." Alex Masmej is a name we haven't heard before. He apparently tokenized his body. We heard that mentioned recently and thought it absolutely stupid, but if it came to our attention then clearly some thought it worthy of publicizing. Back to Defi Dude:
"Everything I said was when the group was closed off and not public… what I said was the result of me turning on my 'moon boy' attitude and just having some fun. Was my actual intention to pump a coin, shill it out, then dump on everyone? Obviously not."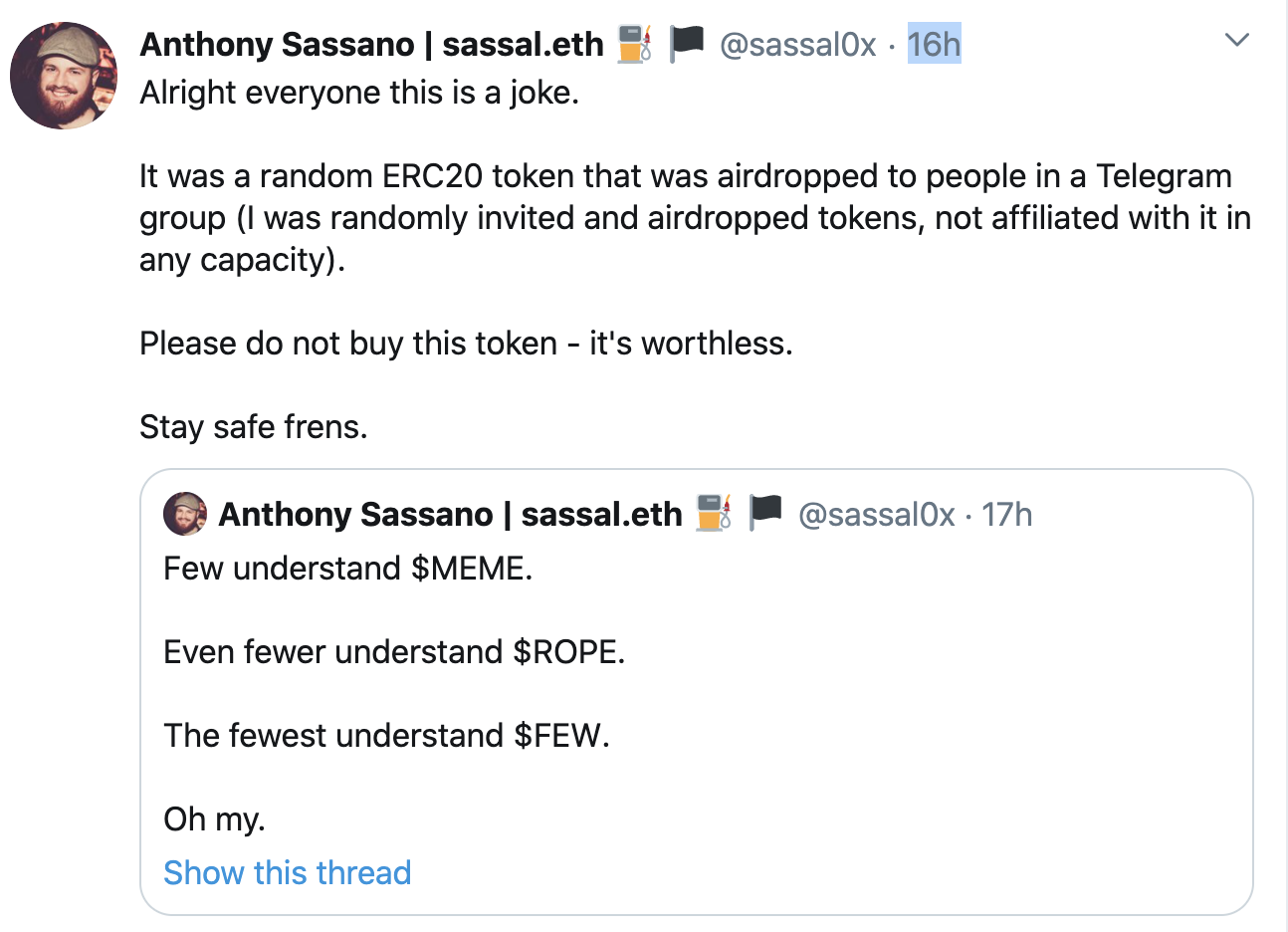 Anthony Sassano of Eth Hub and a marketer for Set protocol, said "text-based humor does not translate at all and can very easily be misinterpreted."
It took him about an hour to realize what the joke was with the second tweet being 11:09PM London time on September 22nd. The joke being the fewest understand FEW, because it is few who were in a private telegram group, 50 people, and those few got this airdrop, and one of these few said the plan was to pump it, while the other one said: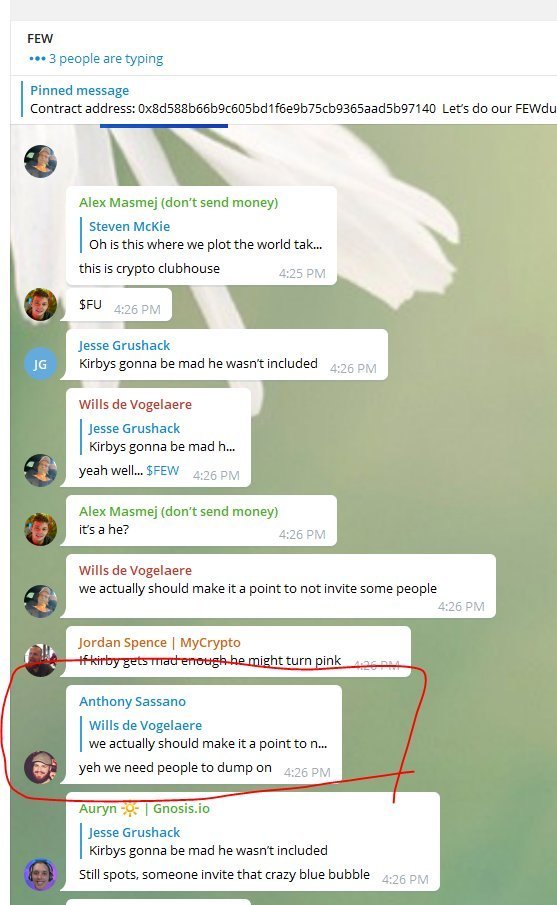 What exactly is happening here is not too clear in regards to the contract address that can be seen at the top because this contract doesn't have a market.
We also can't see where the tokens came from to this address as they used Multisender app, but we can see who got them. However, they seem to be new addresses.
This contract has 42,000 FEW tokens, and each seems to have received 769.23 tokens, but there's no market.
There is however a market (featured image) for a different address with 1,000 FEW tokens, and liquidity to this seems to have been added just before 11PM London time.
The above screenshot as mentioned was during 'private' chat. It then opens to the public, and it quickly balloons from 50 people to more than 600.
So there has been a lot of shilling, with prominent people in this room like Taylor Monahan of My Crypto wallet and none other than Meltem Demirors of the Digital Currency Group which owns Coindesk which wrote about this guy tokenizing his body.
A lot of these attendants could have been innocent bystanders, with one of them, Farid Rached of some project we never heard of called Magic Link, saying:

"Some clarification: I got invited to a TG group for a FEW people in from CT (hence the name $FEW) and access would only be possible with a $FEW token to keep it small. There are/were dozens of credible people in there who wouldn't even kill a fly (and there was no rug to pull)."
As one of the screenshot says this was for those that missed the MEME, which is just 300 tokens given to those that joined their Telegram group.
It worked for MEME right so why not repeat, but in that case would you mint 42,000 tokens or 1,000?
There is no evidence that what looks like an attempted pump and dump is connected to this 1,000 FEW tokens Uniswap market.
Yet about $250,000 exchanged hands in that Uniswap market, with it looking the part but there is no evidence.
What there is clearly evidence of is an organized attempt to create and shill a completely useless token that has absolutely no purpose except that these 50 people got the token and then the rest presumably were meant to buy it due to it being shilled by at least some of these 50 people.