Almost all decentralized finance (defi) tokens running on ethereum are down today, this week and this month.
What some call a mini bear market in this specialized area of decentralized banking is seeing that usual curve of hype then crash, with it to be seen where the bottom will be found.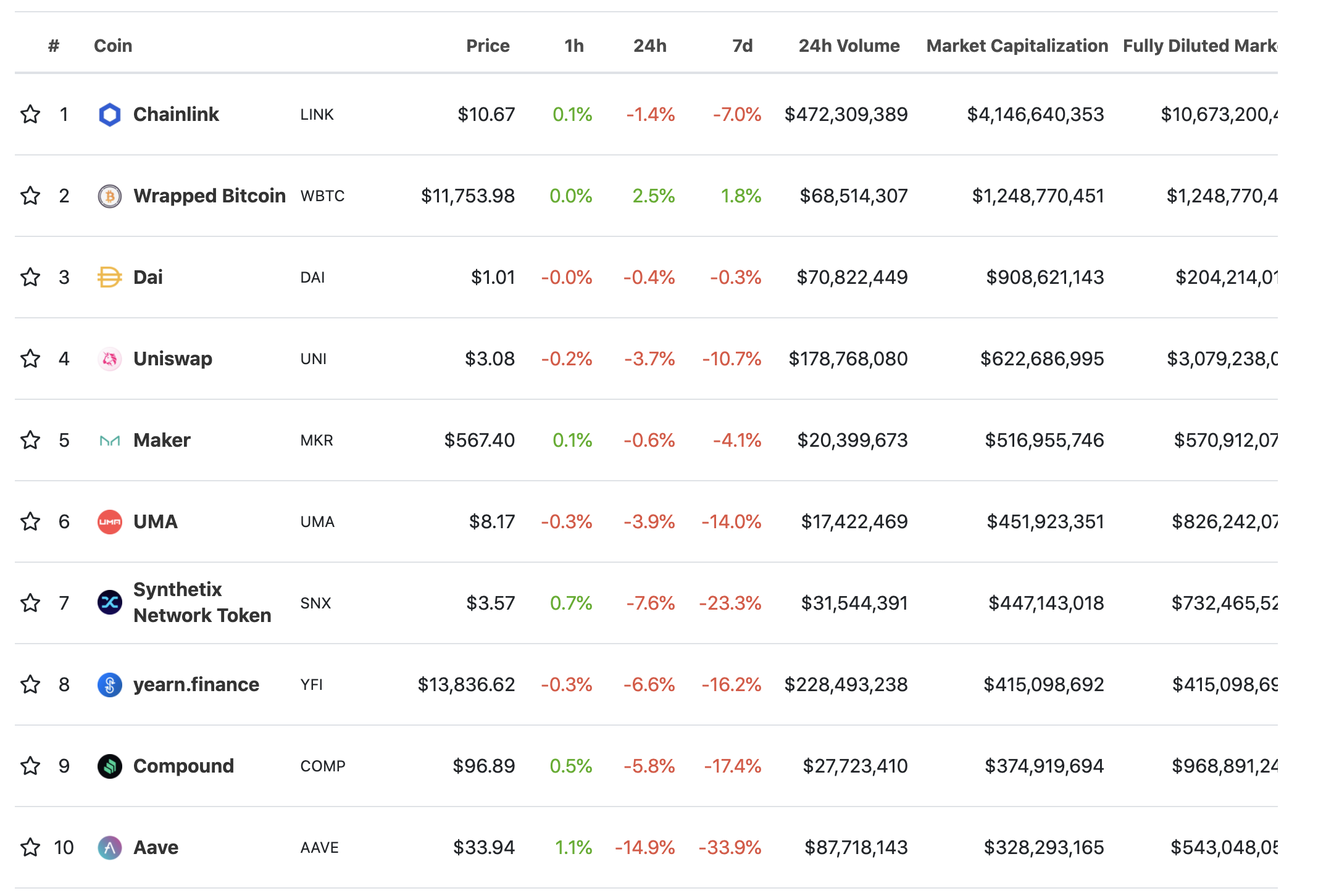 Bitcoin in a tokenized form is the only one bucking the trend, rising today and this week.
The lending, borrowing, flashloaning dapp Aave, however, has seen a fall of some 34% just this week.
Compound and the rest are at -20% or so, with Yearn Finance at -75% from its all time high of more than $40,000.
Why? The easiest and probably the most correct answer is that they rose too much, too fast, and now have to find a base price from which they can rise again.
Many of these coins moreover have huge inflation, with demand simply unable to keep up with the inflationary rate.
Many of them are businesses however with revenue and profits, but some of them simply redistribute "dividends" to token holders, instead of doing the equivalent of share buybacks, in this case buying their own token with a percentage of profits.
That's what Binance Coin does every quarter, and they're still valued at more than $4 billion with BNB maintaining that level for many months now.
Finally, there's the still developing relationship between eth and defi with its speculative element working in favor of defi when more profits were anticipated, but now that there may have been a local top, they may well be running to eth safety.
That may stabilize eth and more importantly it may well be that whatever defi does (within reason), it is good for eth.
That's because while defi was bullish, eth neared $500. Now that it is less bullish, eth safety may maintain its price to allow new demand to perhaps increase it.
Making it similar to bitcoin and altcoins, but here for eth and its ecosystem which remains smaller than bitcoin but it is bigger than any other by far.
Where defi is concerned, the limited ethereum capacity may have put a ceiling to its fast rise, clearing off irrational euphoria and so bringing in more cool headed thinking and building.
That was needed, especially after some project tried to meme 'no audits.'
The quick resolution of that saga indicates just how much this space has now matured, with this mini bear market in defi a lot softer than it could have been.
Just like alt seasons come and go however, to the benefit of bitcoin either way, so too the defi bull and bear might come and go, and here too it may well be to the benefit of eth either way.