Complete red greets markets today as investors are faced with difficult decisions amid a marching continental lockdown in a repeating concert.
All are holding their breath for Emmanuel Macron's address to the nation. He is expected to order a house arresting lockdown.
Schools will remain open they say but not secondary schools and higher with this potentially the first country to total lockdown.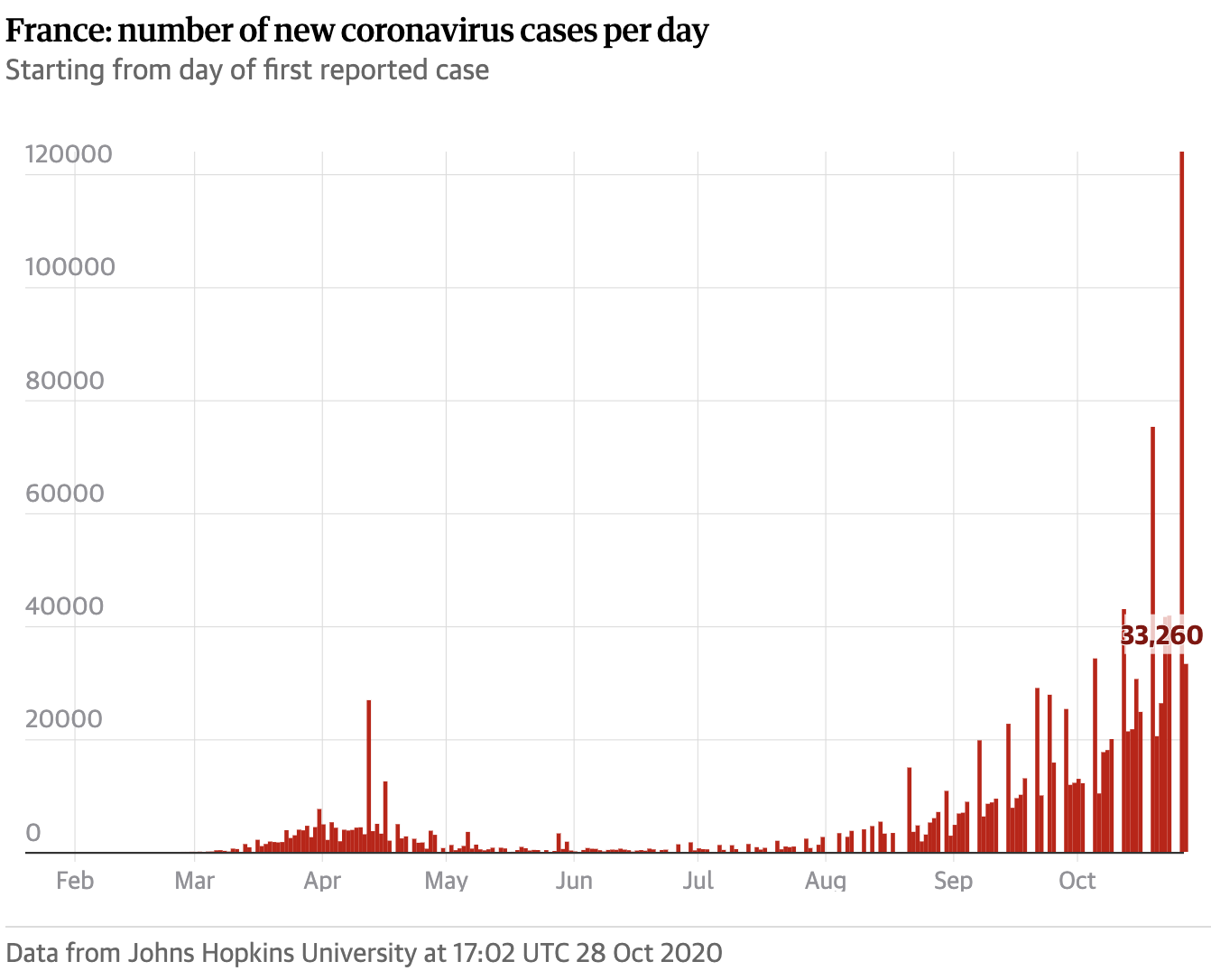 Wales has already locked up. "People have been told to stay at home and only leave for essential food, medication or to take exercise among other limited exceptions," CNN reports.
Germany has gone for a soft lockdown for now, while in UK barbers will remain open, but restrictions continue to be imposed across the continent.
Walter Ricciardi, an adviser to Italy's health minister, called for an immediate shutdown of the city. "In Milan you can catch the virus by simply entering a café or getting on a bus," he said.
Mass public protests in Siberia against Putin have given way to ambulances protesting a lack of beds.
The situation in Russia is apparently getting towards terrible, with the country being generally very poor as its people barely earn $200-$300 a month due to most government resources being spent towards the army.
This is just the beginning they say. November is expected to be worse. December presumably worser. January even worse than that. As well as February.
2023 some say this will continue. Some say immunity lasts just three months, making any vaccine irrelevant and thus these lockdowns irrelevant too.
"Hospital bosses in Nottingham have cancelled some cancer operations due to 'pressure on intensive care units'.
Nottingham University Hospitals NHS Trust medical director Keith Girling said the trust had taken the 'extremely difficult decision' to postpone four cancer operations this week." Bosses, over government run hospitals.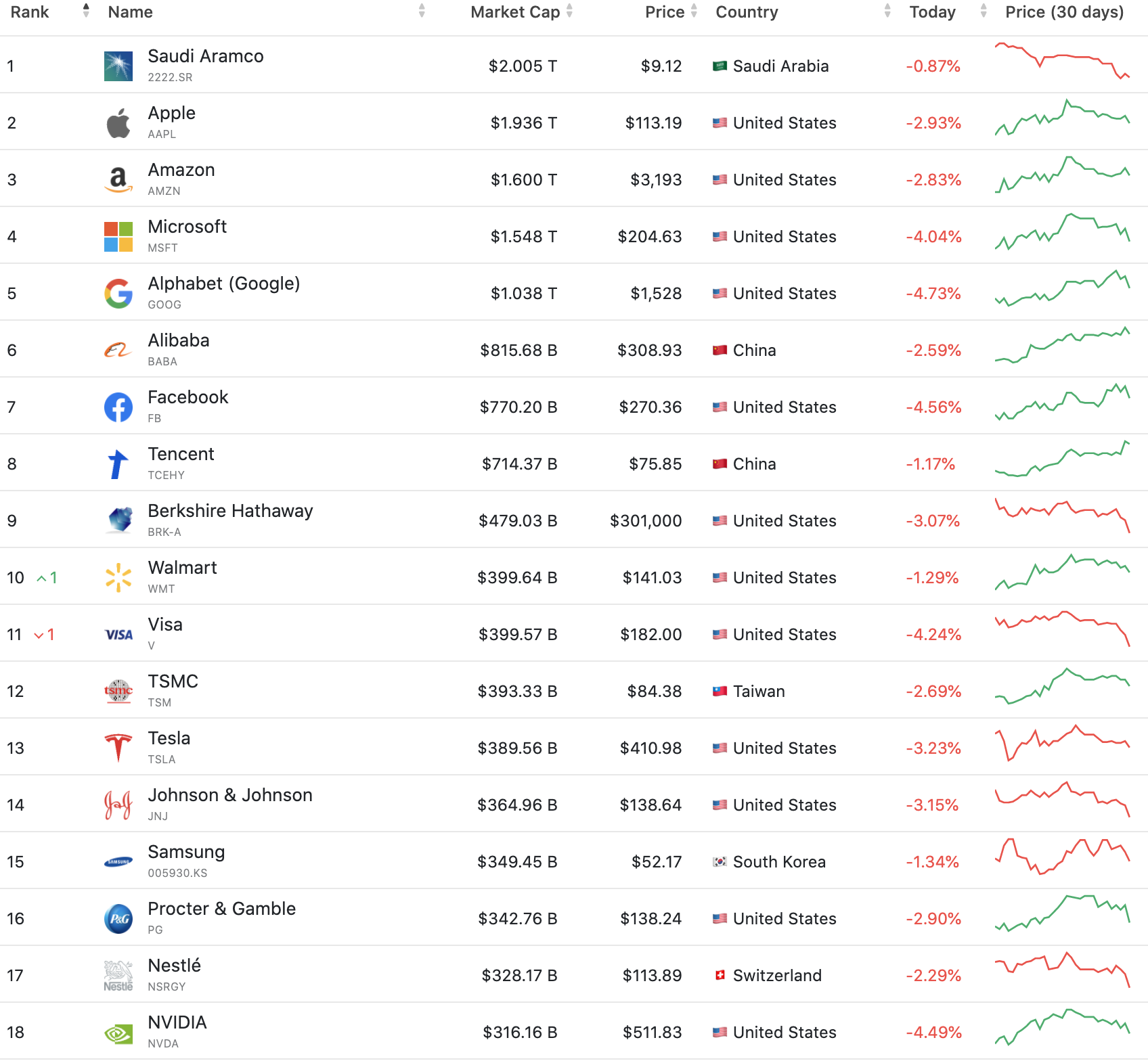 All are bracing for tomorrow, which happens to be a Thursday, with investors unsure whether they are to expect another -20% quarter.
Just as they are unsure whether this V recovery we've seen is more of a dead cat bounce.
Typically, after a bubbly top is reached an asset briefly quickly falls and then almost fully recovers, to then turn falling downwards.
Whether that's the case here is not too clear, but what is clear is that the "just three weeks" we were told was a complete lie.
Moreover, what is also absolutely completely unclear, is how can China claim their rates are stuck at about 5,000 with 90,000 cases, as when the lockdown was lifted in March.
Obviously, it is either the Chinese government lying – in which case how on earth can they lie to 1.4 billion people and the world – or it is our government lying.
Because, how on earth did this all begin and finish in three weeks there, while it goes on to last for a year here and some say for another three years?
Who is lying, and why? Who is killing these cancer patients that had their operation cancelled?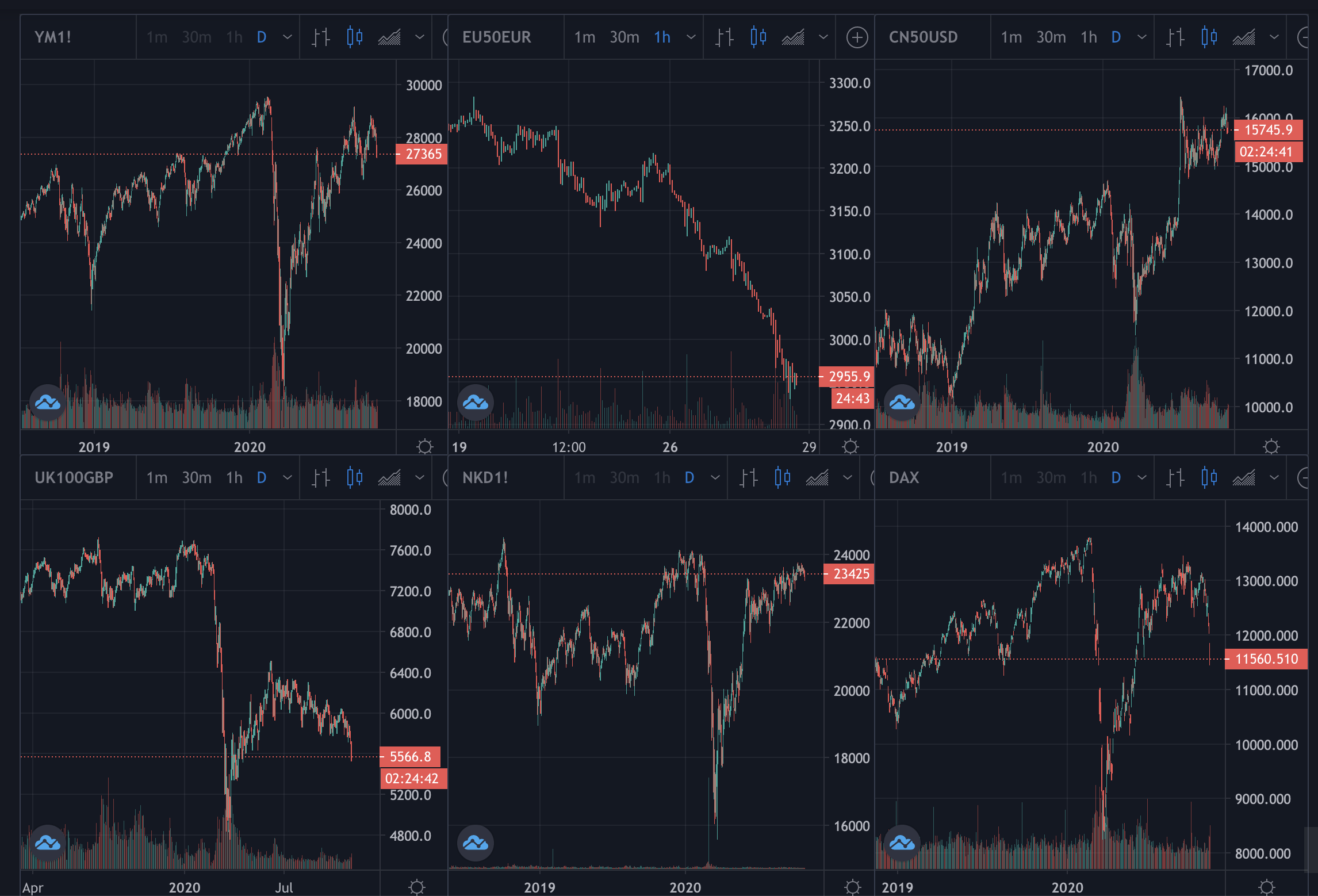 The first on the top from the left is American stocks with their V recovery based on some $2 trillion of bazooka money, some directly given to Americans.
They'll have to pay it all back, of course, with interest, meaning they'll actually be poorer due to the indiscriminate manner of this taxed giveaway.
Euro stocks are on hourly candles, and then you have the Chinese stocks doing terribly in 2019 amid Trump tariffs, but watch what they do.
Sideways gives way to a shallow dip, instead of a massive crash as March US stocks. Then we have even more new highs as they increase their business by forcing masks and all sorts of plastics on offices and public spaces.
The British stocks have suffered the worst. Almost halved to barely recover and now turning downwards towards that halving again.
Japanese stocks appear to be doing better, while German stocks are now seeing that sharp downturn.
Cui bono, is always the question, and here the answer is clearly China. What to do about it is primarily what America will vote on in six days.
It's a heavy vote and all else is secondary to this matter in this election.
We trust the American people and their judgment, but the decision is a clear appeasement with Biden, or a response with Trump.