Bitcoin has risen by $1,000 to briefly touch above $16,000, making a new high since early 2018.
The cryptocurrency has been bullish, especially since the election on November 3rd, rising by $3,000 in the past few days.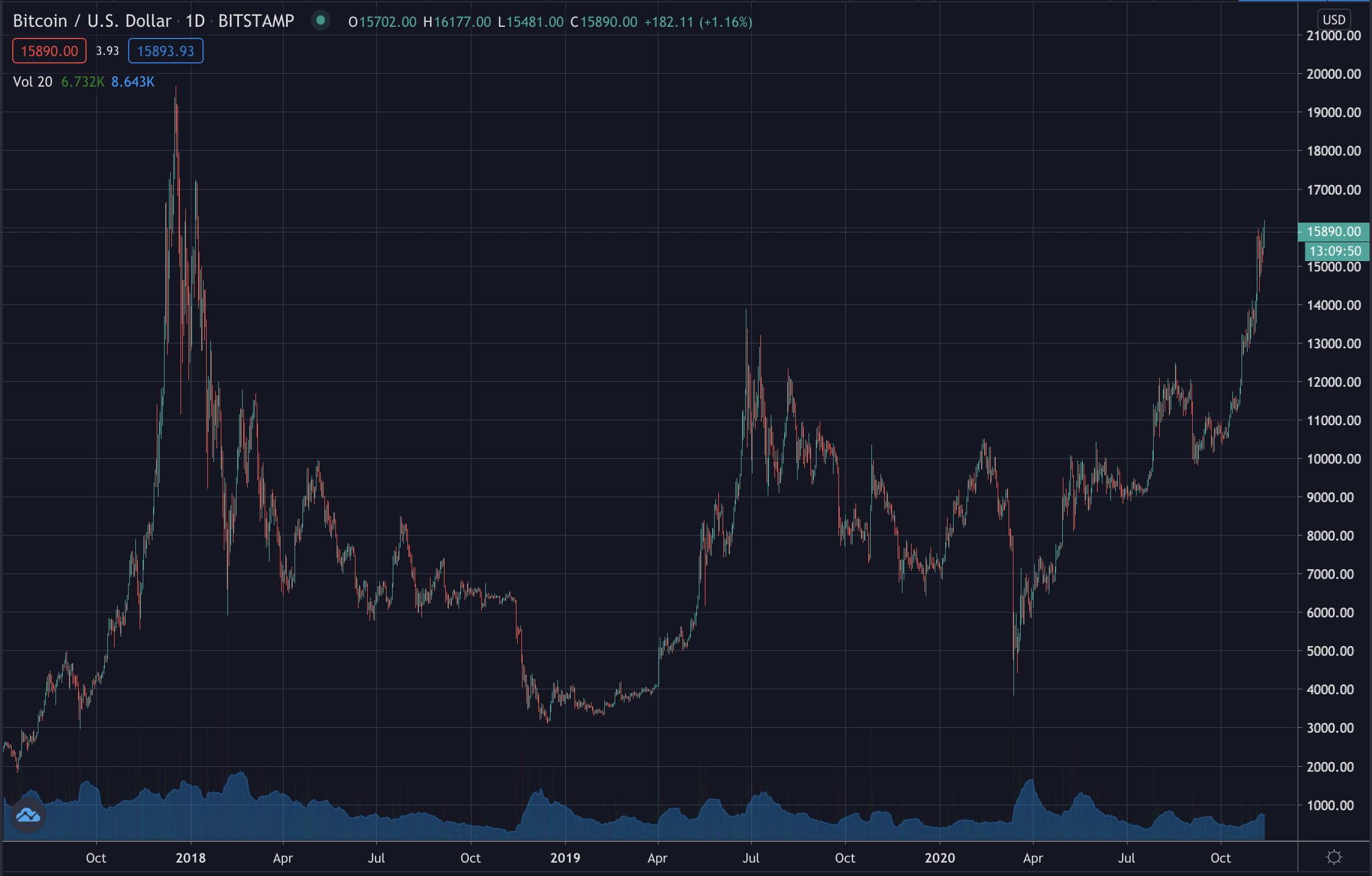 Bitcoin has clearly broken out, making a new high since the top with it not too far off from the all time high of $20,000.
That all time high was very brief however, barely lasting a couple of hours, while this time the crypto seems to be rising more sustainably following the halvening in May.
It is also rising while stocks are expected to open in red according to futures.
Gold has been falling as well, plunging by $100 on November 9th to $1,868, perhaps due to a discovery of vast gold reserves. While oil has been rising.
All this makes bitcoin's behavior quite interesting because it is not correlating with anything, but it does appear to correlate with the level of certainty regarding the election.
When the election was called for Biden on November the 7th for example, bitcoin fell after rising considerably while the votes were counted.
Then an in-denial Donald Trump and his surreal tweets of having won may have contributed to bitcoin rising again.
That's presumably because the crypto currency is more and more seen as a hedge, with numerous studies stating geopolitical uncertainties are a "powerful predictor of bitcoin returns."
Bitcoin's qualities of pseudo-anonymity, extreme ease of transport to the point of requiring just plain memory, its extreme scarcity of 21 million, and its global acceptability as well as accessibility, is seemingly making this asset as the go to choice for safe haven circumstances.
Thus bitcoin is responding more quickly to developing events, presumably because anyone can buy an actual bitcoin far more easily than a ton of gold.
This uncertainty is apparently to continue until December 14th with a rigged Supreme Court potentially giving a verdict as well.
All of it making a laughing stock of the United States, and it so happens it is bitcoin that is laughing very loudly.