Tesla's Price to Earnings (P/E) ratio has reached Alpha Centauri, crossing 1,100 to become one of the most overvalued stock in history by this measure.
The car manufacturer saw its price jump, again, to near $600. Giving it a market cap of $550 billion.
That's more than bitcoin and eth combined, plus all the other cryptos and tokens, including the stablecoins.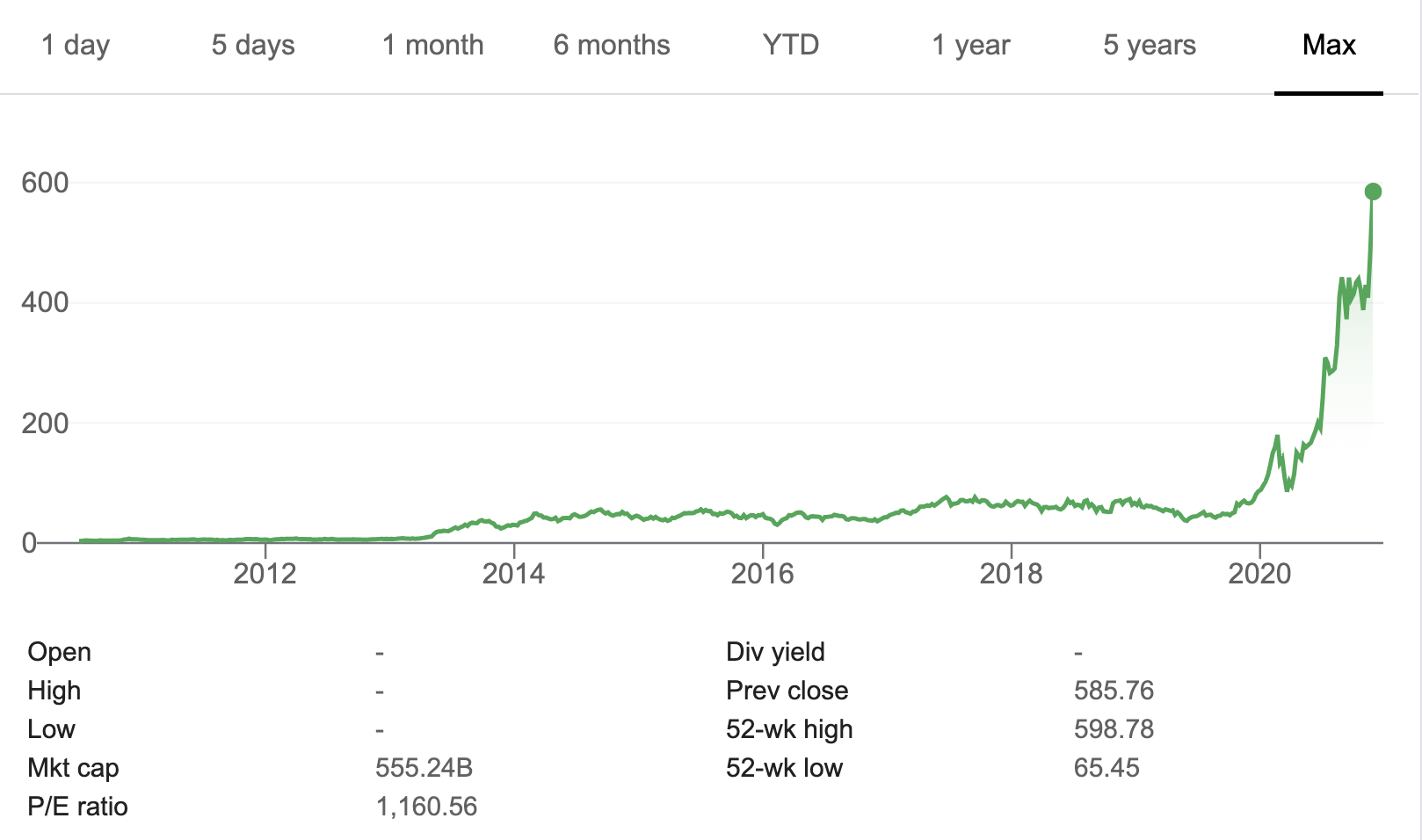 Elon Musk has now become the second richest man on earth at $130 billion, or two ethereum networks or kind of half a bitcoin.
That's after China gave Tesla the green light to sell Model Y SUVs, with the company further expected to benefit from the new green energy push in Europe and now America following the election of Joe Biden.
The Tesla car batteries could further play a role in stabilizing the energy grid with Toronto piloting a blockchain based EV charging system that goes both ways.
The car owner can sell energy to a building during peak demand and buy it from the building, storing it in the car battery, during night time when prices might be cheaper.
In addition, if these cars are furnished with solar roofs, then they can become fully self sustainable in what would revolutionize the car industry and its relationship to the environment.
Tesla has been leading there but it faces competition as others catch up, with German car manufacturers in particular launching their versions of electric cars.
However investors for now seemingly can't have enough of Tesla which is to debut at the S&P500 index with speculation driving its price as where fundamental analysis of price to earning go, they've gone off the roof and off this solar system.
That's partly because the Federal Reserve Banks have been pumping money into stocks, and also partly because investors are clearly valuing Tesla based on its potentials than its current earnings.
Also partly because some investors may be confusing this with Space X which could reach Alpha Centauri, although it's not clear whether it can do so this century.