The biggest geopolitical event of the century is now just four weeks away as Britain faces moving alone.
London has been thrown to the lions, with the British Financial Conducts Authority saying there is no passporting.
"Passporting will end on 31 December 2020: firms that intend to carry on providing services currently covered by a passport will need to ensure they will be able to do so after the end of the transition period," FCA said in a statement.
Bitstamp left London this summer. Coinbase left last year. Just two crypto companies that joined an exodus out of what once was crowned the Fintech Capital of the World.
In a summary for the rest of the financial system, Bloomberg says:
"London Stock Exchange Group Plc's stock trading platform Turquoise Europe went live in Amsterdam. It joins other trading venues like Cboe Europe and Aquis Exchange Plc setting up shop on the continent as part of their no-deal Brexit plans…
Last week, Goldman Sachs Group Inc., said it had applied to French regulators to open its SIGMA X Europe stock platform in Paris from Jan 4…
Goldman and JPMorgan Chase & Co. have indicated that between them more than 300 staff will move to continental cities. Goldman is shifting as much as $60 billion in assets to Frankfurt, while JPMorgan is moving about $230 billion to the German city."
While plenty expected the British negotiators to pay particular attention to finance, and especially passporting which allows one licensed in UK to operate in EU without further regulations – and vice versa – it appears instead the British government has paid no attention to it whatever.
"The City of London has been thrown to the lions," said Alasdair Haynes, chief executive officer at Aquis.
And arguably so has the British pound which sees a deepening of its two decades long bear market against the euro: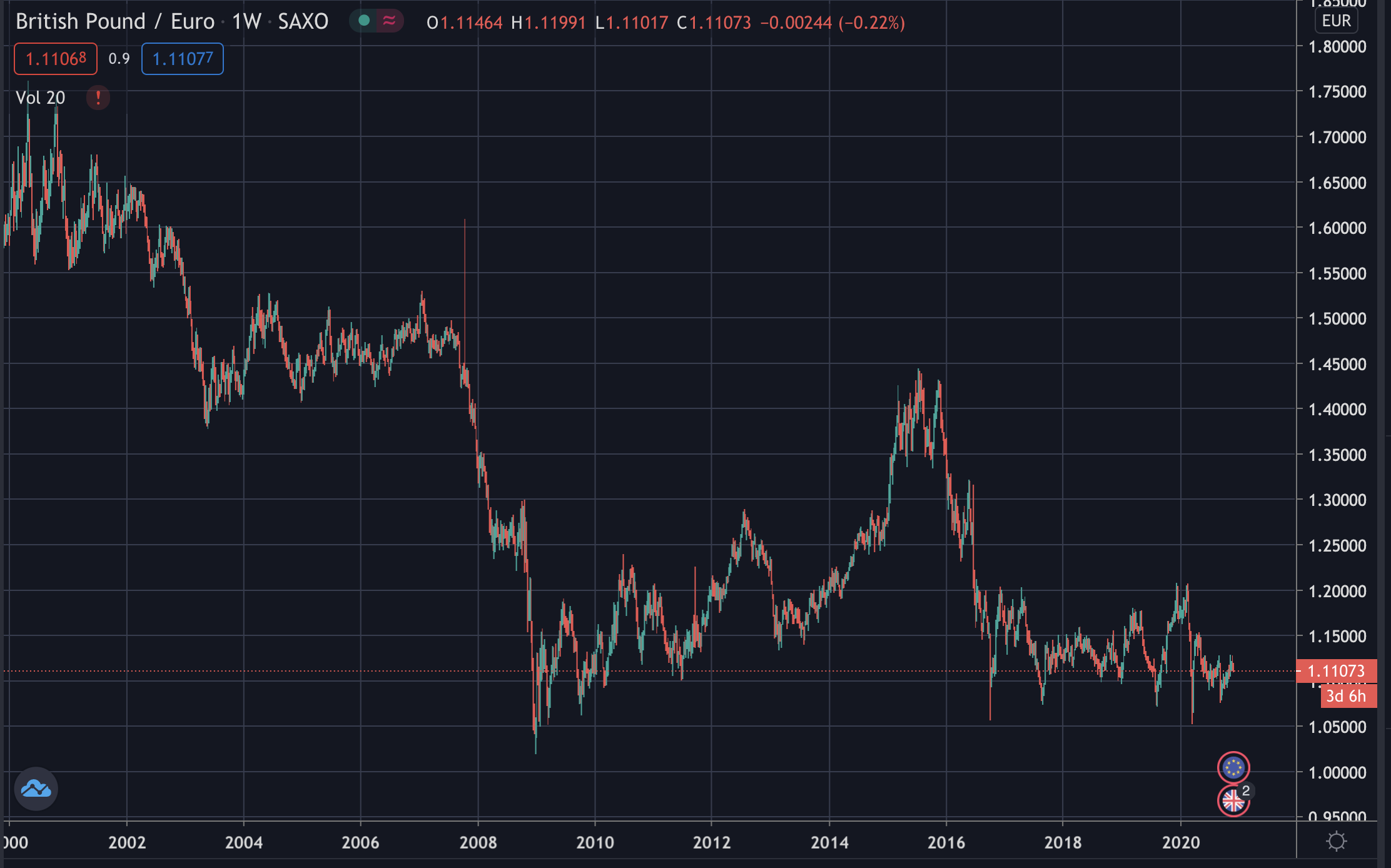 This continued fall in pound value may well lead some brits towards hedging assets like bitcoin, which has seen its price rise to near all time high.
That's especially the case as the Bank of England prints more and more to alleviate the deepest economic downturn in three centuries, with it to be seen just how well this British gamble will pay off.