Tether's market cap is now about as much as bear bitcoin with it nearing $20 billion this year.
It has grown 5x in months from $4 billion in April 2020 to now that big $20 billion in an astonishing rise.
Furthermore the blockchain tokenized dollar has risen by $4 billion in just six weeks and has doubled since July.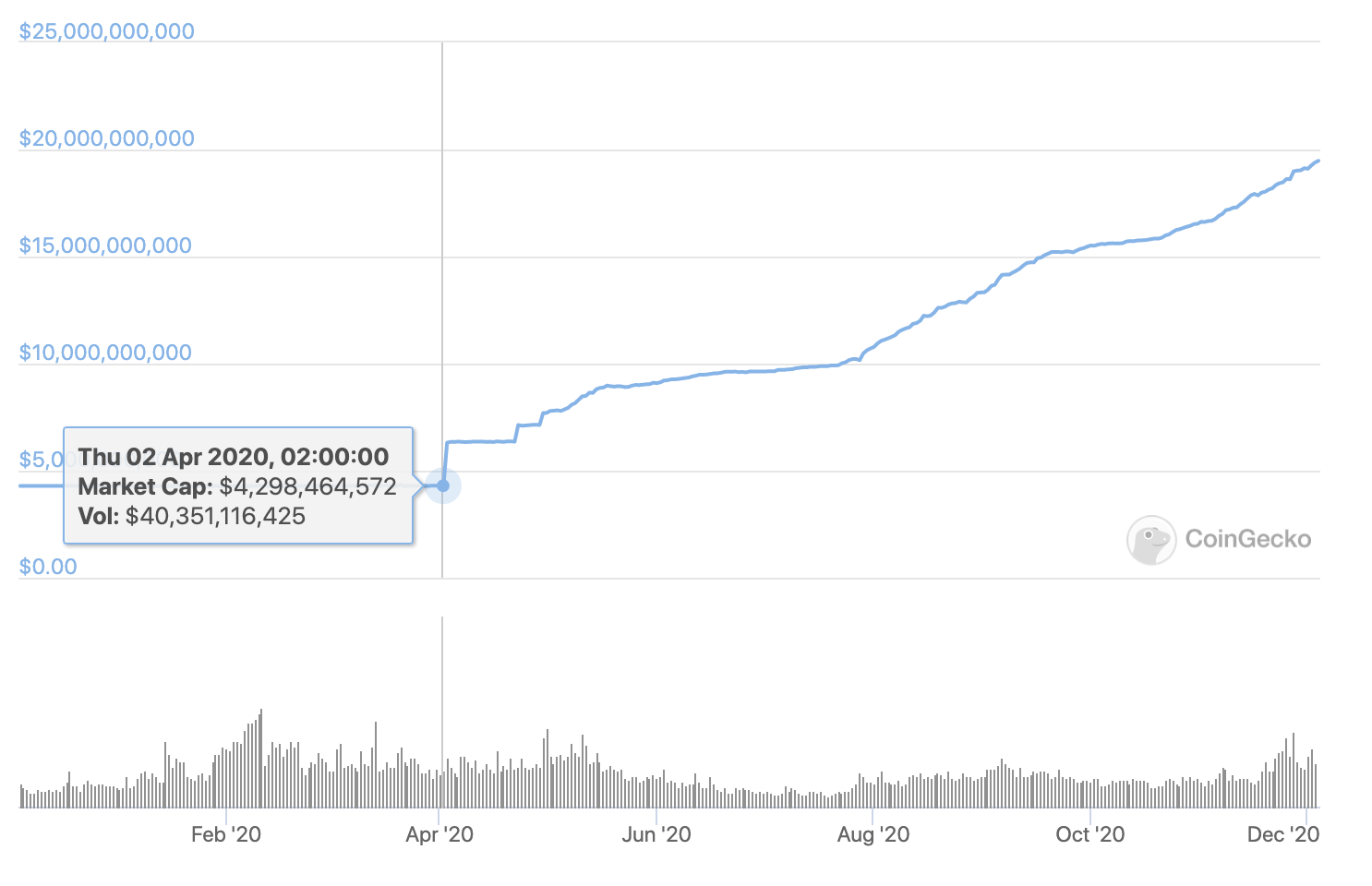 This astonishing rise corresponds to bitcoin's rise with USDt usually used to trade on decentralized or crypto only exchanges as well as to enter the crypto market especially in places like China.
It is run by one of the oldest exchange, Bitfinex, which claims USDt is fully asset backed in dollars but also in cryptos like bitcoin.
Launched in 2015, it grew to $2 billion in 2017, and now has spurred a whole industry of stablecoins.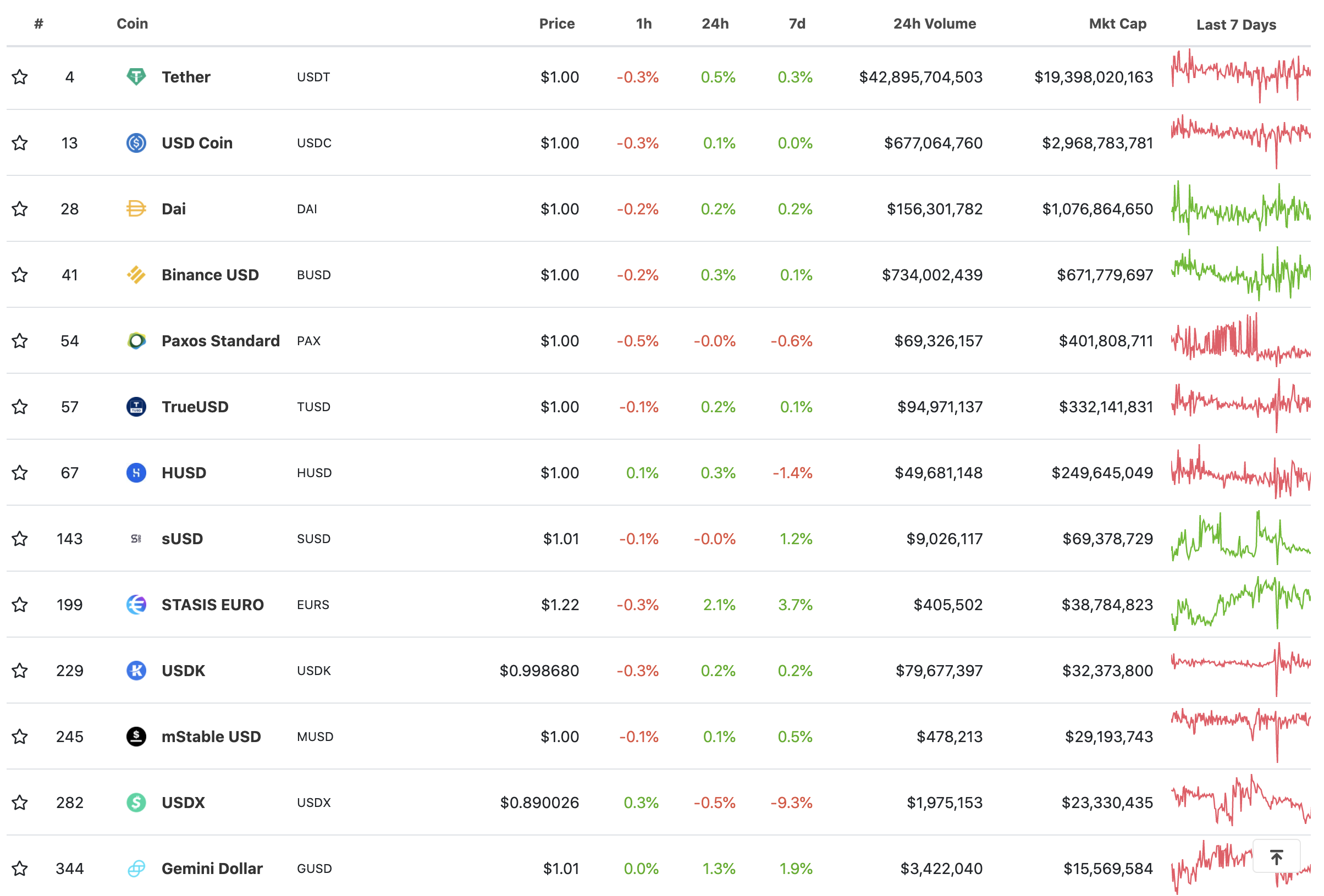 There's now $25.4 billion of blockchain based dollars, with Tether dominating by far at close to $20 billion.
The Coinbase & Circle managed USDC has also grown significantly to $3 billion. While the algorithmically pegged DAI is somewhat different in that it does not have a trusted third party as a custodian but smart contract code that keeps the peg based on eth or tokenized bitcoin (wBTC) collateral.
That too has risen to now $1 billion, with Paxos perhaps being even more interesting because this is a bitcoin crypto broker of sorts serving primarily the African market.
They clearly have their own dollar stablecoin and the fact it has reached $400 million suggests crypto demand has grown considerably in Africa.
Stasis euro is a new stablecoin which we are seeing for the first time, with it sounding like tether but for euros going by their description.
It's a token on eth, but they claim it's an EIP20 token which they claim allows for network fees to be paid in eur instead of gas, also a first of sorts.
Gregory Klumov, the Stasis CEO, is a crypto adviser to Malta's government with the company further claiming BDO Malta audits their assets to confirm the tokenized euros are fully backed.
So on the surface of it all appears legit, with the Euro so being the only other fiat money to make the top stablecoins list.
Then there's sUSD, which is more like DAI than USDt because this synthetic USD is more the dollar equivalent money of the actual asset like snx or eth.
It is in effect dai, but a lot more complex because sUSD's peg is maintained also by the movement of synthetic gold markets or bitcoin or whatever else in the smart contract based derivatives exchange of Synthetix.
In the same spirit, albeit quite different, is the mStable USD or mUSD. Here other stablecoins like dai or sUSD are sent to the defi space to lend, borrow and earn yield, and while these stablecoins are there working, mUSD is issued at corresponding value.
So you get the yield from the underlying assets getting to work while also maintaining full liquidity in the new mUSD token which can be moved freely as in effect those defi-ing stablecoins are themselves tokenized to become the mUSD stablecoin.
Thus broadly creating two categories of stablecoins. The centralized ones like tether, USDc or EURs, and then you have the algorithmic stablecoins or the decentralized ones in dai, sUSD or mUSD.
These are very different because in regards to the latter it is an abstract token. It is not quite an actual dollar, it is more a code ascertained corresponding dollar value based on the underlying asset which is usually eth or some other crypto.
While for custodial stablecoins, they are actual dollars, just blockchenized. As custodial they come with their own risks, including the freezing of the token, or its seizure, as well as the ability to do fractional reserve and the like.
They do also come with their own benefit however in strengthening the dollar's role for international commerce in this new digital age, and to some extent the euro's role.
While the algorithmic ones in a very small way do probably devalue the dollar because these are in effect printed dollars, but by the blockchain instead of the central bank or commercial banks.
There's clearly much demand for these algorithmic dollars as they serve a real need in unlocking crypto liquidity as well as in facilitating decentralized trading platforms like Synthetix.
While custodian dollars serve crypto trading markets generally outside of USA where getting actual dollars can be difficult.
Both are growing significantly and pretty quickly with this now becoming one of the biggest sector in the crypto space where there has been a lot of innovation as almost none of them existed just two years ago save for Tether.