The blockchain is transforming the shipping industry with this rising as the biggest success story out of the many experimentations from 2018.
"We are now testing the system and transferring information about loading and discharge of cargo, berthing of vessels to the blockchain platform. After complete integration of the system, we will be able to optimize work with regulatory authorities, improve our terminals visibility to what is coming to them, as well as, receive updates from the sea carriers online" Brian Hibbert, VP and Chief Information Officer at ICTSI said.
The International Container Terminal Services, Inc. (ICTSI) is a global port management company.
They joined TradeLens last month, a blockchain based shipping platform launched by IBM and Maersk in 2018. Maersk being the largest container ship and supply vessel operator in the world since 1996.
TradeLens now claims an ecosystem of more than 175 organizations, "extending to more than 10 ocean carriers and encompassing data from more than 600 ports and terminals."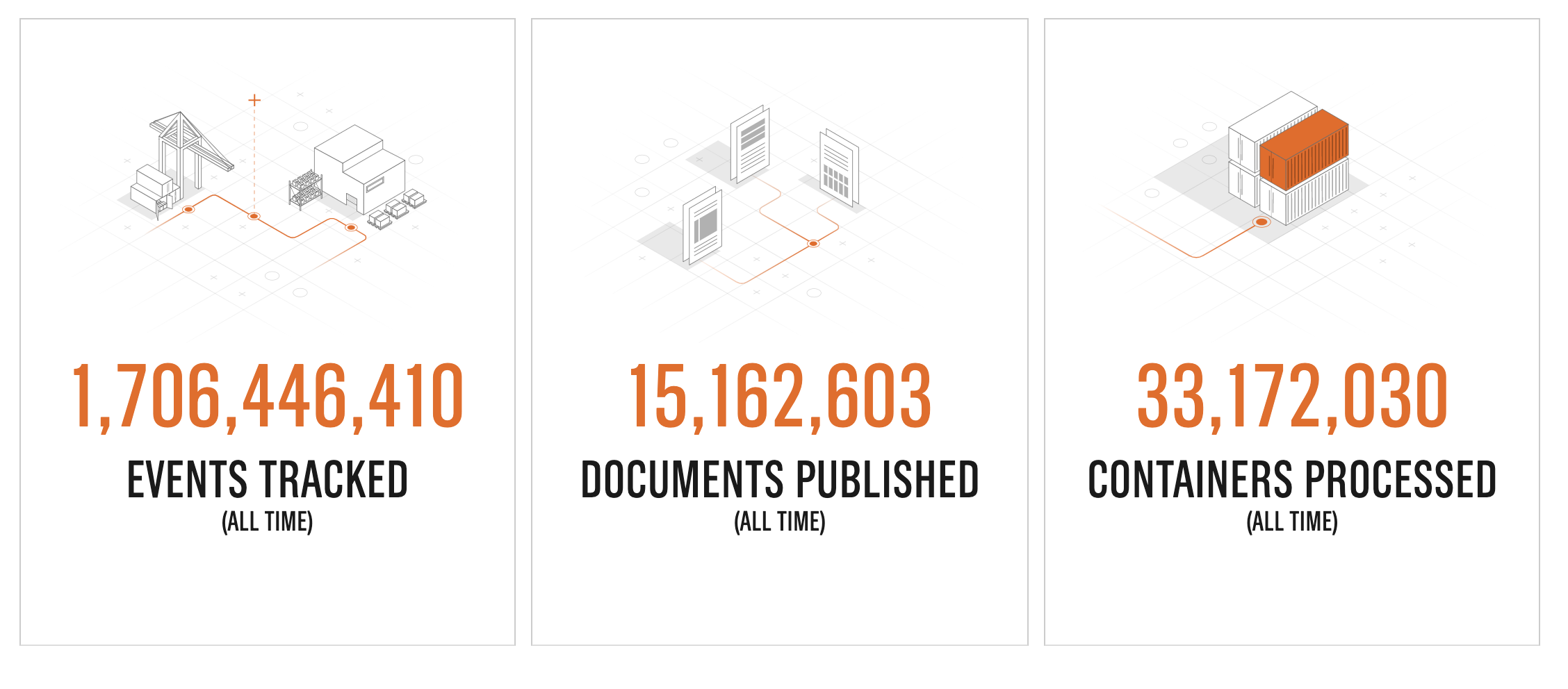 Tradelens says they have now tracked more than 1.7 billion events and have processed more than 33 million containers through their blockchain system.
"TradeLens lets you track a shipment through over 120 planned, estimated and actual events in real time," they say. "Network partners publish data to the platform; users query and subscribe to consignment events, making track and trace: simple and quick."
This is running the IBM Blockchain which is based on Hyperledger Fabric, an open-source permissioned blockchain. Explaining the process, they say:
"A readable version is saved to the TradeLens Document Store and an encrypted 'hash', or token (A), is saved to the blockchain ledger. Documents are searchable for 120 days from booking confirmation.
Authorized users have direct access to documents. TradeLens compares a new document token (B) with a stored document token (A) to verify the authenticity and immutability of each retrieved document."
Processes that used to take weeks are now completed within seconds on the blockchain. Jeffrey Ivinski, Product Manager at GDT Solutions, a division of A.P. Moller Maersk, says:
"In Panama, Bills of Lading (BL) still have to be physically endorsed by the carrier at destination and presented to customs and at the terminal to be released.
Nevertheless, TradeLens electronic Bills of Lading (eBL) was able to reduce the eBL transfer from days to milliseconds. Once it was received in Panama, it could be printed and presented.
All-in-all the process has gone so smoothly that Panamanian customs and the terminal will soon be testing electronic releases. When they can access eBLs and electronically release cargo, we'll have achieved truly paperless trade."
Bills of Lading are a legal document issued by a carrier to a shipper that details the type, quantity and destination of the goods being carried.
They used to be and mainly still are actual paper documents that sometime have to be sent by courier to the shipping destination for the goods to be taken.
Delays sometime cause detention and demurrage (D&D) costs, while these blockenized bills transfer instantly and in a trustable way where the receiving party is concerned as they're documents in a neutral blockchain platform.
All this has been especially important during the pandemic when numerous disruptions were seen, including to air flights, making the manual sending of paper bills a lot more difficult.
Thus they've seen demand rise for their service, with Ivinski citing an unnamed Indian seafood exporter who now processes 100% of their BLs as TradeLens eBLs due to grounded flights and the suspension of courier services upsetting the process of receiving BLs.
All of it suggesting a tipping point may well have been reached in the shipping industry where there has been an unprecedented level of cooperation as the industry realized the significant benefits of blockchain technology in 2018 and now appears to be witnessing a transformation.